You are here
Amelia Bedelia Book and CD (I Can Read Level 2) (Abridged / CD-Audio)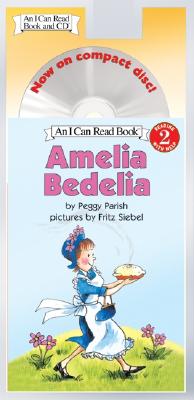 $9.99
Email or call for price
Description
---
Read along with your favorite I Can Read Book characters!
I Can Read Books are the premier line of beginning readers encouraging children to learn—and love—to read. Featuring award-winning authors and illustrators, I Can Read Books offer a full spectrum of entertaining stories for every stage of a child's reading development.
Now the beloved characters and adventures from this popular line of books come to life with I Can Read Book and CDs. Each package includes a best-selling beginning-reader storybook and a lively audio recording featuring:
Word-for-word narration
Music and sound effects
One version with turn-the-page signals
One version of uninterrupted reading
In Amelia Bedelia, from dressing the chicken to drawing the drapes, Amelia Bedelia does exactly what Mr. and Mrs. Rogers tell her to do. If things get a bit mixed up, well, that's okay. When Amelia Bedelia is involved, everything always turns out perfectly in the end!
About the Author
---
Peggy Parish was born and grew up in Manning, South Carolina. Before moving to New York City, she taught school in the Panhandle country and in coal-mining areas. Her first job in New York City was with the Girl Scouts, and she now teaches the third grade at the Dalton School in Manhattan. Miss Parish is the author of several other books for children, including the popular Let's Be Indians.
Fritz Siebel was born in Vienna and now lives in New York City with his family. He is well known for his pictures in Cat and Dog; David and the Giant; and Tell Me Some More . . . , all Harper I Can Read Books. Among the other books he has illustrated are A Fly Went By and Who Took the Farmer's Hat?