You are here
Too High and Too Steep: Reshaping Seattle's Topography (Hardcover)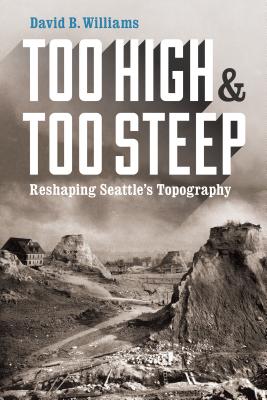 $99.00
Email or call for price
Staff Reviews
---
Even if you think you know how Seattle came to be the place it is today, you'll discover all kinds of new information in Williams's book. This history of the city's early years indirectly says a lot about where and how we live in the present. Read more about it on our blog.
— From
Our Best of the Year 2015: Nonfiction
Description
---
Residents and visitors in today's Seattle would barely recognize the landscape that its founding settlers first encountered. As the city grew, its leaders and inhabitants dramatically altered its topography to accommodate their changing visions. In Too High and Too Steep, David B. Williams uses his deep knowledge of Seattle, scientific background, and extensive research and interviews to illuminate the physical challenges and sometimes startling hubris of these large-scale transformations, from the filling in of the Duwamish tideflats to the massive regrading project that pared down Denny Hill.
In the course of telling this fascinating story, Williams helps readers find visible traces of the city's former landscape and better understand Seattle as a place that has been radically reshaped.
Watch the trailer: https: //www.youtube.com/watch?v=af51FU8hHLI
Too High and Too Steep was made possible in part by a grant from 4Culture's Heritage Program.
About the Author
---
David B. Williams is the author of several books, including Cairns: Messengers in Stone and The Seattle Street-Smart Naturalist: Field Notes from the City. He lives in Seattle.