You are here
The Danube: A Journey Upriver from the Black Sea to the Black Forest (Paperback)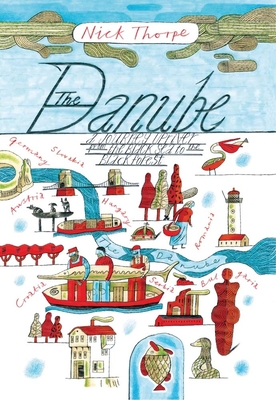 Description
---
The author takes us on an unexpected journey up the Danube, where we encounter a remarkable and unfamiliar world

The magnificent Danube both cuts across and connects central Europe, flowing through and alongside ten countries: Romania, Ukraine, Moldova, Bulgaria, Serbia, Croatia, Hungary, Slovakia, Austria, and Germany. Travelling its full length from east to west, against the river's flow, Nick Thorpe embarks on an inspiring year-long journey that leads to a new perspective on Europe today. Thorpe's account is personal, conversational, funny, immediate, and uniquely observant—everything a reader expects in the best travel writing. Immersing himself in the Danube's waters during daily morning swims, Thorpe likewise becomes immersed in the histories of the lands linked by the river. He observes the river's ecological conditions, some discouraging and others hopeful, and encounters archaeological remains that whisper of human communities sustained by the river over eight millennia. Most fascinating of all are the ordinary and extraordinary people along the way—the ferrymen and fishermen, workers in the fields, shopkeepers, beekeepers, waitresses, smugglers and border policemen, legal and illegal immigrants, and many more. For readers who anticipate their own journeys on the Danube, as well as those who only dream of seeing the great river, this book will be a unique and treasured guide.
About the Author
---
Nick Thorpe is East and Central European Correspondent for the BBC, a journalist, and a filmmaker. He lives in Budapest.
Praise For…
---
"A review can't encompass the majestic canvas of Thorpe's book. Wise, thoughtful, unprejudiced and consistently absorbing, it is also beautifully written."—Miranda Seymour, Literary Review
— Miranda Seymour
"In this leisurely amalgam of travelogue and history, Nick Thorpe . . . has done the Danube and its ancient people proud."—Ian Thomson,
Sunday Telegraph
— Ian Thomson
"Thorpe is a keen conversationalist who lets the multiple voices of riparian communities emerge on their own. The writing is graceful and the descriptions of landscape and, especially, birds are at times magnificent."—Charles King,
Times Literary Supplement
— Charles King
"A review can't encompass the majestic canvas of Thorpe's book. Wise, thoughtful, unprejudiced and consistently absorbing, it is also beautifully written . . . Thorpe's inspired images quicken and animate the story of the dark and dreaming river to which he committed a well—spent year of travelling."—Miranda Seymour, Literary Review
— Miranda Seymour

'Early on, Thorpe asks whether, just as Herodotus labelled Egypt "the gift of the Nile", Europe could likewise be called "the gift of the Danube", with culture, religion, trade and people moving back and forth along its length. It's a thought-provoking question, especially as you follow Thorpe on his meandering, enlightening journey.'—Kit Gillet, Geographical Magazine
— Kit Gillet

'Thorpe is a very good listener, offering wonderful portraits of the people he meets, particularly in the east. A vivid mix of geography, myths, natural history and human lives.'—P D Smith, The Guardian

— P D Smith

'This book...leaves one in awe of the richness of the cultures of central Europe and with a longing for the humble pleasure of washing down a plate of fried pikeperch with a glass of Romanian white wine.'—Tom Moriarty, The Irish Times
— Tom Moriarity

'A vivid mix of geography, myths, natural history and human lives.'—The Observer

— The Observer