You are here
Yoga Bitch: One Woman's Quest to Conquer Skepticism, Cynicism, and Cigarettes on the Path to Enlightenment (Paperback)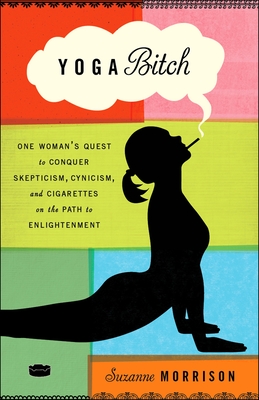 $17.00
Email or call for price
Description
---
What happens when a coffee-drinking, cigarette-smoking, steak-eating twenty-five-year-old atheist decides it is time to get in touch with her spiritual side? Not what you'd expect . . .
 
When Suzanne Morrison decides to travel to Bali for a two-month yoga retreat, she wants nothing more than to be transformed from a twenty-five-year-old with a crippling fear of death into her enchanting yoga teacher, Indra—a woman who seems to have found it all: love, self, and God.
 
But things don't go quite as expected. Once in Bali, she finds that her beloved yoga teacher and all of her yogamates wake up every morning to drink a large, steaming mug . . . of their own urine. Sugar is a mortal sin. Spirits inhabit kitchen appliances. And the more she tries to find her higher self, the more she faces her cynical, egomaniacal, cigarette-, wine-, and chocolate-craving lower self.
 
Yoga Bitch chronicles Suzanne's hilarious adventures and misadventures as an aspiring yogi who might be just a bit too skeptical to drink the Kool-Aid. But along the way she discovers that no spiritual effort is wasted; even if her yoga retreat doesn't turn her into the gorgeously calm, wise believer she hopes it will, it does plant seeds that continue to blossom in surprising ways over the next decade of her life.
About the Author
---
A writer and solo performer currently living in Seattle, Suzanne Morrison has a one-woman show, Yoga Bitch, which has been called "ambitious, ballsy, and hilarious" by Seattle Weekly and "New Age Nirvana" by Time Out London. The show has played to sold-out houses in New York City, Maui, Seattle, Memphis, London, and Oxford. Her work has been covered in the Seattle Times, Seattle Post-Intelligencer, Seattle Weekly, and blogs such as Yoga Journal and Seattlest. You can find Suzanne at HuffPost and her personal blog, where she writes about absolutely everything she's reading, writing, and rehearsing.
Praise For…
---
"Yoga Bitch is an unabashedly romantic book, in the very best way--like watching your funniest, most sardonic friend realize that she's head-over-heels in love." --Claire Dederer, Author of Poser: My Life in Twenty-Three Poses

"A smart, funny, and keenly observed travelogue of a modern yogini's quest for awakening. Yoga Bitch flows like a quirky vinyasa, with each pose just twisted enough to be hilarious." --Anne Cushman, author of Enlightenment for Idiots: A Novel

"Suzanne Morrison has been through the yoga wars, she has the literal scars to prove it, and she's produced a hilarious and thoughtful memoir."--Neal Pollack, author of Stretch

"Brings the higher path down to Earth with refreshing honesty."--Kirkus Reviews

"Thoughtful, honest, and hilarious."—Publishers Weekly 

"I love this book. In an era of so much truth telling and blogging and reality shows we forget how well true stories can be told, when they're in the right hands. Yoga Bitch has sucked me in and made me laugh and made me think about my own spiritual fucked-up state. You had me at 'Do they make you eat your own poop.'" – Lauren Weedman, Author of A Woman Trapped in a Woman's Body and former Daily Show correspondent

"Morrison is unflinchingly honest, poking easy fun at herself, her companions, and her surroundings…The lessons from Bali ultimately led her to stop pursuing the life she was supposed to want and start leading the one that nourishes her." –Patty Wetli, Booklist
 
"Writer/performer Morrison offers a totally different take on the yoga experience…she candidly discusses her issues with meditation, exercise, and relationships." –Library Journal 

"Yoga Bitch had me hooked. It's a hilarious read by an author who isn't afraid to delve into the messy innards of yoga culture." -Jenny Rough, Whole Life Times

"Morrison's funny riff on yoga and perspective." - Dan Kois, New York Magazine

"[Morrison's] funny and honest discussion about her yogic journey is riveting and revolting, raw and fresh, and immensely enjoyable." -Nancy Alder, Elephant Journal

"Wickedly entertaining yet tragically honest." -Chatelaine.com
 
"Had me laughing out loud at the author's irreverent commentary by the second page, and, ultimately unable to put the book down until a very un-yogic early morning hour [...] I couldn't recommend Yoga Bitch more highly." -- Jay Winston, Elephant Journal
 
"Morrison offers a fresh and new voice in the yoga memoirs genre that is one part deeply exploratory and another giggle-inducing." -- Nancy Alder, Yoga Dork
 
"Suzanne Morrison recounts her reformative journey at a two-month yoga retreat in Bali with a sense of humor so wicked it would even make Bikram sweat a little." –Dorothy Robinson, Metro
 
"Morrison is a funny and engaging writer, at once sincere about her spiritual aspirations and aware of all the clichés they entail." --Laura Moser, Slate.com

"[YOGA BITCH] is a hilarious, thoughtful and only occasionally profane account of one young woman facing mortality and bad habits head on […]Morrison is whip-smart and irreverent." - Amy Scribner, Bookpage.