You are here
In Other Worlds: SF and the Human Imagination (Paperback)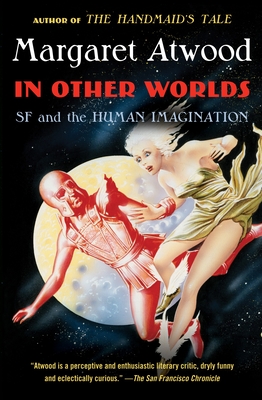 $16.95

Usually Available in 1-5 Days
Description
---
A marvelous collection of wide-ranging essays from the bestselling author of The Handmaid's Tale and The Testaments, exploring her lifelong relationship to science fiction—as a reader and as a writer

At a time when the borders between genres are increasingly porous, she maps the fertile crosscurrents of speculative and science fiction, utopias, dystopias, slipstream, and fantasy, musing on the age-old human impulse to imagine new worlds. She shares the evolution of her personal fascination with SF, from her childhood invention of a race of flying superhero rabbits to her graduate study of its Victorian antecedents to the creation of her own acclaimed novels.

Studded with appreciations of such influential writers as Marge Piercy, Ursula K. LeGuin, Kazuo Ishiguro, H. Rider Haggard, Aldous Huxley, H. G. Wells, and Jonathan Swift, In Other Worlds is as humorous and charming as it is insightful and provocative.


About the Author
---
Margaret Atwood, whose work has been published in more than forty-five countries, is the author of more than fifty books of fiction, poetry, critical essays, and graphic novels. In addition to The Handmaid's Tale, now an award-winning TV series, her novels include Cat's Eye, short-listed for the 1989 Booker Prize; Alias Grace, which won the Giller Prize in Canada and the Premio Mondello in Italy; The Blind Assassin, winner of the 2000 Booker Prize; Oryx and Crake, short-listed for the 2003 Man Booker Prize; The Year of the Flood, MaddAddam; and Hag-Seed. She is the recipient of numerous awards, including the Peace Prize of the German Book Trade, the Franz Kafka Prize, the PEN Center USA Lifetime Achievement Award, and the Los Angeles Times Innovator's Award. In 2019, she was made a member of the Order of the Companions of Honour for services to literature.


Praise For…
---
"Atwood is a perceptive and enthusiastic literary critic, dryly funny and eclectically curious." —The San Francisco Chronicle

"Interesting, entertaining and thoughtful. . . .  Atwood fans, sci-fi fans, indeed fiction fans, have reason to rejoice. In Other Worlds is a delightful read full of Atwood's well-honed prose and sly sense of humor." —The Miami Herald

"Margaret Atwood is a valiant champion [of science fiction]. . . . Her prose is addictive. . . . She crafts sentences with grace and pitch-perfect highbrow humor." —The Plain Dealer
 
"A smart and often playful book." —Milwaukee Journal-Sentinel
 
"In Other Worlds is an eminently readable and accessible clarification of [Atwood's] relationship with SF and the SF tradition. . . . The lectures are insightful and cogently argued with a neat comic turn of phrase. . . . [Atwood's] enthusiasm and level of intellectual engagement are second to none." —Financial Times
 
"It's a delight to see Atwood revisit Mischiefland, both because of the lovely details she remembers (the flying bunnies kept cats as pets and ate only ice cream), and because this retelling leads Atwood to speculate on the origins—cultural, literary, mythic, religious—of the science fiction genre. . . . In Other Worlds reminds us that all genres are capable of deepening and developing this one human story." —The Boston Globe
 
"Atwood gives us a bracing tour of the writers and books she admires (like Ursula Le Guin and 'She' by H. Rider Haggard), her interest in ustopia (a mix of utopia and dystopia) in her fiction, as well as some autobiography. . . . Explains how the genre fits into a continuum dating to the world's oldest myths and continuing today with authors who use the genre to examine social ills, not run away from them." —Los Angeles Times
 
"Atwood certainly has read a fair bit of and thought deeply about science fiction, and she shares generously with her readers." —The Christian Science Monitor
 
"Fascinating. . . . Vibrant. . . . Compelling. . . . Not only is In Other Worlds powerfully readable and mentally refreshing, it's also one heck of a joyride through the limitless imagination of a national (and international) treasure." —Bookreporter