You are here
The Map and the Territory (Vintage International) (Paperback)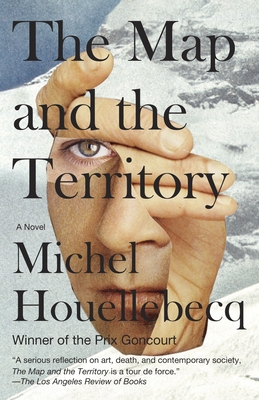 $16.95

Usually Available in 1-5 Days
Description
---
The most celebrated and controversial French novelist of our time delivers a riveting masterpiece about art and money, love and friendship, and fathers and sons.
 
Jed Martin is an artist. His first photographs feature Michelin road maps, and global success arrives with his series on professions: portraits of various personalities, including a writer named Houellebecq. Not long afterward, Jed helps a police inspector solve a heinous crime that leaves lasting marks on everyone involved. But after burying his father and growing old himself, Jed also discovers serenity, a deeply moving conclusion to a life of lovers, friends, and family, and filled with hopes, losses, and dreams.
About the Author
---
Already honored with the Prix Novembre and the International IMPAC Dublin Literary Award, Michel Houellebecq won the Prix Goncourt for The Map and the Territory in 2010.
Praise For…
---
Praise for The Map and the Territory:
 
Winner of the 2010 Prix Goncourt
 
"A serious reflection on art, death, and contemporary society, The Map and the Territory is a tour de force."—The Los Angeles Review of Books 
  
"Powerful. . . . [A] singular novel. . . .  Archly sarcastic, cheerily pedantic, willfully brutal." —The New York Times Book Review
 
"An ingenious and engaging composite of künstlerroman and police procedural; a novel of ideas; and an authorial self-reflection." –The Boston Globe
 
"All novelists everywhere have benefited from [Houellebecq's] audacity. . . . his temerity has recharged the form and reminded people what the novel can do." --The Sunday Times
 
"Funny, astonishing and authoritative. . . . This is the brilliant and controversial French writer's most intellectually ambitious book.." —The Guardian

"Beautifully, accurately translated . . . . If ever there was a novelist for our globally dysfunctional times it's Michel Houellebecq. . . . Long cast aside as the bad boy of books, [his] latest novel has seen him brought in from the cold, and embraced by the literary establishment for what he's always been – not much short of a genius." —The Mirror 

"One of the most important facts about Michel Houellebecq . . . is that he is a first-rate prose stylist. . . . Teasing and entertaining. . . . A page turner." —Literary Review

"Houellebecq's bewitching journey on the river of art to the cave of death and decay is a tale of eviscerating insight, caustic humor, troubling beauty, and haunting provocation." –Booklist
 
"[Houellebecq is] a trenchant, sharp-tongued social commentator."—Bookforum

"Very likely his best [book] ever, a serious novel about aging and death that also employs its author's trademark lugubrious wit towards some delicious exercises in satire and self-parody. . . . Challenging, mature and highly intelligent." —The Daily Telegraph

"A dark master of invention. . . . In a world of copycatting and fakery, Michel Houellebecq is an exceptional writer and a stand-out original." —Evening Standard

"An astonishing writer. . . . The Map and the Territory is funny, shocking, brutal and unbearably poignant. . . . Sublime." —Scotland on Sunday