You are here
Less (Winner of the Pulitzer Prize): A Novel (The Arthur Less Books #1) (Paperback)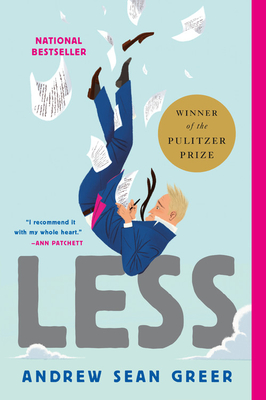 Other Books in Series
This is book number 1 in the The Arthur Less Books series.
Description
---
A struggling novelist travels the world to avoid an awkward wedding in this hilarious Pulitzer Prize-winning novel full of "arresting lyricism and beauty" (The New York Times Book Review).WINNER OF THE PULITZER PRIZE
National Bestseller
A New York Times Notable Book of 2017
A Washington Post Top Ten Book of 2017
A San Francisco Chronicle Top Ten Book of 2017
Longlisted for the Andrew Carnegie Medal for Excellence, the Lambda Award, and the California Book AwardWho says you can't run away from your problems? You are a failed novelist about to turn fifty. A wedding invitation arrives in the mail: your boyfriend of the past nine years is engaged to someone else. You can't say yes--it would be too awkward--and you can't say no--it would look like defeat. On your desk are a series of invitations to half-baked literary events around the world.QUESTION: How do you arrange to skip town?ANSWER: You accept them all.What would possibly go wrong? Arthur Less will almost fall in love in Paris, almost fall to his death in Berlin, barely escape to a Moroccan ski chalet from a Saharan sandstorm, accidentally book himself as the (only) writer-in-residence at a Christian Retreat Center in Southern India, and encounter, on a desert island in the Arabian Sea, the last person on Earth he wants to face. Somewhere in there: he will turn fifty. Through it all, there is his first love. And there is his last.Because, despite all these mishaps, missteps, misunderstandings and mistakes, Less is, above all, a love story.A scintillating satire of the American abroad, a rumination on time and the human heart, a bittersweet romance of chances lost, by an author The New York Times has hailed as "inspired, lyrical," "elegiac," "ingenious," as well as "too sappy by half," Less shows a writer at the peak of his talents raising the curtain on our shared human comedy."I could not love LESS more."--Ron Charles, The Washington Post"Andrew Sean Greer's Less is excellent company. It's no less than bedazzling, bewitching and be-wonderful."--Christopher Buckley, The New York Times Book Review
About the Author
---
Andrew Sean Greer is the bestselling author of five works of fiction, including The Confessions of Max Tivoli, which was named a best book of 2004 by the San Francisco Chronicle and the Chicago Tribune. He is the recipient of the Northern California Book Award, the California Book Award, the New York Public Library Young Lions Award, the O Henry award for short fiction and fellowships from the National Endowment for the Arts and the New York Public Library. Greer lives in San Francisco. He has traveled to all of the locations in this novel, but he is only big in Italy.

Praise For…
---
"Less is the funniest, smartest and most humane novel I've read since Tom Rachman's 2010 debut, The Imperfectionists....Greer writes sentences of arresting lyricism and beauty. His metaphors come at you like fireflies....Like Arthur, Andrew Sean Greer's Less is excellent company. It's no less than bedazzling, bewitching and be-wonderful."
—New York Times Book Review

"Greer is an exceptionally lovely writer, capable of mingling humor with sharp poignancy.... Brilliantly funny.... Greer's narration, so elegantly laced with wit, cradles the story of a man who loses everything: his lover, his suitcase, his beard, his dignity."—Ron Charles, Washington Post

"Greer's novel is philosophical, poignant, funny and wise, filled with unexpected turns....Although Greer is gifted and subtle in comic moments, he's just as adept at ruminating on the deeper stuff. His protagonist grapples with aging, loneliness, creativity, grief, self-pity and more."—San Francisco Chronicle

"I recommend it with my whole heart."
—Ann Patchett

"A piquantly funny fifth novel."
—Entertainment Weekly

"Greer, the author of wonderful, heartfelt novels including The Confessions of Max Tivoli, The Impossible Lives of Greta Wells and The Story of a Marriage, shows he has another powerful weapon in his arsenal: comedy. And who doesn't need a laugh right about now?"—Miami Herald

"Greer elevates Less' picaresque journey into a wise and witty novel. This is no Eat, Pray Love story of touristic uplift, but rather a grand travelogue of foibles, humiliations and self-deprecation, ending in joy, and a dollop of self-knowledge."—National Book Review

"Dressed in his trademark blue suit, Less adorably butchers the German language, nearly falls in love in Paris, celebrates his birthday in the desert and, somewhere along the way, discovers something new and fragile about the passing of time, about the coming and going of love, and what it means to be the fool of your own narrative. It's nothing less than wonderful."—Book Page

"Greer's evocations of the places Arthur visits offer zesty travelogue pleasures"—Seattle Times

"Less is perhaps Greer's finest yet.... A comic yet moving picture of an American abroad.... Less is a wondrous achievement, deserving an even larger audience than Greer's bestselling The Confessions of Max Tivoli."
—Booklist, starred review

"Treat yourself to this book. I missed subway stops. I doubled over in laughter. I experienced more pure reading pleasure than I had in ages. It is hilarious, and wise, and abundantly fun."—Adam Haslett, author of Imagine Me Gone

"I adore this book. It's funny, piquant, bittersweet and so achingly observant about the vanity of writers that it made me squirm in recognition. I'll probably read it again very soon."
—Armistead Maupin, author of Tales of the City

"Marvelously, unexpectedly, endearingly funny. A love story focused on the erroneous belief that the second half of life will pale in comparison to the first. Guess what? It won't!"—Gary Shteyngart, author of Super Sad Love Story

"The most deftly funny romantic comedy I've read in years. If you have a sentimental bone in your body (I have 206), the ending will make you sob little tears of joy."—Nell Zink, author of Mislaid and Nicotine

"A fast and rocketing read with everything I want from a story--moments of high humor, moments of genuine wisdom, sharp insights and gorgeous images. A wonderful, wonderful book!"
—Karen Joy Fowler, author of We Are All Completely Beside Ourselves