You are here
1Q84: 3 Volume Boxed Set (Vintage International) (Boxed Set)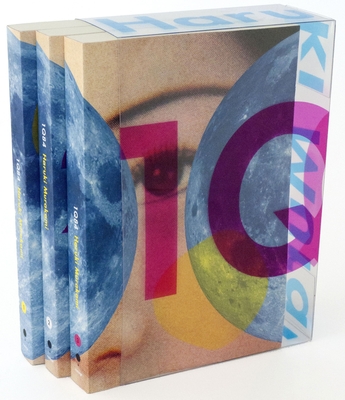 $35.00

Usually Available in 1-5 Days
November 2011 Indie Next List
---
"A triple dose of classic Murakami, this new mega-novel takes us out of Orwell's 1984 and into the parallel world that our hero dubs 1Q84. A mysterious woman, a plagiarizing writer, and a beautiful dyslexic drive this tale of dystopian intrigue. Originally published in Japan as three books, the tale is combined here into one large volume. While the size of the tome is daunting, Murakami's spectacular prose and fantastic imagination carry the reader through brilliantly."
— Rebekah Rine, Watermark Books, Wichita, KS
Description
---
This deluxe three-volume paperback boxed set—gorgeously designed editions in a see-through case, with a removeable sticker on the shrink wrap packaging—is a collector's item in the making. It beautifully showcases Haruki Murakami's most ambitious novel yet, 1Q84—a love story, a mystery, a fantasy, a dystopia to rival George Orwell's.
 
The year is 1984 and the city is Tokyo.
 
A young woman named Aomame follows a taxi driver's enigmatic suggestion and begins to notice puzzling discrepancies in the world around her. She has entered, she realizes, a parallel existence, which she calls 1Q84—"Q is for 'question mark.' A world that bears a question." Meanwhile, an aspiring writer named Tengo takes on a suspect ghostwriting project. He becomes so wrapped up with the work and its unusual author that, soon, his previously placid life begins to come unraveled.
 
As Aomame's and Tengo's narratives converge over the course of this single year, we learn of the profound and tangled connections that bind them ever closer: a beautiful, dyslexic teenage girl with a unique vision; a mysterious religious cult that instigated a shoot-out with the metropolitan police; a reclusive, wealthy dowager who runs a shelter for abused women; a hideously ugly private investigator; a mild-mannered yet ruthlessly efficient bodyguard; and a peculiarly insistent television-fee collector.
 
An instant bestseller around the world, 1Q84 is a tremendous feat of imagination from one of our most revered contemporary writers.
About the Author
---
Haruki Murakami was born in Kyoto in 1949 and now lives near Tokyo. His work has been translated into more than fifty languages, and the most recent of his many international honors is the Jerusalem Prize, whose previous recipients include J. M. Coetzee, Milan Kundera, and V. S. Naipaul.
Praise For…
---
A New York Times Notable Book • A Washington Post Best Book of the Year
 
"An irresistibly engaging literary fantasy.... Murakami possesses many gifts, but chief among them is an almost preternatural gift for suspenseful storytelling."
—The Washington Post
 
"A grand, third-person, all encompassing meganovel. It is a book full of anger and violence and disaster and weird sex and strange new realities, a book that seems to want to hold all of Japan inside of it."
—The New York Times Magazine
 
"Part noir crime drama, part love story, and part hallucinatory riff on 1984.... You don't know where things are going while you read it, and you can't say exactly where you've been when you're finished, but everything around you looks different somehow."
—Newsweek
 
"A magical journey to a parallel world ... 1Q84 is a love story and a detective story. It's a philosophical novel about the power of storytelling, the nature of reality, and the shifting balance of good and evil."
—The Philadelphia Inquirer
 
"A weirdly gripping page-turner."
—Charles Baxter, The New York Review of Books

"More than any author since Kafka, Murakami appreciates the genuine strangeness of our real world, and he's not afraid to incorporate elements of surrealism or magical realism as tools to help us see ourselves for who we really are. . . . A tremendous accomplishment."
—The San Francisco Chronicle

"An immersive experience, one that will leave readers wondering what is real and what is imagined."
—Pittsburgh Tribune-Review

"Murakami's unflagging and masterful take on the desire and pursuit of the Whole."
—Paul Theroux, Vanity Fair
 
"A big sprawling novel [that] achieves what is perhaps the primary function of literature: to reimagine, to reframe, the world."
—Los Angeles Times

"The international literary giant at his uncanny, mesmerizing best."
—Salon

 "1Q84 is one of those books that disappear in your hands, pulling you into its mysteries with such speed and skill that you don't even notice as the hours tick by. . . . Magical. Grade: A."
—Entertainment Weekly
 
"Voracious visionary Haruki Murakami's 1Q84 mixes down-the-rabbit-hole fantasy with out-there science fiction for a superhefty but accessible adventure." —Elle

"A huge novel in every sense . . . putting it down is not an option. . . . The reader who steps into its time flow only reluctantly comes ashore."
—New York Daily News