You are here
Tuesday Mooney Talks To Ghosts (Paperback)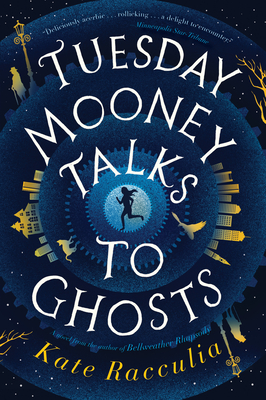 Staff Reviews
---
So good! Best book ever! Ruined all other books for me!!!
Seriously, a fantastic story, EXQUISITE characters, brilliant language.
Mystery, adventure, paranormal, love, fantasy, all good things!
Also, LRob loved it too!
— Kelleen
October 2019 Indie Next List
---
"Tuesday Mooney is smart, intrepid, and just a little bit lost—even 20 years after her best friend disappears without a trace. A prospect researcher by trade, she dives in deep when a strange and reclusive billionaire dies and leaves puzzles throughout the city in an elaborate treasure hunt. While this fun and affecting book could have won me over just by being a romp, there is more here. Tuesday and her compatriots are all forced to confront the traumas that have stunted their lives and find new strength in their relationships. I couldn't have asked for more!"
— Anmiryam Budner, Main Point Books, Wayne, PA
Winter 2020 Reading Group Indie Next List
---
"After reading the author's previous book, Bellwether Rhapsody, I have been anxiously awaiting her next read, and she did not disappoint! A gloriously fun read that reminded me of the beauty and magic of The Night Circus mixed with the puzzle-solving mystery of The Westing Game. A perfect choice to pick up and devour. Prepare to be immersed in Tuesday's world, following clues and enjoying Racculia's wit throughout an elaborate treasure hunt in the city of Boston."
— Kirsten Hess, Let's Play Books!, Emmaus, PA
Description
---
A handsome stranger. A dead billionaire. A citywide treasure hunt. Tuesday Mooney's life is about to change in ways she—and no reader—could never expect in this "rollicking" (Star Tribune), award-winning novel. ¶ A Kirkus Reviews Best Book · An Indie Next Pick · A Library Reads Selection · A New York Post Best Book of the Week · A Publishers Weekly Pick of the Week · A Buzzfeed Best Paperback · and more! ¶ Tuesday Mooney is a loner. She keeps to herself, begrudgingly socializes, and spends much of her time watching old Twin Peaks and X-Files DVDs. But when Vincent Pryce, Boston's most eccentric billionaire, dies—leaving behind an epic treasure hunt through the city, with clues inspired by his hero, Edgar Allan Poe—Tuesday's adventure finally begins. Puzzle-loving Tuesday searches for clue after clue, joined by a ragtag crew: a wisecracking friend, an adoring teen neighbor, and a handsome, cagey young heir. The hunt tests their mettle, and with other teams from around the city also vying for the promised prize—a share of Pryce's immense wealth—they must move quickly. Pryce's clues can't be cracked with sharp wit alone; the searchers must summon the courage to face painful ghosts from their pasts (some more vivid than others) and discover their most guarded desires and dreams. A deliciously funny ode to imagination, overflowing with love letters to art, from The Westing Game to Madonna to the Knights of the Round Table, Tuesday Mooney Talks to Ghosts is the perfect read for thrill seekers, wanderers, word lovers, and anyone looking for an escape to the extraordinary.
About the Author
---
KATE RACCULIA is the author of the novels This Must Be the Place and Bellweather Rhapsody, winner of the American Library Association's Alex Award. She received her MFA from Emerson College and now works for the Bethlehem Area Public Library in Pennsylvania. You can find her at www.kateracculia.com or @kateracculia.
Praise For…
---
A Kirkus Reviews Best Book of 2019  An October 2019 Indie Next Pick An October 2019 LibraryReads Selection A New York Post Best Book of the Week A Best Book of October: BookRiot, Tor.com, Locus, and Chronogram A Best Book of the Fall: CrimeReads and Hey Alma A Publishers Weekly Pick of the Week A Bookish October Book Club Selection A Young Folks Best Book for Halloween A Buzzfeed Best Paperback of October 2020 "A quirky mix that delves into how grief affects us and how friendships and romance turn on a dime, yet it does so with disarming, often deliciously acerbic humor . . . Rollicking . . . The emerging messages are bright: Be generous now. Don't cheat your friendships. Become the person you're looking for. They sound so simple out of context, but in the bewilderingly entertaining context of events, they actually seem like words to live by. And that's a bit of sleight-of-psyche that's a delight to encounter." — Minneapolis Star Tribune "Acerbic and quirky . . . Entertaining." — Toronto Star "Tuesday Mooney Talks to Ghosts is so much fun it should be criminal. A mystery hidden in a game, hidden in a romp around Boston, with intrigue, a little romance, and a ghost? Perfection. Racculia has a gift for both humor and creating deeply relatable oddballs. Genuinely funny, whip-smart, and at times profound, it is a novel that reminds us of both the pure joy of play and the importance of finding people who matter." — Erika Swyler, best-selling author of The Book of Speculation and Light from Other Stars "Racculia has created a curiosity cabinet of a novel here—brimming with wonder and surprise, and populated by a charming, somewhat haunted cast of outsiders. Clue by clue, page by page, Tuesday Mooney leads readers through an adventure that is bookish and spooky and compulsively fun!" — Matthew Sullivan, author of Midnight at the Bright Ideas Bookstore "  "In Tuesday Mooney Talks to Ghosts Kate Racculia has created a host of wonderful odd-ball and eccentric characters, not least Tuesday Mooney herself: smart, vivacious, and beguiling. I was swept up in her crazy treasure hunt through Boston, looking for ghosts—real and imagined. A book for the curious and spirited." — Claire Fuller, author of Bitter Orange, Swimming Lessons, and Our Endless Numbered Days "In this delightful ode to The Westing Game, Kate Racculia takes us on a puzzle-solving adventure!" — CrimeReads "Romance takes a contemporary turn in Kate Racculia's wonderful new novel . . . Dynamic spirit . . . The treasure hunt is a bid for these characters' very souls." — BookPage "A delightful cast of characters, twisty in the best way, and if you are someone who was into puzzles, this is 100 percent for you." — Hey Alma "Your book club will love the Poe references, the thrill of the hunt, and Kate Racculia's vibrant characters." — Bookish "Witty, quirky, and insightful." — Chronogram "A group of misfits are sent on a treas —