You are here
Can't and Won't: Stories (Hardcover)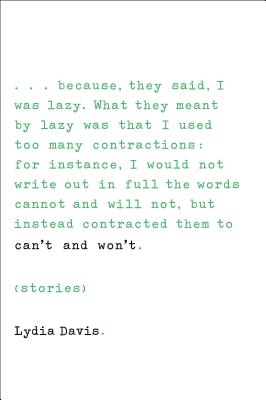 $26.00
Email or call for price
Description
---
A new collection of short stories from the woman Rick Moody has called "the best prose stylist in America"

Her stories may be literal one-liners: the entirety of "Bloomington" reads, "Now that I have been here for a little while, I can say with confidence that I have never been here before." Or they may be lengthier investigations of the havoc wreaked by the most mundane disruptions to routine: in "A Small Story About a Small Box of Chocolates," a professor receives a gift of thirty-two small chocolates and is paralyzed by the multitude of options she imagines for their consumption. The stories may appear in the form of letters of complaint; they may be extracted from Flaubert's correspondence; or they may be inspired by the author's own dreams, or the dreams of friends.
What does not vary throughout Can't and Won't, Lydia Davis's fifth collection of stories, is the power of her finely honed prose. Davis is sharply observant; she is wry or witty or poignant. Above all, she is refreshing. Davis writes with bracing candor and sly humor about the quotidian, revealing the mysterious, the foreign, the alienating, and the pleasurable within the predictable patterns of daily life.
About the Author
---
Lydia Davis is the author of The End of the Story: A Novel and several story collections. Her collection Varieties of Disturbance: Stories was a finalist for the 2007 National Book Award. She is the recipient of a MacArthur fellowship, the American Academy of Arts and Letters' Award of Merit Medal, and was named a Chevalier of the Order of the Arts and Letters by the French government for her fiction and her translations of modern writers, including Maurice Blanchot, Michel Leiris, and Marcel Proust. Lydia Davis is the winner of the 2013 Man Booker International Prize.
Praise For…
---
"Davis is an author who takes nothing for granted, even the form of the writing itself. Can a sentence be more than a sentence? How does experience reveal itself? These questions have been at the heart of Davis' career from the outset . . . 'Be regular and orderly in your life, so that you may be violent and original in your work, Flaubert famously cautioned, and the sentiment applies to Can't and Won't. At the center of the book is the understanding that we can locate stories anywhere, that the most regular and orderly moments are, in fact, the most violent and original, that it is up to us to notice, to re-create, to preserve . . . In many ways, Can't and Won't is like a set of William Burroughs cut-ups, random moments juxtaposed, one against the other, until reality takes on the logic of a collage. Unlike Burroughs, though, Davis' intent is not to rub out the word. Rather, language is what gives shape to the chaos, allowing us to invest existence with a shape. That this shape is of our making, our invention is the point precisely." —David Ulin, The Los Angeles Times
"Some writers have the uncanny ability to slant your experiences. Read enough Lydia Davis and her stories start happening to you . . . Her stories have a way of affecting the sense so that indecision itself becomes drama and a mutual shrug between two strangers can take on more meaning. This is what the best and most original literature can do: make us more acutely aware of life on and off the page. To read Davis is to become a co-conspirator in her way of existing in the world, perplexity combined with vivid observation. Our most routine habits can suddenly feel radically new . . . Her work, which often consists of brief stories made up of seemingly mundane observations, resists classification and is especially immune to explanatory jibber-jabber. In a universe drowning in words, Davis is a respite .What she doesn't say is as important as what she does . . . She ignores any and all cramped notions about what is and is not a story, and her work has always freed up reads to conjure their own lasting, offbeat visions . . . Call Lydia Davis the patron saint of befuddled reality . . . Davis's books more fully mirror (and refract) the chaos of existence than safer, duller, more homogenous collections precisely because the stories aren't consistent in tone, subject matter, length, depth or anything else. Neither are we consistent. One moment you can't decide where to sit on a train, the next you find yourself staring squarely into the abyss. What Davis is attempting to express is the wild divergence of human experience, how the ordinary and the profound not only coexist but depend on each other . . . Can't and Won't is a more mournful and somber book than previous Davis collections. Calamity and ruin are always close at hand . . . Still, the wonky comedy remains, as does the knife-thrust prose, as does the exuberant invention . . . Random beauty, too, is everywhere . . . It is as if Davis means to remind us that only close, intense observation can save us, and only for the time being." —Peter Orner, The New York Times Book Review
"Can't and Won't is the most revolutionary collection of stories by an American in twenty-five years. Here, indeed, are objects in all their eerie mystery--knapsacks, nametags, rugs, frozen peas--vibrating with possibility; but here, too, is consciousness dramatized in a truly new way, behaving with the stubborn inertia of those very same objects . . . No story writer alive has put sentences under so much pressure, so well, so consistently. In dealing with mortality, though, Davis's observational gaze has acquired a new warmth and depth . . . The difference between the words can't and won't is created by the mind. One is inability; the other is willed refusal -- but how often are they confused? Consciousness, these stories show, so often pivots between these poles on the axis of this confusion. The genius of Can't and Won't is that Davis has created a narrative out of that oscillation. Here is a mind rubbing up against the world, with fascination and wonder and disgust. It judges and it observes. Davis writes in sentences as radically lucid as any penned by Grace Paley, who was, in her lifetime, too often belittled as a miniaturist. What is tiny--like a molecule of oxygen--allows us to breath, as these stories do with their fabulous, occult integrity." —John Freeman, The Boston Globe
"Lydia Davis's short-story collections tend to exceed the boundaries of a single book and become libraries . . . Whatever its source, Davis's range is all the more impressive for reading as a series of natural progressions . . . Come to this one-book library for the mercurial gifts of its author; stay because the stories continually renew their invitation to be read inventively." —Helen Oyeyemi, The Guardian
"Davis's curtest works have a lot in common with poetry: this poised, metaphysical jest about time, death and language owes a debt to its line endings. Yet even at her most poetic Davis is a storyteller, even if her plots unfold with the quiet philosophical precision of a Samuel Beckett 'fizzle' or theatrical monologue . . . when her genius for syntax is married to genuine emotion, then the results can be truly astonishing. In Can't and Won't, these emotions wheel ominously around death. 'The Dog Hair' is both touching elegy for a deceased pet and surrealist joke that captures the futile yearning that accompanies grief. The knowing reserve of 'A Story Told to Me by A Friend' explores how language creates love and, by extension, sorrow, how intimacy overcomes distance, and how distance gets in the way. The most memorable of all is 'The Child,' which almost shocks with its dispassionate snapshot of a bereaved mother and a profound melancholy that beggars belief. Incorporated elegantly into this extraordinary five-line work are questions about art's capacity to fix such sadness. The final whispered command, 'Don't move,' resounds endlessly. As so often in Lydia Davis, the less said, the better." —James Kidd, The Independent
"Unlike most American writers receiving international prizes, [Lydia Davis] . . . tend[s] to focus on very short stories, but they might be better described as succinct, exploding the accreted clichés of literary fiction, until so much of that intricate plotting, deft characterization, etc., seems to be futile marketing copy . . . Her new collection Can't and Won't makes use of extreme brevity . . . often to bracket deadpan jokes, tight little bows that unravel in your hands . . . neat simplicity is less façade than grist. Like Raymond Queneau's Exercises in Style, the twin variations of 'Reversible Story' become more striking for their absence of incident . . . And 'Men' demonstrates that, despite Davis's wry restraint, her prose can still trot into flight." —Chris Randall, The National Post
"So many of [Lydia Davis's] stories reflect paying attention to what is around us, to things we normally ignore . . . Her subjects are often mundane: lost socks, dog hair, cooked cornmeal. Yet they leave a resonance that makes us think again about the experiences that fill our lives but that we fail to think about . . . Because they are so tightly written and are usually so brief, [Davis's stories] demand that we think about them and reflect on what they may want to say to us." —Gordon Houser, The Wichita Eagle
"Remarkably, it is often the stories that take up the least space on the pages of Can't and Won't that deliver the most emotion and are the most stylistically interesting . . . Across all of her stories, Davis uses words sparingly, resulting in prose that is never flowery and narration that keeps its distance from the reader. We are watching these characters and listening to them rather than being intimately invited into their lives. Davis writes grief subtly and beautifully in this collection . . . Can't and Won't is never more sad, more mundane, or more tragic than reality, and yet it is still striking that Davis creates such visceral depictions in her stories. The collection is a strong example of Davis's work and a worthwhile read, with content, form, and style that provoke thought and capture reality--usually in less than one page." —Cecilia Paasche, The Swarthmore Phoenix
"Ezra Pound famously exhorted the artist to 'make it new,' a directive on the one hand incontestable and, on the other, dangerously difficult. Lydia Davis is that rare writer whose work enacts the injunction: the dramas and ironies of her short--often very short--stories are those of our everyday lives, held up before us as if for the first time. The effect is rather like that of saying the same word over and over until it becomes alien, a new and strange thing: our relation to dog hair, to a piece of fish or a bag of frozen peas, or to an unsolicited invitation in the mail--any of these can provide an occasion for the world to shift, however slightly, upon its axis. High quality global journalism requires investment. It's possible to make any number of statements about Davis's fiction: that her stories are idiosyncratic, unmistakably Davisian; that she combines what might, in others, resemble whimsy with a bracingly unsentimental clarity of observation; that she shows a flagrant--and inspiring--disregard for rules or obligations (no teacherly insistence here upon what a story ought to be, upon its structure or requirements), and an almost philosophical openness to the objet trouvé that runs, like a surrealist thread, through her new collection of stories. All of these statements are true, and yet none can truly convey the first thing about her work, which is sui generis . . . Davis's signal gift is to make us feel alive-- not with pyrotechnics or fakery, not in grand dramas or confections whipped up for the purpose; but rather in her noticing of the apparently banal quotidian round, in records of our daily neuroses and small pleasures. These, she insists, are meaningful, and can be made new: these are the true substance of life." —Claire Messud, The Financial Times
"Lydia Davis' stories have been called prose poems, case studies, riddles, koans--even gherkins, for being so small and tart and edible. But properly speaking, they are magic tricks. Davis is a performative writer, as subtle and economical in her movements as any magician, and she's out to enchant. Coming across her terse little stories feels rather like being shown a top hat, being told it's empty, being shown it's empty, and then watching something enormous and oddly shaped emerge from it. From a handful of sentences, Davis can wrest meaning or dazzle us with sleight of hand . . . These are stories deeply concerned with death, with aging, as the body as the site of breakdown and complaint. Dead dogs continue to pile up. There's the dead sister, a dead child, a dead cat named Molly. One story contains only snippets from local obituaries . . . the focus on mortality in Can't and Won't casts that famous fussiness of Davis' narrators in an edifying light . . . Davis dances right up to and around that final mystery that can't, won't and must be borne, that most inexplicable magic trick, life's vanishing act." —Parul Sehgal, National Public Radio
"Davis has done the work. She fronts up. She's a writer. And here is some of her finest work . . . there's some new, fresh sadness this time around. There's something special in the way these stories sucker-punch you too. You read through pages of paragraph-long stories to arrive at something larger and when one of the small handful of 10-20 page stories hits you it is so deftly controlled, so exquisitely put together . . . the book, this collection, [is] an extraordinary set of surprises. The meditations on grief here are poignant and in one of the collection's longest stories the control around heartbreak, around the methodical explanation of grief and the delayed reactions is almost too much to take. Of course I mean that in the very best way." —Simon Sweetman, Off the Tracks
"[Can't and Won't] again shows [Lydia Davis] to be one of contemporary literature's most approachably idiosyncratic and dryly comic writers . . . Whether her subjects are undeniably grave or amusingly trivial--one character agonizes over whether to sell a rug--Davis has the rare ability to write calmly about anxiety, capturing all the circularity of a mind in agitation without resorting to run-on sentences or other staples of breathlessness . . . Serious but never pompous, Davis and her often fussy, bothered narrators see that life is routinely funny but by no means a joke. Like Samuel Beckett, another key influence, she has created a kind of wisdom literature of bewilderment." —Dylan Hicks, Star Tribune
"What's wonderful and wholly original in her work is how the narrator is not a character, but Davis' mind itself." —Tricia Springstubb, The Plain Dealer (Cleveland)
"Davis' ability to create and observe these small details of experience and perceived reality, be they objects or ideas, without allowing herself any distractions, allow her to work freely in forms short and long and employ techniques designated, by and for other writers, as strictly either mainstream or avant-garde. The reason for this is simple: for Davis, there is only writing. As we live, we observe life and language to find in what we observe and in ourselves patterns that may appear familiar until they are revealed to be stunning and strange. For each of these observations, there is a narrator and a narrative moment. Each of these moments is already a story. When one is ready to be written down, Lydia Davis can and will." —Stephen Piccarella, HTML Giant
"When Lydia Davis won the 2013 Man Booker International Prize, the attempt to fix a label to her work reduced one of the judges . . . to a bit of flailing . . . Personally, I'm not sure what the problem with just calling her a writer is, unless it's this: If what she does is writing, we need a new name for what everyone else is doing . . . She makes the impossible look easy . . . Like Proust, whom she has translated, Davis writes the act of writing itself . . . her stories are filled with moments of crisis about how to carry on, or what word to put down next, and fears that it could all mean nothing in the end. She's a theorist of the arbitrary. The fact that she makes it look so easy--so arbitrary, even--is part of the fun . . . Lydia Davis is a translator even when she's not working in a foreign language. Writing is always a practice of choosing, but she makes this the subject as well as the method of her work; her meticulous, obsessive 'correctness' makes words as fraught as they are funny." —Christine Smallwood, BookForum
"Reading a Lydia Davis story collection is like reaching into what you think is a bag of potato chips and pulling out something else entirely: a gherkin, a peppercorn, a truffle, a piece of beef jerky. Her stories look light and crisp, with their unadorned prose and flat-footed style, but on closer inspection they are pity, knobby, savory, chewy, dense. They are also mordantly, slyly funny in their exposure of human foibles. Can't and Won't . . . is evidence of a writer who is in total control of her own peculiar original voice; its pleasures are unexpected and manifold . . . Davis . . . shares with Samuel Beckett a sharp playfulness and antipathy toward ornamentation, as well as a tendency to subvert dramatic expectations that is, in the aggregate, startlingly dramatic." —Kate Christensen, Elle
"What Davis is evoking is conditionality, which is the great theme of this collection, indeed of her entire oeuvre. Despite (or, perhaps, because of) their brevity, her stories ask existential questions, about us and the world . . . At the center of the book is the understanding that we can locate stories anywhere, that the most regular and orderly moments are, in fact, the most violent and original, that it is up to us to notice, to re-create, to preserve . . . In many ways, Can't and Won't is like a set of William Burroughs cut-ups, random moments juxtaposed, one against the other, until reality takes on the logic of a collage. Unlike Burroughs, though, Davis' intent is not to rub out the word. Rather, language is what gives shape to the chaos, allowing us to invest existence with a shape. That this shape is of our making, our invention is the point precisely." —David Ulin, The Los Angeles Times
"Davis' writing forces us to think that there's a way to embody an entire world with the sparest details . . . The fact is, Lydia Davis is not just some kind of arch-experimentalist; she is a great storyteller . . . A single-line story defies convention and skews our very idea of what a story can or should do. It could, and should, seem like a gimmick, especially after several collections. But each of Davis' brief forays across the white space of the page continues to confound the confines of narrative and give it a new identity. She provides us with just enough information that our imaginations can do the rest . . . Davis uses observations . . . to trigger sensory memory, so that with these quick perceptions, the reader is able to complete entire scenes and imagine full-bodied characters in spite of their obvious absence. Davis shows that our brains are story-making machines. We can't help but fill in the blanks. And the result is a weirdly extreme kind of minimalism that almost seems maximalist while simultaneously making Raymond Carver and company look like the loquacious Proust (whom Davis has translated) . . . Each story of Davis' collection is a new tour de force, overwhelming us with the variety of invention . . . As in her previous work, depression, pain, and loss frequently seep in around the edges of these stories. Davis' characters seek change, desperately fighting for a new beginning, while, in heartbreaking fashion, coming to that near-breakdown phase. She writes, 'I had grown used to feeling two contradictory things: that everything in my life had changed; and that, really, nothing in my life had changed.' Often, Davis pivots between these two worlds: the ever-changing and the seemingly never-changing, and, likewise, everything in between. But just when there's a moment in which her characters feel safe, perhaps relieved, presumably with their futures altered for the better, Davis throws them once more toward that horrible condition they are running from. But even in the worst situations, there is always that unexpected wit lurking close at hand, as if to say that agony and misery, if fully disclosed, can exploit the short distance between tragedy and comedy and reveal something new about what it means to be human." —Nicolas Pavlovich, City Paper (Baltimore)
"If you were to try to describe Davis's preoccupations in Can't and Won't in a word, you might choose 'distinction.' . . . distinction itself emerges in Can't and Won't as the stuff of existence. There is one major distinction we can't humanly conceive, that between life and death, but in all the minor distinctions--that between fish to avoid and fish to eat with caution, awards won and not won, commas kept or removed--something very human happens: characters delineate what they won't. They can't refuse death, but they can make very mortal distinctions. And these add up to life." —Tracy O'Neill, The L Magazine
"Davis is perhaps the sparest contemporary fiction writer we have--breathtakingly bold in the limits she imposes on herself . . . There is no roughage in her writing--there is nowhere to hide. There are only the words--stark and striking, an experiment in just how little it takes to make a story. Her work can sometimes read like a test of discipline or the brilliant product of a dare: You thought I couldn't do it, didn't you? I broke your heart in one paragraph or less." —Chloe Schama, The New Republic
"Davis is something of a genius at twisting . . . ideas around her little finger, like a precocious child twirling her hair into odd shapes. There is wit, humour and a strange beauty in her compressed concentration of the short story . . . Even at her most poetic . . . Davis is a storyteller, albeit one whose plots unfold with the quiet, philosophical precision of a Borges story." —James Kidd, South China Morning Post
"When Lydia Davis writes short stories, you take notice. You observe them and linger in their bitter or sweet after-thought. You also get confused. You wonder what her stories are about. As a reader, you also want to give up some times. You do not want to turn the next page. That is what you feel like and you cannot help it. You keep the book aside and after some time you get back to the book and then it hits on you, what you have been missing out on. And then the true beauty of her writing hits you. Lydia Davis's new collection of stories, Can't and Won't is a fantastic collection of vignettes, of short stories and of really long stories . . . Can't and Won't is a collection that makes you ponder, makes you doubt, leaves you confused, perplexed and at the same time wrenches your heart with the most basic observations about life and living . . . The stories are sometimes complex, sometimes simple and sometimes just make you want to drop everything else and think about life. Can't and Won't is expansive. It is a collection that challenges you, delivered in well prose and above all conjures a sense of wonder and delight, with every turn of the page." —Vivek Tejuja, IBN Live
"Davis . . . continues to hone her subtle and distinctive brand of storytelling. These poems, vignettes, thoughts, observations, and stories defy clear categorization; each one is an independent whole, but read together they strike a fine rhythm. Davis circles the same central point in each entry: her character examine the world with a detached, self-contained logic that seems to represent the process of writing itself . . . Davis's bulletproof prose sends each story shooting off the page." —Publishers Weekly
"The title story in Davis's latest collection of nimble and caustic stories, a wry tale about why a writer is denied a prize, is two sentences in length, but, as always with this master of distillation, it conveys volumes. In the wake of The Collected Stories of Lydia Davis (2009) and receiving the Man Booker International Prize, Davis presents delectably intriguing and affecting new works shaped by her devotion to language, vigilant observations, literary erudition, and tart humor. A number of strikingly enigmatic stories carry the tag 'dream,' and they are, in fact, based on dreams dreamed by her Davis and her family and friends. Thirteen intricately layered and thorny pieces flagged as 'stories from Flaubert' improvise saucily and revealingly on the seminal writer's letters. Elsewhere, Davis tosses together the trivial and the profound in hilarious and plangent tales about painful memories and epic indecision, deftly capturing the mind's perpetual churning and the terrible arbitrariness of life. Then, amid all this fretfulness and angst, a narrator devotes herself to watching three serene cows in a neighboring field. Davis is resplendent." —Donna Seaman, Booklist
"[Lydia Davis] continues to push the boundaries of narrative. [Can't and Won't] is a remarkable, exhilarating beast: a collection that resumes the author's overall style--short narratives, with the occasional longer piece--while simultaneously expanding her vision . . . with Can't and Won't, Davis deftly hones the art of looking backward, of calling the dead to life, of retaining the moments in life intended to remain fleeting. The result is a tapestry of method, style, and structure, all with the same objective: to possess that which has passed, to capture the lost and the unidentifiable." —Benjamin Woodard, Numero Cinq Magazine
"Daring, exciting intelligent and often wildly comic, Davis reminds us, in a world that likes to bandy its words about, what words such as economy, precision and originality really mean. This is a writer as mighty as Kafka, as subtle as Flaubert and as epoch-making in her own way, as Proust. The stories in this new collection illuminate particular moments in ordinary lives and find in them the humorous, the ironic and the surprising. Above all the stories revel in and grapple with the joys and constraints of language--achieving always the extraordinary, unmatched precision which makes Lydia Davis one of the greatest contemporary writers on the international stage." —The Himalayan Times
"Davis's narrators are almost always in midst of some essentially normal situation, but unable to integrate that situation into the familiar world of the social throng. Instead her stories linger on the threshold of that world, exposing its artifice. This liminal, self-enclosed and yet outward looking perspective would seem to be the position of the writer. And yet, Davis is too intelligent by half to stray into any writerly heroics. The writer doesn't have any privileged access to some deeper truth of things. Far from it: writing is referred to as a deeply suspect activity -- at once treacherous ('Two Characters in a Paragraph') and evasive ('Writing'). Rather, the detached, analytical and incisive perspective that Davis's narratives open is simply another perspective on a world that is infinitely amenable, interpretable, ambiguous. Davis awakens the multiplicity of meanings; she doesn't settle on new ones . . . Davis has a particularly acute eye for the contracted violence, imbalances of power, and stirrings of ressentiment implicit in prosaic social relations . . . Davis gives voice to those inchoate mumblings, to those thoughts that half-form in our minds before collapsing under the weight of their own aporia and, with craft and care she follows them through their manifold turns and folds. And all this in prose that is stark, limpid, precise and quietly beautiful. (Hannah Arendt famously said of Kafka that he has no favourite words. The same is surely true of Lydia Davis.) Her stories give expression to the pit in the plum; the madness implicit in the quotidian. Like half-forgotten dreams, they linger somewhere between the alien and the familiar, the unreal and the hyper-real. At once uncomfortable, painful and compulsive, reading Lydia Davis is like looking into a mirror held too close to one's face; you can't bear to look, nor to look away." —Will Rees, Full Stop
"Davis's work is serious, sedate, and spare. It is also very funny . . . Choosing just one or two stories to highlight the highlights is not easy . . . Choosing just one or two stories to highlight the highlights is not easy . . . One particularly tempting piece is titled simply 'The Cows.' It is a miraculous and revelatory dissection of the ordinary, a tour de force, a showcase of Davis's talents. 'Not Interested,' a story near the end of the book, can be read in part as an artist's statement. It is an analysis of a doppelgangerish narrator's reading life. She is tired, she says, of novels and stories. She 'prefers books that contain something real.' This is the dilemma that Davis, the artful dodger, is trying artfully to dodge--a reaction to contemporary imaginative literature that is similar to her own. She is trying in her exact and meticulous examinations of the everyday to write a different sort of story--one that has, in addition to many other things, something real in it. Her work will be of little interest to the reader looking for wizards, nymphomaniacs, or serial killers, but of great interest to those looking for adventurous writing that is smart, original, ingenious, funny, and fun. This new collection is a welcome addition to a unique and dazzling body of work." —K. B. Dixon, The Oregonian
"[Lydia Davis is] one of our smartest, wryest and certainly strangest . . . American authors working today . . . and her latest book of stories, Can't and Won't, is as good as anything else she's done, maybe better . . . Davis's stories are certainly cerebral . . . And yet, there's a lot of humor in the stories, too. This comes from Davis's fierce intelligence, which is able to skewer the foibles and fritzes of our brains as well as she captures their functions. There's also a warmth in the stories." —Adam Jones, Yakima Herald
Coverage from NPR