You are here
Day of the Oprichnik: A Novel (Paperback)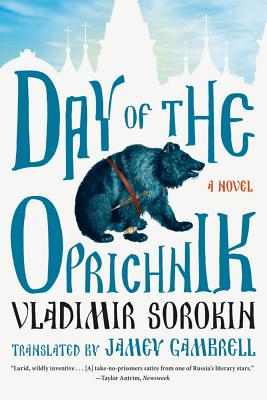 $16.00

Usually Available in 1-5 Days
Description
---
One of The Telegraph's Best Fiction Books 2011

Moscow, 2028. A scream, a moan, and a death rattle slowly pull Andrei Danilovich Komiaga out of his drunken stupor. But wait—that's just his ring tone. So begins another day in the life of an oprichnik, one of the czar's most trusted courtiers—and one of the country's most feared men.

In this new New Russia, where futuristic technology and the draconian codes of Ivan the Terrible are in perfect synergy, Komiaga will attend extravagant parties, partake in brutal executions, and consume an arsenal of drugs. He will rape and pillage, and he will be moved to tears by the sweetly sung songs of his homeland.

Vladimir Sorokin has imagined a near future both too disturbing to contemplate and too realistic to dismiss. But like all of his best work, Sorokin's new novel explodes with invention and dark humor. A startling, relentless portrait of a troubled and troubling empire, Day of the Oprichnik is at once a richly imagined vision of the future and a razor-sharp diagnosis of a country in crisis.
About the Author
---
Vladimir Sorokin is the author of eleven novels, including Day of the Oprichnik (FSG, 2011), Ice Trilogy, and The Queue; thirteen plays, and numerous short stories and screenplays. He wrote the libretto for Leonid Desyatnikov's The Children of Rosenthal, the first opera to be commissioned by the Bolshoi Theater in a quarter century. His books have been translated into thirty languages. He has won the Andrei Bely and the Maxim Gorky prizes, and The Blizzard was the recipient of both the NOS Literature Prize and the Bolshaya Kniga prize. In 2013, Sorokin was a finalist for the Man Booker International Prize. He lives in Moscow.
Praise For…
---
"Vladimir Sorokin is one of Russia's greatest writers, and this novel is one of his best. Day of the Oprichnik is a haunting and terrifying vision of modern Russia projected two decades into the future--or maybe not the future at all. A joy to read--more entertaining, dynamic, engaging, and deeply hilarious than a dystopian novel has any right to be." —Gary Shteyngart, author of Absurdistan and Super Sad True Love Story

"Anyone who wants to learn more about Russia and what could be the outcome of [Vladimir] Putin's rule should read the book. It's dark and dystopian, but it's a part of our life." —Garry Kasparov, Time

"Might this be something of a Sorokin moment in the Anglophone world? Is the pope German?" —Stephen Kotkin, The New York Times Book Review

"[A] take-no-prisoners satire from one of Russia's literary stars . . . Vladimir Sorokin's lurid, wildly inventive Day of the Oprichnik is a rowdy critique of Russia's drift toward authoritarianism." —Taylor Antrim, Newsweek

"Sorokin's book is a sleek and darting fish . . . Day of the Oprichnik . . . should attract the readership [Sorokin] deserves . . . He has a fearless imagination willing to be put to most grotesque and energetic use." —Alexander Nazaryan, The New Republic

"Compelling . . . Devastating . . . Powerful . . . In Day of the Oprichnik, [Sorokin] combines futurological invention with political archaism to vicious satirical effect . . . It's as if hi-tech limbs had been grafted onto the torso of early modern statecraft: Wolf Hall meets William Gibson." —Tony Wood, London Review of Books

"Day of the Oprichnik is Vladimir Sorokin's funniest and most accessible book since The Queue. The KGB orgy scene at the end is worthy of the great shit-eating scenes of his earlier work." —Keith Gessen, author of All the Sad Young Literary Men

"Sorokin's novel packs a hefty satirical punch that will show American audiences why the author has been so controversial in Russia . . . Great fun, with a wickedly absurdist humor that occasionally reminds one of William S. Burroughs." —Booklist

"Perhaps no other postmodern writer demonstrates the angst around the reemergence of Russia's slide back toward authoritarianism than the celebrated (and often reviled) satirist Sorokin. His latest assault, not only on Putin's government but literary senses, is a caustic, slash-and-burn portrait of a man joyfully engaged in the business of state-initiated terrorism . . . It's disturbing stuff, but as Sorokin's razor-sharp caricature unfolds . . . the novelist's keen argument becomes hard to ignore . . . [An] acidly funny send-up of Russia's current state of affairs." —Kirkus Reviews

"Sorokin's creations are at once fantastically strange and all too familiar. His pen drips with imaginative fury . . . [Day of the Oprichnik] holds its own with dystopian classics like Fahrenheit 451 and honors the traditions of Dostoyevsky, Tolstoy, and other great Russian writers even as its characters burn their books." —Library Journal

"If queues were arranged in order of merit, it would only be fair to put . . . Vladimir Sorokin at the head." —Lucy Ellman, The Guardian

"Sorokin [is] one of Russia's funniest, smartest and most confounding living writers." —Elaine Blair, The Nation

"Controversy chases the Russian writer Vladimir Sorokin the way a dog chases a stick." —Ken Kalfus, The New York Times Book Review