You are here
Faith, Hope and Carnage (Hardcover)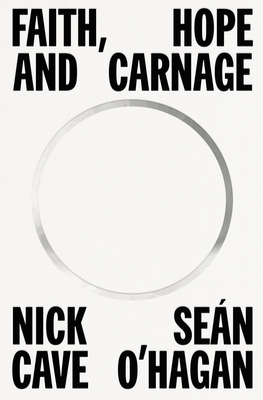 Description
---
Faith, Hope and Carnage is a meditation on faith, art, music, freedom, grief and love.

Created from more than forty hours of intimate conversations with Seán O'Hagan, it is a profoundly thoughtful exploration, in Cave's own words, of what really drives his life and creativity.

The book examines questions of faith, art, music, freedom, grief, and love. It draws candidly on Cave's life, from his early childhood to the present day, his loves, his work ethic, and his dramatic transformation in recent years.

From a place of considered reflection, Faith, Hope and Carnage offers ladders of hope and inspiration from a true creative visionary.
About the Author
---
Nick Cave has been performing music for more than forty years and is best known as the songwriter and lead singer of Nick Cave & The Bad Seeds, whose latest album Ghosteen was widely received as their best work ever. Cave's body of work also covers a wider range of media and modes of expression including film score composition, ceramic sculpture and writing novels. Over the last few years his Red Hand Files website and 'Conversation with' live events have seen Cave exploring deeper and more direct relationships with his fans.

Sean O'Hagan, coauthor of Nick Cave's Faith, Hope and Carnage, has interviewed many major artists, writers and musicians over the last four decades. He currently works as a feature writer for the Observer and is photography critic for the Guardian.