You are here
Kindergarten Basic Math Success Workbook: Counting to 5 and 10, Ordinal Numbers, Classifying and Sorting, Number Patterns, Picture Patterns, Geometry and Shapes, Measurement, and More (Sylvan Math Workbooks) (Paperback)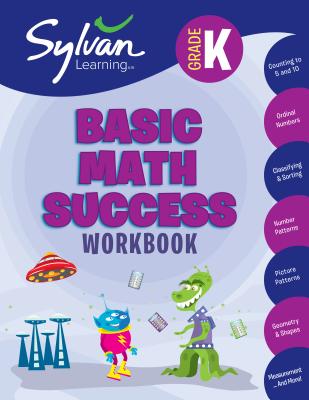 $10.99
Email or call for price
Description
---
Learn from anywhere with these kid-friendly, teacher-reviewed activities for kindergarten math success! This colorful workbook is jam-packed with fun activities for little learners tackling basic math. Perfect for back to school--no matter what that looks like!  

A solid foundation of math skills is essential for success in kindergarten and beyond. This 128-page workbook is full of engaging activities that strengthen young learners' familiarity with basic numbers and patterns. Each activity is designed to help your child become familiar with basic early-math concepts like:

• counting to 5 and 10
• ordinal numbers
• classifying and sorting
• number patterns
• picture patterns
• basic geometry
• shapes
• measurement
... and much more!

With vibrant, colorful pages full of games and puzzles, Kindergarten Basic Math Success Workbook will help your child catch up, keep up, and get ahead—and best of all, have lots of fun doing it!


***** Why Sylvan Products Work *****

Sylvan Learning Workbooks won a National Parenting Publications Awards (NAPPA) Honors Award as a top book series for children in the elementary-aged category. NAPPA is the nation's most comprehensive awards program for children's products and parenting resources and has been critically reviewing products since 1990. The Award recognizes Sylvan Learning Workbooks as some of the most innovative and useful products geared to parents.

Sylvan's proven system inspires kids to learn and has helped children nationwide catch up, keep up, and get ahead in school. Sylvan has been a trusted partner for parents for thirty years and has based their supplemental education success on programs developed through a focus on the highest educational standards and detailed research. Sylvan's line of educational products equips families with fun, effective, and grade-appropriate learning tools. Our workbooks and learning kits feature activities, stories, and games to reinforce the skills children need to develop and achieve their academic potential. Students will reap the rewards of improved confidence and a newfound love of learning.
About the Author
---
Sylvan Learning is the premier provider of tutoring services for grades pre-K to 12 in North America. With over 850 locations in the United States and Canada, Sylvan provides individualized tutoring services, both in centers and online, in subjects including math, language arts, writing, study skills, and more.Sylvan's proven process and personalized methods have helped more than two million students unlock their academic potential. With products based on solid and scientific research, Sylvan is committed to both quality education and to helping children discover a love of learning!
Praise For…
---
"The activities are FUN, and our son doesn't realize that while he's having fun, he's also learning and reinforcing what he's learned." — Shescribes.com

"As an early childhood teacher, I know that good reading, vocabulary, and spelling skills make an essential foundation for both academic success as well as lifelong learning. Sylvan Learning Workbooks & Learning Kits are an awesome resource that I'd have no problem recommending to the parents of any of my students who are struggling. The teacher-reviewed, curriculum-based activities and exercises in these books are great for helping a child achieve success with reading."— TheOpinionatedParent.com

"Since I was beginning homeschooling and looking for a good 'workbook' type system for my child to learn from aside from our other homeschool activities, I decided to try it out. My son loves the workbooks." — thedomesticdiva.com 

"Samantha loves these books, because to her, they are not school work. They are fun activities. But really, she is learning and doing the same work she does at school." — mommymandy.com 

"My daughter has picked up some great study habits, and she loves that we don't spend hours on one subject. I recommend these workbooks to everyone—homeschooler or not—as they can really add to your child's learning experience." — Thedirtyshirt.com

"I love how each activity in a section connects to each other, which allows the child to really grasp the concepts. The pages are full of interesting stories and fun activities. The workbooks also make it easy for kids to check their own work, which will help them gain confidence in their skills." — Melissaclee.com

"If you are looking for some good, fun learning books for your child, I definitely recommend the Sylvan Learning series." — thedadjam.com