You are here
The Orenda (Hardcover)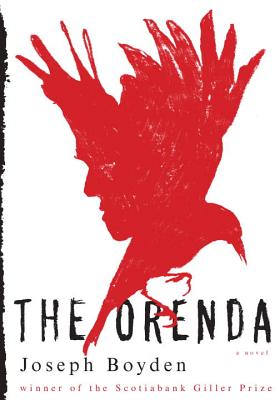 $26.95
Email or call for price
Staff Reviews
---
"Joseph Boyden's The Orenda is set in the 17th century in what is now Canada, and its plot is set in motion when Christophe, a French Jesuit missionary there, is captured by a Huron warrior named Bird. The priest is carried back to the Huron village along with a young Iroquois girl named Snow Falls, and each of the three takes it in turn to narrate the story from a very different point of view. Christophe is desperate to stay alive, but even more desperate to save savage souls; Bird wants to sustain and protect his people, whether by negotiation or by force; and Snow Falls must find a way to maintain her personal and cultural identity in an enemy land.
These characters bond and break and reconnect with each other in a series of shifting alliances driven by external events. There's ongoing political machination by the French colonial government, drought that threatens food supplies, and inter-tribal hostility, but there's also friendship, familial affection, and the shared pleasures of village life during an idyllic season. It's a complete, thoroughly researched look at a fascinating time and place that's just past the edge of familiarity."
--James (to read his full review, see our blog post from earlier in the year)
— From
Our Best Of the Year 2014: Fiction
May 2014 Indie Next List
---
"Wrenching and redemptive, The Orenda offers a narrative scope so wide it seems to encompass centuries and generations, despite taking place over only a few short years. Though Boyden's novel closely follows a strange trinity of the displaced and the mournful -- a powerful Wendat warrior scarred by the loss of his family, an ungainly but earnest Jesuit missionary, and the troubled, gifted Iroquois girl who equally unites and stands apart from them -- he writes of timeless and universal cycles of loss and regeneration and loss again. This is a staggeringly beautiful work."
— Sam Kaas, Village Books, Bellingham, WA
Description
---
In this hugely acclaimed author's new novel, history comes alive before us when, in the seventeenth century, a Jesuit missionary ventures into the wilderness in search of converts the defining moment of first contact between radically different worlds, each at once old and new in its own ways. What unfolds over the next few years is truly epic, constantly illuminating and surprising, sometimes comic, always entrancing, and ultimately all-too-human in its tragic grandeur.
Christophe, as educated as any Frenchman could be about the sauvages of the New World whose souls he has sworn to save, begins his true enlightenment shortly after he sets out when his native guides terrified by even a scent of the Iroquois abandon him to save themselves. But a Huron warrior and elder named Bird soon takes him prisoner, along with a young Iroquois girl, Snow Falls, whose family he has just killed. The Huron-Iroquois rivalry, now growing vicious, courses through this novel, and these three are its principal characters.
Christophe and Snow Falls are held captive in Bird's massive village. Champlain's Iron People have only lately begun trading with the Huron, who mistrust them as well as this Jesuit Crow who has now trespassed onto their land; and Snow Falls's people, of course, have become the Hurons greatest enemy. Bird knows that to get rid of them both would resolve the issue, but he sees Christophe, however puzzling, as a potential envoy to those in New France, and Snow Falls as a replacement for the two daughters he d lost to the Iroquois.
These relationships wax and wane as life comes at them relentlessly: a lacrosse match with an allied tribe, a dangerous mission to trade furs with the French for the deadly shining wood that could save the Huron nation, shocking victories in combat and devastating defeats, thena sickness the likes of which none of them has ever seen.The world of The Orenda blossoms to include such unforgettable characters as Bird's oldest friend, Fox; his lover, Gosling, who some believe possesses magical powers; two more Jesuit Crows who arrive to help form a mission; and boys from both tribes whose hearts veer wildly from one side to the other, for one reason or another. Watching over all of them are the spirits that guide their every move.
The Orenda traces a story of blood and hope, suspicion and trust, hatred and love, that comes to a head when Jesuit and Huron join together against the stupendous wrath of the Iroquois, when everything that any of them has ever known or believed in faces nothing less than annihilation.A saga nearly four hundred years old, it is also timeless and eternal.
About the Author
---
Joseph Boyden s first two novels won virtually every prize that Canada has to offer. Three Day Road (2005): the Roger s Writers Trust Prize; the McNally Robinson Aboriginal Book of the Year; the Canadian Authors Association Book of the Year; the Libris Book of the Year; and the Amazon/Canada First Novel Award. Through Black Spruce (2008): the Scotiabank Giller Prize; the Libris Book of the Year; the Libris Author of the Year. In 2012, Boyden was awarded the Queen Elizabeth II Diamond Jubilee Medal for his contributions to Canadian art and culture. The following year, The Orenda was a number-one best seller there. On the faculty of the University of British Columbia in Vancouver and the Institute of American Indian Arts in Sante Fe, New Mexico, he divides his time between Northern Ontario and New Orleans, Louisiana."
Praise For…
---
"The Orenda is a heart song that spans the continent, and echoes to us across the years. At times devastating and difficult, Joseph Boyden's novel is equally compassionate and inspiring." —Robert F. Kennedy, Jr.

"I tend to approach historical fiction with a certain reluctance to suspend disbelief, yet a few paragraphs into The Orenda I was so thoroughly absorbed in Joseph Boyden's recreation of the moment of first contact between Old World and New that I was digging my nails into my palms. It's a thoroughly beautiful, brilliantly imagined and terrifying novel that seems to tell us something fresh and original about the tragic collision that shaped our continent." —Jay McInerney
 
"Joseph Boyden's The Orenda is a sublime, haunting, and harrowing achievement—a work of fiction, of art, of myth-making at its very finest." —Dinaw Mengestu, author of All Our Names and The Beautiful Things That Heaven Bears
 
"Years from now, The Orenda will be called a classic, but for now Joseph Boyden will have to settle for visionary, majestic, awe-inspiring. The prose is incandescent—and the cultural, tribal, spiritual battles are as gripping as anything I have ever read. There is magic in these pages that will convince you there is magic in the world." —Benjamin Percy, author of Red Moon, The Wilding, and Refresh, Refresh

"It is Joseph Boyden's characters that stay with a reader. So generously drawn and flawed and honest in their cruelties and compassion and righteousness and sacrifice, in their embrace of family, their reach toward spirit. The Orenda is truly a magical accomplishment, rendered vividly in scenes of water and earth and blood." —Mark Spragg, author of An Unfinished Life and Bone Fire
 
"A stunning, masterful work of staggering depth. . . it is like nothing you have ever read, and read it you must. . . . The Orenda is a feat, an achievement [that] is impossible to read without coming away profoundly shaken, possibly changed." – Robert J. Wiersema, The Vancouver Sun
 
"Profoundly researched and told in elegant, muscular prose. . . a great, heartbreaking novel, full of fierce action and superb characters and an unblinking humanity."  —Charles Foran, The Globe and Mail
 
"[A] stunning historical epic. . . the entire novel unfolds like one of the Huron's mystical visions. We experience their world in such tremendous detail [and] come away with a sense of intimacy and a respect . . . Boyden's innate respect for his characters—aboriginal and European—translates into a powerful and convincing depiction of both faiths." —Donna Bailey Nurse, The Windsor Star
 
"Joseph Boyden's talent shines in this important and tough novel about the clash of cultures in 1670's North America. The French & English have a stake in conquering the land as do the Jesuits in conquering, by what they call converting, the native peoples. The Huron & Haudenosaunee as well wage brutal war against each other - all to gain control & dominance over the region and its cultures, or to feel safe from dominance. Boyden's novel is as brilliant and intense as the very fight for survival it depicts; illuminating the forces at play that forever changed the people and this landscape under siege." —Sheryl Cotleur, Copperfield's Books (Sebastopol, CA)