You are here
Bread Head: Baking for the Road Less Traveled (Hardcover)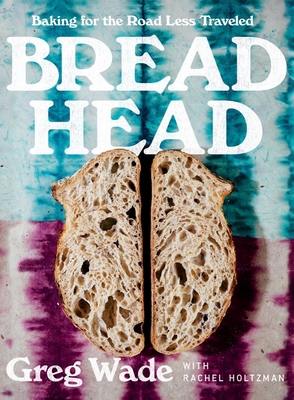 $45.00

Usually Available in 1-5 Days
Description
---
One of Food Networks Best Cookbooks of 2022 • One of Vice's Best Cookbooks of 2022 • One of BookPage's Best Cookbooks of 2022.



A groovy master class in healthy, sustainable, naturally delicious breads from a star of the new bread renaissance.
Greg Wade is an expert in the out-of-this-world tastes and textures of long-fermented, hand-shaped breads. The recipient of the James Beard Award for Outstanding Baker (2019) is committed to spreading the love for local, organic flours and long-fermented sourdough loaves far and wide as he kneads, stretches, and proofs his signature loaves each day at Publican Quality Bread in Chicago. Bread Head is his guide to making all your favorite professional-level breads, cakes, and pastries at home.
Bread Head takes home cooks through foundational recipes like Farmhouse Sourdough and Marbled Rye down a winding road to unexpected and delicious bakes. Sorghum and Rosemary Ciabatta, Wheat Neapolitan Pizza Dough, Ethiopian Injera, Indian Parathas, and Georgian Khachapuri will become welcome new staples in your culinary repertoire. For those with a sweeter tooth, try Greg's Buckwheat Brownies, Wheat Brioche, and Cornmeal Whoopie Pies. Through accessible, teachable recipes that include baker's percentages and capture the importance of hydration and hand-shaping, Greg will improve your baking know-how, confidence, and zeal in the kitchen.
The science and technique are all here: Go forth and explore the infinite universes of delights in each of Greg Wade's inventive recipes.
About the Author
---
Greg Wade is the head baker at Chicago's Publican Quality Bread. He is an active member of local, regional, and national farming organizations devoted to producing ethical, quality ingredients. He lives in Chicago, Illinois.
Praise For…
---
Greg Wade is an incredibly talented and passionate baker. From his own commitment to local grains to the mastery of sourdough, soakers, and porridges, he shares his knowledge about all the elements that make up his extraordinary bread. Greg's curiosity and creativity shine through as he reminds us that baking is a lot of fun. He makes everything feel easy and accessible—this book is a gift to bakers at all levels and a must for the bakers of today!
— Amy Scherber, Amy's Bread, NYC

Take a trip inside the head of Greg Wade, a dedicated custodian to community, soil, and fermentation. This deeply informative work is precise, yet playful and curious… just as one would expect to arise out of Greg's generous nature and extensive talent. As both a reference book and a recipe book, Bread Head will prove to be a tremendously valuable addition to any baker's library.
— Zachary Golper, Bien Cuit, Brooklyn

Bread Head takes us for a groovy ride, navigating Greg's baking philosophy in an easy-to-understand way. I love how this book offers a peek at Greg's genius on baking, hydration, and the importance of the ingredients. I can't wait to start baking and jamming at home.

— Sarah Grueneberg, Chef/Owner, Monteverde

Greg Wade's baking is the kind of far-out bread and pastry that comes from bucking trends and asking the kinds of introspective questions few dare to. It takes a rare personality to look at the same few ingredients day after day and delight in every subtle change nurtured by time, temperature, and a few microbes and yeasts. The only thing missing from this book is the thing only you can give it: the kind of working knowledge that comes with baking bread again and again. So, grab this book, get in the kitchen, and just keep truckin' on! Ya dig?
— Dana Salls Cree, founder, Pretty Cool Ice Cream

Having Greg Wade's brilliant new cookbook Bread Head in your kitchen is like having a renowned baker standing next to you giving you a personal master class. Bread Head provides essential inside tips that only a great baker can offer. But Bread Head is not merely all about bread. This comprehensive book is packed with recipes of treats like buckwheat brownies, bacon rye cheese rolls and whole wheat sponge cake with honey buttercream frosting. If you are serious about baking, then Bread Head is a must.

— Nancy Silverton, Mozza Group