You are here
Love Walked In (Paperback)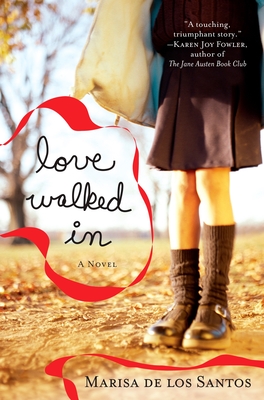 Description
---
From the New York Times bestselling author of I'd Give Anything and I'll Be Your Blue Sky comes a "bewitching, warmhearted grown-up fairy tale about old movies, charming princes, and finding happily ever after in the place where you'd least expect it" (Jennifer Weiner).

When Martin Grace enters the hip Philadelphia coffee shop Cornelia Brown manages, her life changes forever. But little does she know that her newfound love is only the harbinger of greater changes to come. Meanwhile, across town, Clare Hobbs—eleven years old and abandoned by her erratic mother—goes looking for her lost father. She crosses paths with Cornelia while meeting with him at the café, and the two women form an improbable friendship that carries them through the unpredictable currents of love and life.
About the Author
---
A New York Times bestselling author and award-winning poet with a PhD in literature and creative writing, Marisa de los Santos lives in Wilmington, Delaware, with her family. She is the author of I'll Be Your Blue Sky, Love Walked In, Saving Lucas Biggs, Belong to Me, Falling Together, The Precious One, and the poetry collection From the Bones Out.
Praise For…
---
Praise for Love Walked In

"Exquisite and stylish, Love Walked In proves that love in all of its forms—romantic, friendship, familial—is all around us."—Sarah Jessica Parker

"This is a book that will be passed from friend to friend with the words, 'You have to read this.'"—Richmond Times Dispatch

"The kind of book that makes you want to hunker down on a chilly day in a comfy chair and read straight through 'til dark...This [is a] poignant, heart-tugging story about a single woman and a little girl who develop an unlikely bond."—The Washington Post Book World

"A touching, triumphant story of the power and variety and responsibility of love. A joy to read, filled with characters you wish you knew in real life. Love Walked In is every bit as engaging as the classic movies Marisa de los Santos lovingly invokes."—Karen Joy Fowler, New York Times bestselling author of The Jane Austen Book Club and We Are All Completely Beside Ourselves

"Marisa de los Santos's funny and beautifully written love story is as luminous as the silver screen."—Lolly Winston, author of Good Grief