You are here
The American Miracle: Divine Providence in the Rise of the Republic (Hardcover)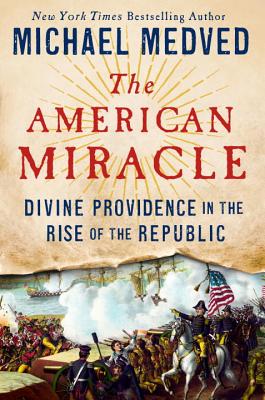 $29.00
Email or call for price
Description
---
Bestselling author and radio host Michael Medved recounts some of the most significant events in America's rise to prosperity and power, from the writing of the Constitution to the Civil War. He reveals a record of improbabilities and amazements that demonstrate what the Founders always believed: that events unfolded according to a master plan, with destiny playing an unmistakable role in lifting the nation to greatness.

Among the stirring, illogical episodes described here:

• A band of desperate religious refugees find themselves blown hopelessly off course, only to be deposited at the one spot on a wild continent best suited for their survival

• George Washington's beaten army, surrounded by a ruthless foe and on the verge of annihilation, manages an impossible escape due to a freakish change in the weather

• A famous conqueror known for seizing territory, frustrated by a slave rebellion and a frozen harbor, impulsively hands Thomas Jefferson a tract of land that doubles the size of the United States

• A weary soldier picks up three cigars left behind in an open field and notices the stogies have been wrapped in a handwritten description of the enemy's secret battle plans—a revelation that gives Lincoln the supernatural sign he's awaited in order to free the slaves

When millions worry over the nation losing its way, Medved's sweeping narrative, bursting with dramatic events and lively portraits of unforgettable, occasionally little-known characters, affirms America as "fortune's favorite," shaped by a distinctive destiny from our beginnings to the present day.
About the Author
---
Michael Medved's daily three-hour radio program, The Michael Medved Show, reaches five million listeners on more than three hundred stations coast to coast. He is the author of twelve other books, including the bestsellers The 10 Big Lies About America, Hollywood vs. America, Hospital, and What Really Happened to the Class of '65? He is a member of USA Today's board of contributors, is a former chief film critic for the New York Post, and, for more than a decade, cohosted Sneak Previews, the weekly movie-review show on PBS. Medved is an honors graduate of Yale with departmental honors in American history. He lives with his family in the Seattle area.
Praise For…
---
"Absolutely spectacular. This book is must-reading for anyone not yet fully convinced that God's hand has been on America from the very beginning. The stories in it are genuinely staggering, fascinating, eye-opening, and deeply inspiring. Please do yourself a favor and read this book!"
—Eric Metaxas, New York Times bestselling author of Bonhoeffer and If You Can Keep It
 
"Whether it was God or the gods, some crucial moments in American history have turned on providential events that defy rational explanation.  Medved has a keen eye for such semi-supernatural stories, and tells them with his customary clarity."
—Joseph J. Ellis, Pulitzer Prize and National Book Award winner; Author of Founding Brothers
 
"Michael Medved does a beautiful job of piecing together the most providential parts of our history—from the story of "indestructible" George Washington to "the miracle of Lincoln." And I can't help but agree with his argument: To believe America is exceptional is simply to be grateful for what God has given us."
—Paul Ryan, Speaker of the U.S. House of Representatives
 
"Michael Medved's wonderful new book makes a compelling case for two beliefs that many of us hold dear—that God's hand is in history, and that America is a divinely favored country. Given the dark mood of the moment, The American Miracle could not be more timely."
—Joseph I. Lieberman, former U.S. Senator from Connecticut; Democratic nominee for Vice President
 
"Without denying the difficulties our nation faces, Medved reminds us that we have faced problems in the past and endured because of our national ideals, and that the same principles that have driven American exceptionalism in the past can help light the way out of our present darkness. Read this book to renew your hope in America."
—Dr. Arthur C. Brooks, president of American Enterprise Institute; author of The Conservative Heart
 
"This is a brisk, joyous romp through some of the most critical providential moments that made America an exceptional nation, told by a Yale-trained historian… who writes with brio and conviction."
—Karl Rove, Senior Advisor to President George W. Bush
 
"If you love reading American history, or any history written like a page-turning novel… or just love great writing—the artistry of words that often read more like poetry than prose —you will love this book.  The fact that Michael Medved gives the reader all of these makes this a must read."
—Lanny J. Davis, former Special Counsel to President Clinton; author of Truth to Tell
 
"Michael Medved has written an engaging, affectionate and historically compelling book about America…The American Miracle is a source of knowledge, a source of comfort, a source of inspiration. After reading it you'll know America better, and treasure her more."
—Peter Wehner, White House aide to Presidents George Bush and George W. Bush; Senior Fellow, Ethics and Public Policy Center
 
"Michael Medved has written a timely study of the centrality of faith and providence in the American story, challenging Americans to reaffirm the religious ideals on which their nation was founded. Read it and be inspired."
—Rabbi Lord Jonathan Sacks, former Chief Rabbi of the United Hebrew Congregations of the Commonwealth; author of Not in God's Name
 
"Michael Medved chronicles in intriguing detail how America's unlikely founding and enduring success can't be explained by luck or coincidence, but only one thing: divine providence. After reading this book, even the toughest skeptics will be hard pressed not to believe that God had a role in America's fortune."
—Bill Bennett, Secretary of Education under President Reagan; author of America: The Last Best Hope
 
"Medved speaks truth boldly and reasons carefully... and he is also a most gifted writer. In The American Miracle he reminds us that there once was a day when Americans knew the history of our country as a story of promise and providence, and he is confident that Americans can learn that story again."
—R. Albert Mohler, Jr., President, the Southern Baptist Theological Seminary

"Even readers well versed in American history will enjoy his account of the random coincidences and quirks of fate that lead to the founding of the Republic of Texas and the annexation of California…[a] fascinating and provocative book."
—Commentary