You are here
We Love Bubbles! (Bobo and Pup-Pup): (A Graphic Novel) (Hardcover)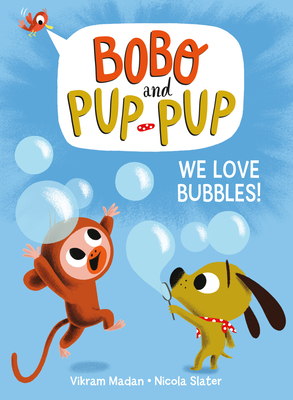 Other Books in Series
This is book number 1 in the Bobo and Pup-Pup series.
Description
---
A hilarious book about best friends Bobo and Pup-Pup--a monkey and a dog with very different personalities. Perfect for fans of Elephant & Piggie!

Did you ever have a friend who likes doing something that you find completely annoying? Well, Bobo and Pup-Pup both LOVE bubbles. Bubbles are the absolute best--on that they can agree! While Pup-Pup loves blowing them, Bobo LOVES popping them...way too much for Pup-Pup's taste. It's getting frustrating! Pup-Pup has a clever idea to stop Bobo from popping them. But, then Bobo gets carried away...literally!

This hilarious and relatable book will have kids as young as 2 years old on up to age 7 laughing out loud. New readers will gain confidence and want all the books in the series: Let's Make Cake!; The Funny Book!; and Hatch an Egg! Graphic chapter books serve as a great bridge to graphic novels and longer chapter books.
About the Author
---
Vikram Madan grew up in India and spent many years working in the tech industry before coming to his senses and following his heart into the visual and literary arts, creating work that can be in turn humorous, quirky, fun, lighthearted, philosophical, thought-provoking and, sometimes, all of these at the same time. When not painting and making public art, Vikram writes and illustrates humorous poetry.

NICOLA SLATER is a New York Times bestselling children's book illustrator and popcorn aficionado. She is the illustrator of Bobo and Pup-Pup graphic chapter book series, which includes The Funny Book; We Love Bubbles!; and Let's Make Cake! She has also illustrated many children's picture books and middle grade novels for various publishers, including the Little Golden Book Margaret Wise Brown's Manners. Nicola studied at Buckingham Chilterns University. You can follow her on Twitter @nicolaslater.
Praise For…
---
"Grab some bubble mix and join Pup-Pup and Bobo for a good read." —Kirkus Reviews

Review of companion Bobo and Pup-Pup book, Let's Make Cake!:

"For readers who've battered the spines of their Elephant and Piggie books, Bobo and Pup-Pup are their next best pals" —The Bulletin, starred Review