You are here
Babel Tower (Vintage International) (Paperback)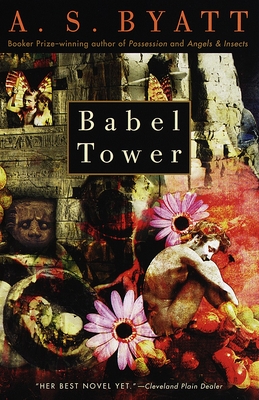 $20.00

Usually Available in 1-5 Days
Description
---
The Booker Prize-winning author of Possession presents an extraordinary story set against the backdrop of the 1960s—a turbulent decade of clashing politics, passionate ideals, and shifting sexual roles. 

At the heart of Babel Tower are two law cases, twin strands of the Establishment's web, that shape the story: a painful divorce and custody suit and the prosecution of an "obscene" book. Frederica, the independent young heroine, is involved in both. She startled her intellectual circle of friends by marrying a young country squire, whose violent streak has now been turned against her. Fleeing to London with their young son, she gets a teaching job in an art school, where she is thrown into the thick of the new decade. Poets and painters are denying the value of the past, fostering dreams of rebellion, which focus around a strange, charismatic figure—the near-naked, unkempt and smelly Jude Mason, with his flowing gray hair, a hippie before his time.

We feel the growing unease, the undertones of sex and cruelty. The tension erupts over his novel Babbletower, set in a past revolutionary era, where a band of people retire to a castle to found an ideal community. In this book, as in the courtrooms, as in the art school's haphazard classes and on the committee set up to study "the teaching of language," people function increasingly in groups. Many are obsessed with protecting the young, but the fashionable notion of children as innocent and free slowly comes to seem wishful, and perilous.

In Byatt's vision, the presiding genius of the day seems to be a blend of the Marquis de Sade and The Hobbit. Peopled with weird and colorful characters, charted with brilliant, imaginative sympathy, Babel Tower is as comic as it is threatening and bizarre.
About the Author
---
A.S. BYATT is the author of the novels Possession (winner of the Booker Prize in 1990), The Game, and the sequence The Virgin in the Garden, Still Life, and Babel Tower. She has also written two novellas, published together as Angels and Insects, and four collections of shorter works, including The Matisse Stories and The Djinn in the Nightingale's Eye. Educated at Cambridge, she was a senior lecturer in English at University College, London, before becoming a full-time writer in 1983. A distinguished critic as well as a novelist, she lives in London.