You are here
Kaikeyi: A Novel (Hardcover)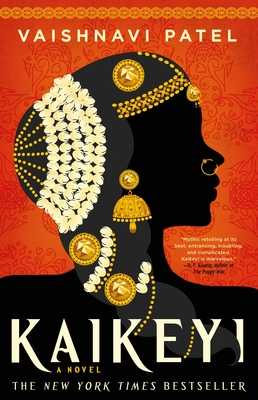 $29.00

Usually Available in 1-5 Days
May 2022 Indie Next List
---
"I was swept away in this richly told story of Kaikeyi. A fresh, feminist, and powerful depiction of the vilified queen of the Ramayana, full of mythology and utterly captivating. Kaikeyi is a fiercely told story of power, fate, and love."
— Kelly Orazi, Mysterious Galaxy Books, San Diego, CA
Description
---
AN INSTANT NEW YORK TIMES BESTSELLER • "MYTHIC RETELLING AT ITS BEST." (R. F. Kuang, author of Yellowface) • A 2023 IGNYTE AWARD FINALIST • A BOOK OF THE MONTH CLUB PICK

"With a graceful, measured elegance" (New York Times), this lyrical novel reimagines the life of the infamous queen from the ancient epic the Ramayana, giving voice to an extraordinary woman determined to leave her mark in a world where gods and men dictate the shape of things to come.
I was born on the full moon under an auspicious constellation, the holiest of positions—much good it did me.
So begins Kaikeyi's story. The only daughter of the kingdom of Kekaya, she is raised on legends of the gods: how they churned the vast ocean to obtain the nectar of immortality, how they vanquish evil and ensure the land of Bharat prospers, and how they offer powerful boons to the devout and the wise. Yet she watches as her father unceremoniously banishes her mother, listens as her own worth is reduced to how great a marriage alliance she can secure. And when she calls upon the gods for help, they never seem to hear.
Desperate for some measure of independence, she turns to the texts she once read with her mother and discovers a magic that is hers alone. With this power, Kaikeyi transforms herself from an overlooked princess into a warrior, diplomat, and most favored queen, determined to carve a better world for herself and the women around her.
But as the evil from her childhood tales threatens the cosmic order, the path she has forged clashes with the destiny the gods have chosen for her family. Kaikeyi must decide if resistance is worth the destruction it will wreak—and what legacy she intends to leave behind.
PRAISE FOR KAIKEYI
"Patel resets the balance of power, creating an unforgettable heroine who understands that it isn't necessarily kings or gods who change history." –Washington Post
"Easily earns its place on shelves alongside Madeline Miller's Circe." –Publishers Weekly (starred review)
"Utterly captivating from start to finish." ―Genevieve Gornichec, author of The Witch's Heart   
"Brave, compassionate and powerful." ―Tasha Suri, author of The Jasmine Throne  
"A lyrical and evocative retelling, full of power and grace." ―Ava Reid, author of Juniper & Thorn 
"Compulsively readable and infinitely compassionate." ―Roshani Chokshi, author of The Last Tale of the Flower Bride
"A thought-provoking, nuanced new look at one of humanity's most foundational stories." —Shannon Chakraborty, author of The Adventures of Amina Al-Sirafi
About the Author
---
Vaishnavi Patel is the author of the instant New York Times bestseller, Kaikeyi. A lawyer specializing in civil rights, she likes to write at the intersection of Indian myth, feminism, and anticolonialism. She grew up in and around Chicago and, in her spare time, enjoys activities that are almost stereotypically Midwestern: knitting, ice skating, drinking hot chocolate, and making hotdish. 
Praise For…
---
"Mythic retelling at its best: entrancing, troubling, and complicated. Kaikeyi is marvelous."—R. F. Kuang, #1 New York Times bestselling author of Babel

"A thought-provoking, nuanced new look at one of humanity's most foundational stories."—Shannon Chakraborty, national bestselling author of The City of Brass

"A powerful examination of a woman maligned by myth and men. Patel's imagination takes a hammer to the image of a stonehearted villainess and reveals the woman within, whose choices sparked immortal legends. Compulsively readable and infinitely compassionate, this is the story I've been yearning for all my life."—Roshani Chokshi, New York Times bestselling author of the Aru Shah and Gilded Wolves series

"Utterly captivating from start to finish. I was immersed in Kaikeyi's world from the moment I opened Vaishnavi Patel's stunning debut, and whether or not you already know how the story ends, there is so much here to enjoy. Kaikeyi truly shines."—Genevieve Gornichec, author of The Witch's Heart

"A lyrical and evocative retelling, full of power and grace, which brings forward a traditionally maligned woman of myth. Kaikeyi's life is rendered with richness and nuance, yielding a story that feels both novel and classic. A spellbinding debut."—Ava Reid, author The Wolf and the Woodsman

"Patel shines an elegant, incisive lens on an ancient epic and the vilified queen tangled within it. Brave, compassionate and powerful, Kaikeyi is a novel that will live in my head and my heart for a long time to come."—Tasha Suri, author of The Jasmine Throne

"The novel is compelling and rich, drawing on the source material while furnishing its characters with new complexity and motivations. Fans of Madeline Miller's Circe will fall hard for this story about a woman determined to do what's right for her kingdom and its women, walking the fine line between rebellion and convention."—Booklist (starred review)

"[A] bold reimagining....Even readers unfamiliar with the ancient Indian epic will find a lot to love in Patel's spellbinding details."—Bookpage (starred review)

"Patel's mesmerizing debut shines a brilliant light on the vilified queen from the Ramayana….Readers familiar with the source text will be wowed by Patel's reimagining, while those new to the story will be won over by its powerful, multilayered heroine and epic scope. This easily earns its place on shelves alongside Madeline Miller's Circe."—Publishers Weekly (starred review)

"A glorious tapestry of a novel. This book is a deft and heartrending portrayal of a family torn apart and of the sacrifices we demand of each other, written with great depth of feeling and hope for brighter times. I adored it."—Lucy Holland, author of Sistersong

"Kaikeyi is complete with powerful women, court intrigue, magic, war with humans, fights with supernatural beings, familial and political tensions of the time when the world was composed of princely states. This will be a cherished addition to the Hindu mythology and retelling section in my home library."—Nerd Daily