You are here
Dinos vs. Machines: Showdowns that defy the ages! You decide who wins... (Hardcover)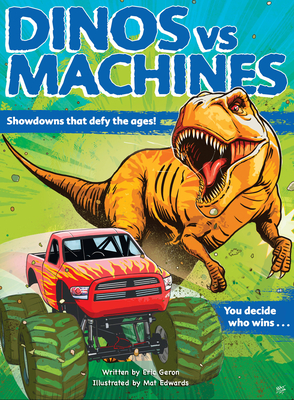 Description
---
Have you ever wondered if a velociraptor could outsprint a motorcycle? Get a front row seat to the challenge in Dinos vs Machines as 10 dinosaurs face off against 10 machines.
On the
stats page
, learn about the strengths and weaknesses of each dinosaur and machine. Discover the pointy horns of the triceratops, the scorching speeds of a motorcycle, the bat-like wings of the pterodactyl, and the digging power of the bulldozer. Then, turn the page to discover what a showdown between the two superstars would look like.
Written in engaging, sportscaster-style prose
, each battle is sure to get your heart pounding.
But pay attention:
you decide the winner!
Experts share their winners at the back so that you can check your answers to find out if and why you're right…or wrong.
Showdowns include:
Velociraptor vs motorcycle in an obstacle course race
Argentinosaurus vs crane in a free throws shoot out
Triceratops vs forklift in a wrestling match
Spinosaurus vs tank in a demolition derby
And more!
About the Author
---
Eric Geron has written over a dozen books for children, such as the #3 New York Times best seller Disney's Descendants: The Novelization, which he wrote under pseudonym (and anagram) Rico Green. He was born and raised in Summit, New Jersey, and earned a creative writing degree from the University of Miami. He lives in Los Angeles. You can find him on Facebook, Instagram, and Twitter @EricGeron.
Illustrator Mat Edwards has been drawing for as long as he can remember. Inspired by the things he sees in daily life, his style ranges from thoroughly modern to would-have-sworn-it-was-vintage. Repetition and the power of precision are key to the appeal of his art. His early inspirations include artists such as Chris Foss, Tim White, and Rodney Mathews. Based on his work at school, he won a four-year apprenticeship with Johnson Mattheys, where he learned at the feet of some tremendously skilled artists such as mapmakers and engravers. While his talent and eye for detail is a constant, his technique has evolved from using purely traditional materials such as pencils, gouache, and stretching paper to using almost all-digital methods. He lives in the UK.