You are here
The Divorce (Paperback)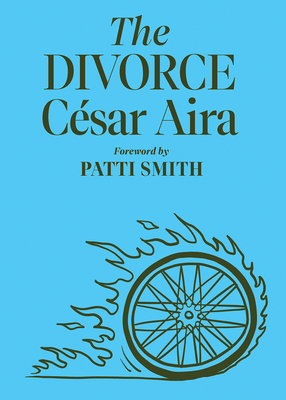 $11.95

Usually Available in 1-5 Days
Description
---
With a preface by the irrepressible Patti Smith, The Divorce is a delightful book of several short amazing stories of chance meetings, bizarre circumstances, and even stranger visions of alternate realities written as only César Aira can
The Divorce
tells about a man who takes a vacation from Providence, R.I. in early December to avoid conflicts with his newly divorced wife and small daughter. He travels to Buenos Aires and there, one afternoon, he encounters a series of the most magical coincidences. While sitting at an outdoor café, absorbed in conversation with a talented video artist, a young man with a bicycle is thoroughly drenched by a downpour of water seemingly from rain caught the night before in the overhead awning. The video artist knows the cyclist, who knew a mad hermetic sculptor, whose family used to take the Hindu God Krishna for walks in the neighborhood. More meetings, more whimsical and clever stories continue to weave reality with the absurd until the final, brilliant, wonderful, cataclysmic ending.
About the Author
---
CÉSAR AIRA
was born in Coronel Pringles, Argentina in 1949, and has lived in Buenos Aires since 1967. He taught at the University of Buenos Aires (about Copi and Rimbaud) and at the University of Rosario (Constructivism and Mallarmé), and has translated and edited books from France, England, Italy, Brazil, Spain, Mexico, and Venezuela. Perhaps one of the most prolific writers in Argentina, and certainly one of the most talked about in Latin America, Aira has published more than 100 books to date in Argentina, Mexico, Colombia, Venezuela, Chile, and Spain, which have been translated for France, Great Britain, Italy, Brazil, Portugal, Greece, Austria, Romania, Russia, and the United States. One novel,
La prueba
, has been made into a feature film, and
How I Became a Nun
was chosen as one of Argentina's ten best books. Besides essays and novels Aira writes regularly for the Spanish newspaper
El País
. In addition to winning the 2021 Formentor Prize, he has received a Guggenheim scholarship, and was shortlisted for the Rómulo Gallegos prize and the Booker International Prize.
The poet
CHRIS ANDREWS
teaches at the University of Western Sydney, Australia, where he is a member of the Writing and Society Research Centre. He has translated books by Roberto Bolano and César Aira for New Directions. He has won the Anthony Hecht Poetry Prize for his poetry and the Valle-Inclan Prize and the French-American Foundation Translation Prize for his translations.
Patti Smith
is a poet, performer, visual artist, and author of the National Book Award-winning memoir
Just Kids
. She has twelve albums, has had numerous gallery shows, and continues to give concerts of her music and poetry. Her books include
Early Work
,
The Coral Sea,
Witt, Babel, Auguries of Innocence
,
Woolgathering, Land 250, Trois
, and many others. She lives in New York.
Praise For…
---
[A] fleeting glance at the deeply strange multitudes living in Aira's mind palace...marked by not only his characteristically expressive language, but also his willingness to go just about anywhere with a narrative.
— Kirkus

This prismatic, exquisitely rendered work is from a master at the height of his powers.
— Publishers Weekly (starred review)

Sui generis is really the only way to accurately describe César Aira. He's by turns a realist, a magical realist and a surrealist — and therefore not really any of them. Anything can happen in an Aira novel, and almost everything does.
— Tyler Malone - Los Angeles Times

We come full circle, to the 'delicate machine' that put everything in motion. In someone else's hands, this might feel like a trick, but in Aira's it is magical.
— Sheila Glaser - New York Times Book Review

The Divorce is a masterful demonstration of focused imagination. Aira chronicles overlapping coincidences, layering memory with temporality and injecting magic into the mundane to create a kaleidoscopic tale of serendipitous meetings that rumbles like an avalanche down a mountain, gathering speed and power as the novel progresses. With lightness and verve, Aira twirls the macro with the micro to create a singular novel whose story turns and turns again until it comes full circle, like "that 'little steel fairy,' the bicycle, from whose spinning stories are born.

— Alex Crayon - World Literature Today