You are here
The Fabliaux (Hardcover)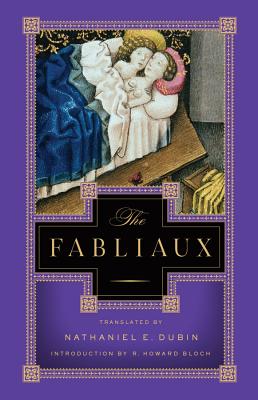 $29.95
Email or call for price
Description
---
Winner • Modern Language Association's Scaglione Prize for Translation
Bawdier than The Canterbury Tales, The Fabliaux is the first major English translation of the most scandalous and irreverent poetry in Western literature.
Composed between the twelfth and fourteenth centuries, these virtually unknown erotic and satiric poems lie at the root of the Western comic tradition. Passed down by the anticlerical middle classes of medieval France,
The Fabliaux
depicts priapic priests, randy wives, and their cuckolded husbands in tales that are shocking even by today's standards. Chaucer and Boccaccio borrowed heavily from these riotous tales, which were the wit of the common man rebelling against the aristocracy and Church in matters of food, money, and sex. Containing 69 poems with a parallel Old French text,
The Fabliaux
comes to life in a way that has never been done in nearly eight hundred years.
About the Author
---
Nathaniel E. Dubin is a professor emeritus of modern classical languages at the College of Saint Benedict and St. John's University in Minnesota.

R. Howard Bloch is the Sterling Professor of French and Humanities at Yale University. The author of numerous award-winning books on French literature and art, he lives in New York.
Praise For…
---
Like Seamus Heaney's translation of Beowulf,…Dubin reproduces the world and the feeling of the medieval tale…that travel joyfully from the Middle Ages to the present.

— R. Howard Bloch, from the introduction to The Fabliaux

Devilishly bawdy and irreverent…The 69 fabliaux presented here in their original French and translated into rascally, buoyant English by Nathaniel E. Dubin, are relentlessly scabrous, egregiously misogynistic, and exuberantly oppositional to 'bourgeois respectability' and the church…. Vivid, funny, robustly grotesque, and drolly outrageous, these satirical tales of lust, revenge, and folly feature lecherous peasants, fornicating priests, scoundrels, fools, and women wily and tough, castigated and abused…. An historic literary achievement bound to arouse vociferous discussion.
— Booklist

Pure, unadulterated fun…. A golden bough of erotic imagination and folk humor, peopled by randy wives, cuckolded husbands, fornicating priests, and priapic knights…. Ultimately, what's so potent and profound about these risqué yarns is not their unbridled expressions of sexuality and vulgarity per se, but their unusual ability to provoke a carnivalesque laughter in all. Through denuding, debauchery, and bodily degradation, the fabliaux create a common denominator for humanity, an earthy, holistic world in which, to quote Bakhtin again, 'he who is laughing also belongs to it.' Flaunting unabashed obscenity in delightful verse, The Fabliaux is a book that would entertain the fans of Dr. Freud and Dr. Seuss alike.

— Yunte Huang - The Daily Beast

Fabliaux are comic tales, in verse, composed between the twelfth and fourteenth centuries…. The words used…have not been adjusted to conform to modern immodesty; the translation is literal…[This is the] first substantial collection of fabliaux, in any language, for today's general reader.

— Joan Acocella - The New Yorker

The fabliaux, then, is a short story that is a tall story. It combines a burly blurting of dirty words with a reveling in humiliations that are good unclean fun. A popular venture that is keen to paste—épater—everybody (not just the bourgeoisie), it is the art of the single entendre. Highly staged low life, it guffaws at the pious, the prudish, and the priggish. High cockalorum versus high decorum…. The introduction here, like the translator's note, tells well the story of the comic tales, anonymous for the most part, usually two or three hundred lines long, of which about 160 exist.
— Christopher Ricks - New York Review of Books

The fabliaux are important not only for their approach to humor, but for their focus on sex, class and wealth, and bodily functions like eating and defecating—all elements quite absent from more highbrow, courtly, or Church-sanctioned religious texts. Liveright's edition serves as the largest and most complete collection of fabliaux, in English or French, ever published "for the general reader…" The Fabliaux is a reminder that medieval texts can remain engaging, lively, and, above all, funny.

— Charlotte Bhaskar - Zyzzyva