You are here
Saturn Run (Paperback)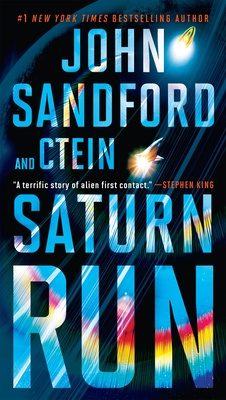 $11.99

Usually Available in 1-5 Days
Description
---
Fans of The Martian will enjoy this extraordinary new thriller of the future from #1 New York Times bestselling and Pulitzer Prize–winning author John Sandford and internationally known photo-artist and science fiction aficionado Ctein.
 
In 2066, a Caltech intern notices an anomaly from a space telescope—something is approaching Saturn, and decelerating. Space objects don't decelerate. Spaceships do...
 
A flurry of top-level government meetings produce the inescapable conclusion:  Whatever built the ship is at least one hundred years ahead of our technology, and whoever can get their hands on it will have an advantage so large, no other nation can compete.
 
The race is on, and a remarkable adventure begins. Soon a hastily thrown-together crew finds its strength and wits tested against adversaries of this earth and beyond. So buckle up, because two perfectly matched storytellers are about to take you for a ride...
About the Author
---
John Sandford is the author of twenty-five Prey novels, most recently Gathering Prey, eight Virgil Flowers novels, and eight other books, including the young adult novels Uncaged and Outraged, written with Michelle Cook. He lives in Santa Fe, New Mexico.
 
Ctein is an internationally known photographer and expert on photographic printing. He holds a double degree from Caltech in English and physics, and is the author of more than five hundred articles, columns, books, and manuals. A celebrated member of the science fiction community, he lives in San Francisco.
Praise For…
---
"A terrific story of alien first contact. It's a book Michael Crichton would have enjoyed, but never could have written...With the able partnership of Ctein, it's fast, scientifically believable, and peopled by characters who become good friends. Fans of Lucas Davenport and Virgil Flowers will eat this up."—Stephen King
 
"Three things to now: First, I'm the world's biggest John Sandford fan. Second: I saw this book and thought... What? Third: I needn't have worried. It's vintage Sandford all the way, with all his trademark strengths and insights, except set in the future, not the present. You won't be disappointed."—Lee Child
 
"Utterly captivating!...the heart of a breakneck thriller and the mind of the best science fiction (Bradbury and Heinlein come to mind).... Sandford and Ctein have brilliantly pulled off the difficult task of making a very different world familiar, proving that a born storyteller is a storyteller, whether he sets his books on mean streets or in deep space. I, for one, want more."—Jeffrey Deaver