You are here
HHhH: A Novel (Paperback)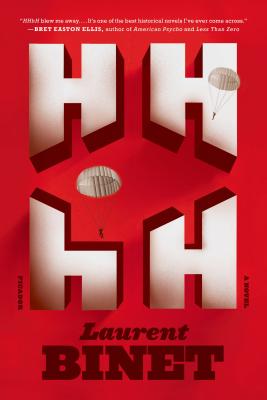 $18.00

Usually Available in 1-5 Days
Description
---
"Captivating . . . [HHhH] has a vitality very different from that of most historical fiction." —James Wood, The New Yorker

A Finalist for the National Book Critics Circle Award for Fiction
A Financial Times Best Book of the Year
A New York Times Book Review Editors' Choice

HHhH: "Himmlers Hirn heisst Heydrich," or "Himmler's brain is called Heydrich." The most lethal man in Hitler's cabinet, Reinhard Heydrich seemed indestructible—until two exiled operatives, a Slovak and a Czech, killed him and changed the course of history.

In Laurent Binet's mesmerizing debut, we follow Jozef Gabcík and Jan Kubiš from their dramatic escape from Nazi-occupied Czechoslovakia to their fatal attack on Heydrich and their own brutal deaths in the basement of a Prague church. A seamless blend of memory, actuality, and Binet's own remarkable imagination, HHhH is at once thrilling and intellectually engrossing—a fast-paced novel of the Second World War that is also a profound meditation on the debt we owe to history.
About the Author
---
Laurent Binet was born in Paris, France, in 1972. His first novel, HHhH, was named one of the fifty best books of 2015 by The New York Times and received the Prix Goncourt du Premier Roman. He is a professor at the University of Paris III, where he lectures on French literature. His other novels include The Seventh Function of Language and Civilizations.

Sam Taylor has written for The Guardian, Financial Times, Vogue and Esquire, and has translated such works as the award-winning HHhH by Laurent Binet, and the internationally-bestselling The Truth about the Harry Quebert Affair by Joël Dicker.
Praise For…
---
"A literary tour de force . . . [HHhH] is a gripping novel that brings us closer to history as it really happened." —Alan Riding, The New York Times Book Review

"[An] extraordinary first novel . . . HHhH, translated from the French by Sam Taylor, charts Heydrich's rise through the Nazi ranks and Germany's march to war . . . [to] the training in Britain of the Czech and Slovak assassins, Jan Kubiš and Jozef Gabcík, who parachuted into the country in December 1941 to kill Heydrich. Ample material for a decent espionage thriller, but Binet, 'a slave to my scruples,' makes something altogether less commonplace of it." —Chris Power, The Times (London)

"Captivating . . . [HHhH] has a vitality very different from that of most historical fiction." —James Wood, The New Yorker

"HHhH blew me away. Binet's style fuses it all together: a neutral, journalistic honesty sustained with a fiction writer's zeal and story-telling instincts. It's one of the best historical novels I've ever come across." —Bret Easton Ellis, author of American Psycho and Less Than Zero

"[Binet] knows how to wrangle powerful moments from history." —Susannah Meadows, The New York Times

"[HHhH is] a marvelous, charming, engaging novel." —Carolyn Kellogg, Los Angeles Times

"Every now and then a piece of work comes along that undermines the assumptions upon which all previous works have been built . . . These pieces of art complicate the genre for everyone that follows. A Heartbreaking Work of Staggering Genius did it for the memoir, Reservoir Dogs for action films, and now HHhH does it for the historical novel." —David Annand, The Telegraph

"One of the best and most original new novels I've read in years." —Mike Fischer, Milwaukee Journal Sentinel

"Ingenious and inventive . . . HHhH [is a] knockout blow in the boxing match of genre-defying literature. Binet steps between styles with ease . . . [and] has written a tale of Heydrich to defy most academic study. Moreover, Binet has managed to engage." —Charles J. Haynes, California Literary Review

"An impressive debut . . . HHhH is fascinating not only because of the subject matter, but also because of the immense amount of detail Binet includes. The book transports and enraptures. It also impresses upon the reader the legacy of that history." —Ashley McNelis, Bomb

"[HHhH is] quirky, clever . . . Binet makes a very perceptive and informed recording angel, one with an exceptionally clear and unfussy prose style (rendered extremely well by the translator, Sam Taylor). It doesn't hurt that he has triple-A premium material, but Binet doesn't push too hard to give the events a meaning. He lets them be the tragedy that they are, and as such they're devastating." —Lev Grossman, Time.com

"[HHhH] is as much a meditation on fictionalizing history--on factual truth versus a more expansive definition of truth, on the obligations and the agendas of writers--as it is a story about an assassination . . . Binet accomplishes something paradoxical. By clinging to the historical record and a very strict definition of truth, he transcends the barest facts and creates a work with its own heft and depth . . . [He] has produced the only essential piece of World War II fiction in years." —Jessica Crispin, Barnes & Noble Review

"[HHhH] is utterly compelling and ruthlessly fascinating." —Laurence Mackin, Irish Times

"A breezily charming novel, with a thrilling story that also happens to be true, by a gifted young author . . . [Binet] marshals and deploys his materials with exceptional dramatic skill . . . By the time you reach the book's devastating finale, it's this discreet storytelling mastery . . . that leaves the deepest impression." —James Lasdun, The Guardian

"A cracking book . . . With its double-narrative and its authorial playfulness, HHhH reads in places like a stylistic homage to WG Sebald or Italo Calvino." —Ruadhán MacCormaic, Irish Times

"That HHhH is so devastatingly brilliant is testament to both its originality and ambition. In fact, it would not be going too far to say it is a modern masterpiece." —Rob Minshull, ABC (Brisbane)

"HHhH triumphs precisely because it not only delicately, and sometimes grippingly, depicts a major historical moment, but because it manages to depict the unique challenges of 21st-century remembrance." —Michael Lapointe, The Globe and Mail

"HHhH is brilliant." —Michel Basilières, The Toronto Star

"[A] remarkable first novel . . . Binet has created a rare thing: a book that tells us stories, mixing scholarship with suspense, while simultaneously laying bare and critiquing the book's construction. It's a difficult approach, which makes the enjoyment of reading it all the more striking." —Matthew Tiffany, Plain-Dealer (Cleveland)

"There are not enough books that blend the profound and the entertaining. This is one and it comes in a sparkling translation by novelist Sam Taylor." —John Gardner, New Zealand Herald

"An extraordinary first novel . . . A literary triumph . . . The books final section, which recounts the assassination and subsequent manhunt in minute detail, is a masterpiece of tension, and its closing pages are extremely moving. Very few page-turners come as smart and original as this." —The Times (London)

"This is mesmeric stuff; history brought to chilling, potent life." —Leyla Senai, The Independent

"I really don't know how to praise this book further than to say that it changed my conception of the possibilities of literature. I cannot recommend this book more highly than saying, despite the cliche, that it is an actual must-read, both for its important content, but as importantly, for its avant-garde nature as it pushes forward the boundaries of historical fiction." —Joe Winkler, Vol. 1 Brooklyn

"A brilliantly profound debut about the assassination of the architect of the Holocaust . . . I found myself turning pages faster and faster while I read about the two men who parachuted into the countryside and slowly closed in on Heydrich, even though I knew exactly what was about to happen." —Malcolm Jones, The Daily Beast

"Riveting . . . [HHhH is] exuberant and breathless and wonderful throughout." —Weston Cutter, Kenyon Review

"HHhH is a highly original piece of work, at once charming, moving, and gripping." —Martin Amis, author of The Pregnant Widow

"A wonderful, ambitious book, and a triumph of translation." —Colum McCann, National Book Award-winning author of Let the Great World Spin

"HHhH is an astonishing book--absorbing, moving, for the agony and acuity with which its author engages the problem of making literary art from unbearable historical fact." —Wells Tower, author of Everything Ravaged, Everything Burned

"A work of absolute originality." —Claude Lanzmann

"By the time I got to the last page of Binet's masterpiece, I had to close my eyes and rethink history. I'm rethinking it still." —Gary Shteyngart, author of Super Sad True Love Story

"Laurent Binet has given a new dimension to the non-fiction novel by weaving his writerly anxieties about the genre into the narrative, but his story is no less compelling for that, and the climax is unforgettable." —David Lodge, Booker Prize-winning author of Small World and Nice Work

"HHhH offers something all too rare in contemporary literature: the excitement of encountering something that feels genuinely new. Laurent Binet has thrown all the rules of authorial decorum out the window, and the result is a historical novel of the Czech resistance to the Nazis that is a playful, suspenseful delight." —John Wray, author of Lowboy

"Read HHhH and be hooked, horrified, haunted, and (h)enthralled." —Bernard Pivot, JDD

"[A] tour de force . . . Gripping . . . Binet demonstrates without a doubt that a self-aware, cerebral structure can be deployed in the service of a gripping historical read. [HHhH is] a perfect fusion of action and the avante-garde that deserves a place as a great WWII novel." —Publishers Weekly (starred review)

"Readers will recognize why this brilliant work won the Prix Goncourt du Premier Roman--and why an English translation was imperative!" —Bryce Christensen, Booklist (starred review)

"[HHhH is a] soul-stirring work . . . The account of the assassination attempt and its nail-biting aftermath is brilliantly suspenseful . . . Binet deserves great kudos for retrieving this fateful, half-forgotten episode, spotlighting Nazi infamy, celebrating its resisters, and delivering the whole with panache." —Kirkus (starred review)