You are here
The Misfortunates (Hardcover)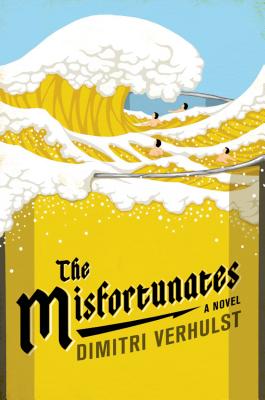 $23.99
Email or call for price
Description
---
Frank, tender, and brutally funny, Dimitri Verhulst's semi-autobiographical story details the vibrantly entertaining journey of a boy growing up in a family of alcoholics in Belgium
Sobriety and moderation are alien concepts to the men in Dimmy's family. Useless in all other respects, his three uncles have a rare talent for drinking, a flair for violence, and an unwavering commitment to the pub. And his father Pierre is no slouch either. Within hours of his son's birth, Pierre plucks him from the maternity ward, props him on his bike, and takes him on an introductory tour of the village bars. His mother soon leaves them to it and as Dimmy grows up amid the stench of stale beer, he seems destined to follow the path of his forebears and make a low-life career in inebriation, until he begins to piece together his own plan for the future.
Bringing to life the shambolic upbringing that "The Guardian "describes as, "the odd, ugly, excremental poetry of their grubby lives," "The Misfortunates" "can be unexpectedly tender as well as uncomfortably funny . . . this novel continually surprises and intrigues.
About the Author
---
DIMITRI VERHULST is the award winning author of poetry, plays, and fifteen novels. He has won the Libris Prize, one of the most prestigious literature prizes in the Dutch language, and his work has appeared in 25 languages. His novel Problemski Hotel has been inscribed in the List of the Unesco Collection of Representative Works and the movie based on The Misfortunates won the Prix Art et Essai at The Cannes Film Festival. He lives in Sweden.
Praise For…
---
*Winner of The Vondel Prize for translation!*


"Dimitri tells the story episodically, and as the episodes accumulate, comic scenes reveal larger causes and repercussions…The Verhulsts are by turns crass, canny, clannish and hapless — headed, in good spirits, for disaster."
—The New York Times

"These often earthy stories…offer a warts-and-all portrait of a family."
—Booklist

"This bitingly honest book tips toward the amusing as fiction and toward the dismaying as autobiography."
—Publishers Weekly

"A family of deeply entrenched alcoholics stumbles its way toward grace in this 2007 novel of misadventure from award-winning Belgian writer Verhulst (Goddamn Days on a Goddamn Globe, 2008, etc.). The grotesque nature of chronic drinking is played as absurdist comedy in Verhulst's book. Admittedly autobiographical, Verhulst's rendering of pub life and the liver-crushing, free-wheeling lifestyle that has long-term effects on the narrator recalls nothing so much as the bittersweet flavor of Charles Bukowski and, by extension, Tom Waits. There's something of a meditation on fatherhood; the patriarch of the family takes his son on a tour of the bars immediately after his birth. But unfortunately, the novel's women become mere afterthoughts to the sport of the day. Drinking, as the narrator Dimmy explains, becomes something of a contest. "God created the day and we dragged ourselves through it," Verhulst writes. "When we still lived like characters in the songs of Big Bill Broonzy, Omer organized an assault on the world drinking record." And the men, be it Dimmy's father or his extended family of uncles, are rather disgusting: sweating, farting, scratching, cursing behemoths for whom beer and the consumption of said is a religion. The novel's pinnacle comes in the form of "The Tour de France," a monumental tribute to the pub crawl, replete with the contestants speeding through the suburbs in their underwear. Verhulst wraps things up nicely as Dimitri outgrows his roots. "I'm not one of them, but I'd like to be," he says. "I wish I could show my loyalty or my love, whatever you want to call those feelings. A poetic, no-holds-barred slice of the European lowlife, with lots of drinking."
—Kirkus Reviews

"Verhulst's prose is always a delight . . .This is a subtle and wonderfully told story."
—Financial Times

"Verhulst's gift for imagery is impressive . . . the humour is pitch-black and very funny."
—Prospect

"Ceaselessly entertaining . . . it bursts with humour and energy that never lets up."
—BookMunch

"Outrageousness yields to eloquent recognition in this darkly intelligent novel."
—Irish Times

"This is a welcome addition to the ranks of literary fiction that find humour, and sometimes poetry, in urban deprivation."
—Independent

"Verhulst is a writer with an understanding of those who fail, and writes acutely and authentically."
—De Standaard

"Verhulst is probably one of the most sensitive, most poetic of the new young Flemish writers. But none of his contemporaries has the same hardness. Sometimes his pen comes down like a hammer."
—De Morgen