You are here
The Curse of the Boyfriend Sweater: Essays on Crafting (Paperback)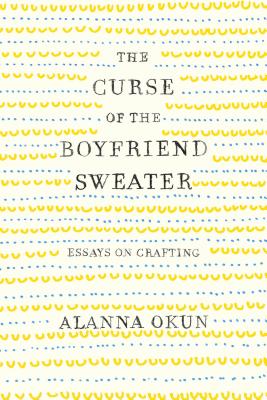 Staff Reviews
---
The Curse of the Boyfriend Sweater: Essays on Crafting by Alanna Okun is ostensibly just what the title proclaims, essays on Okun's obsession with knitting, crocheting, embroidery, and dabbling in other handcrafts. But it is also about relationships, anxiety, grief, family, and being able to start over. Knitting proves a worthy metaphor for deeper self-realization, and I enjoyed Okun's ability to allow her experiences crafting lead her towards personal growth and honesty.
— Lori
Description
---
The Curse of the Boyfriend Sweater is a memoir about life truths learned through crafting.

People who craft know things. They know how to transform piles of yarn into sweaters and scarves. They know that some items, like woolen bikini tops, are better left unknit. They know that making a hat for a newborn baby isn't just about crafting something small but appreciating the beginnings of life, which sometimes helps make peace with the endings. They know that if you knit your boyfriend a sweater, your relationship will most likely be over before the last stitch.

Alanna Okun knows that crafting keeps her anxiety at bay. She knows that no one will ever be as good a knitting teacher as her beloved grandmother. And she knows that even when we can't control anything else, we can at least control the sticks, string, and fabric right in front of us.

Okun lays herself bare and takes readers into the parts of themselves they often keep hidden. Yet at the same time she finds humor in the daily indignities all crafters must face (like when you catch the dreaded Second Sock Syndrome and can't possibly finish the second in a pair). Okun has written a book that will speak to anyone who has said to themselves, or to everyone within earshot, "I made that."
About the Author
---
ALANNA OKUN is a writer, editor, and crafter. She's currently a senior editor at Racked, and has written for publications such as BuzzFeed, Brooklyn Magazine, and The Hairpin, and appeared on the Today Show, Good Morning America, NPR, and many other local and national television and radio programs. Alanna lives in Brooklyn with her pet snail and a lot of yarn.
Praise For…
---
BuzzFeed: The 33 Most Exciting New Books of 2018
Bustle: The Essay Collection You'll Want To Share With All Your Best Friends
Goodreads: Most Popular Books Published in March 2018


"It is reminiscent of Nora Ephron—charming and lighthearted, but bright with vulnerability." —The New Republic

"[A] hilariously quirky and heartwarming essay collection…a book you'll underline and highlight and read to pieces—and then immediately want to share with all of your best friends." —Bustle

"Okun's writing is entertaining, often funny, and relatable even to noncrafters."
—BuzzFeed

"Relatable, witty, and comforting, this collection has a little something for creators of all types."
—Audible

"Through her essays, Okun discusses her deep connection to crafting in a way that brings meaning to every handmade object, and will certainly inspire all of your future projects."
—Apartment Therapy

"Often funny…and always deeply felt…"
—Nylon

"You don't have to actually care about knitting to be completely engrossed in The Curse of the Boyfriend Sweater…"
—Metro

"This book draws you in just as an oversized, hand-knitted, and unexpectedly soft sweater does. Alanna is so sharp and so charming and so genuinely warm that, regardless of your prior experience with crafting, you will only want to put down this book if it is to make something yourself—and you know Alanna would approve."
—Katie Heaney, author of Never Have I Ever, Dear Emma, and Public Relations

"Alanna Okun's poignant, hilarious, and infinitely instructional essays about crafting will help you have a more beautiful life, whether you ever pick up a pair of knitting needles or not."
—Jen Doll, author of Save the Date