You are here
TinkerActive Workbooks: Pre-K English Language Arts (Paperback)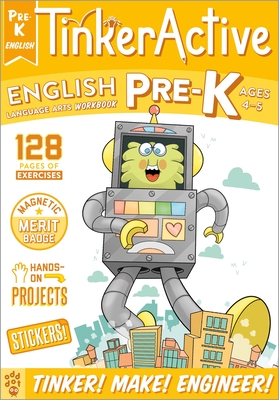 $12.99

Usually Available in 1-5 Days
Other Books in Series
This is book number 12 in the TinkerActive Workbooks series.
Description
---
TINKERACTIVE WORKBOOKS: PRE-K ENGLISH LANGUAGE ARTS is part of an illustrated educational series that combines curriculum-based exercises designed for all learners with hands-on activities to help kids learn through play.

With TinkerActive Workbooks, learning leaps off the page and into the real world. Start with interactive and entertaining exercises that cover the essential pre-k English skills. Then, apply what you've learned with exciting hands-on tinkering, making, and engineering activities and common household materials.

A charming cast of characters—the fuzzy, friendly TinkerActive MotMots, creatures of all shapes and sizes—guide kids through every new concept with cheer and humor. Once you've completed the workbook, unbox a collectible magnet badge of success hidden in the back cover and proudly display it on the included poster.

Created in consultation with award-winning educators, TinkerActive Workbooks are designed so kids can learn through play! They build your child's fundamental English skills AND inspire them to try new things, discover new skills, and imagine new possibilities.

This workbook covers: The Alphabet, Uppercase & Lowercase Letters, Phonics, Reading Fundamentals, Writing Fundamentals, Vocabulary, Reading Comprehension: Fiction, Reading Comprehension: Informational Texts, Writing Stories, and Writing Informational Texts.

Illustrations by Pat Lewis and Anna-Maria Jung
About the Author
---
Megan Hewes Butler, who has written several TinkerActive Workbooks, is a writer and producer who has been creating childrens' curriculum, games, and books for over 15 years. Megan lives, writes, and plays in Park Slope, Brooklyn with her husband and two sons.

Pat Lewis is a freelance cartoonist/illustrator who lives in Pittsburgh, PA with his wife and two cats. His artwork has appeared in magazines such as Highlights for Children and Boys' Life, as well as books by Workman Publishing, Macmillan and McGraw-Hill. Some of his favorite things in this world are: flea markets, road trips, monster movies and snack-bar nachos. Oh, and drawing funny pictures for kids and adults.

Odd Dot is an imprint of Macmillan Children's Publishing Group dedicated to creating joyful books for curious minds. Our mission is to develop interactive and substantive gift books that explore categories and formats never seen before. We are a proudly odd mix of makers, creators, and engineers, guided by the priorities of innovation, education, and play.