You are here
BOB Books: Developing Readers Workbook (Paperback)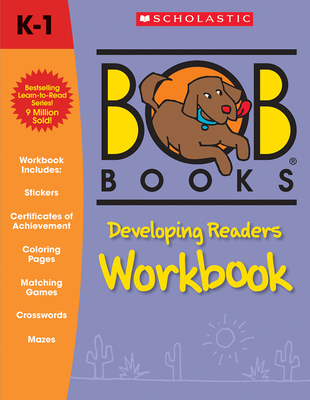 Description
---
Don't miss this jumbo workbook jam-packed with stickers and activities tailored specifically for developing readers!
Don't miss the companion workbook to the bestselling learn-to-read boxed sets! Millions of books have been sold in the Bob Books program thanks to its silly stories, familiar artwork, and easy-to-comprehend text. For the first time, children can now extend their reading journey into these jumbo workbooks, which feature custom content built around each Bob Books storybook.
Complete with full-color art and two sheets of stickers, the Bob Books: Developing Readers Workbook is the perfect way to engage young readers, increase reading comprehension, and nurture pride and confidence in their reading skills.
This jumbo workbook ties into three sets: Word Families, Complex Words, and Long Vowels!
About the Author
---
Lynn Maslen Kertell is the current manager of Bob Books® and the author of the Bob Books learn-to-read sets More Beginning Readers, Sight Words: Kindergarten, Sight Words: First Grade, Rhyming Words, First Stories, and Animal Stories; and the Bob Books Stories series. You can visit her online and learn more about Bob Books at bobbooks.com.