You are here
The Sixteen Trees of the Somme: A Novel (Hardcover)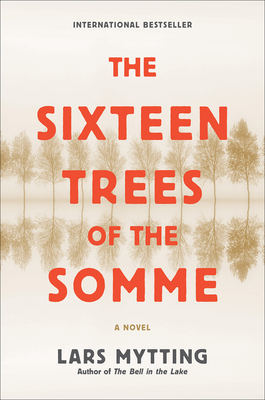 Description
---
An engrossing literary novel about a family mystery, revenge, and forgiveness by the bestselling author of Norwegian Wood and The Bell in the Lake

The Sixteen Trees of the Somme is an intricately plotted and enthralling novel by the award-winning author of Norwegian Wood and The Bell in the Lake. An international bestseller and longlisted for the Dublin Literary Prize, it tells the story of Edvard and starts at his family's tree farm in Norway, where he was raised by his grandfather.
The death of Edvard's parents when he was three has always been a mystery but he knows that the fate of his grandfather's brother, Einar, is somehow connected. One day a coffin is delivered to the farm for his grandfather, long before the grandfather's death––a meticulous, beautiful, and unique piece of craftsmanship with the hallmarks of a certain master craftsman––raising the thought that Einar isn't dead after all. Edvard is now driven to unravel the mystery of his parents' death. Following a trail of clues from Norway to the Shetland Islands to the battlefields of France and sixteen ancient walnut trees colored by poison gas in World War I, Edvard ultimately discovers a very unusual inheritance.

Spanning a century and masterfully navigating themes of revenge and forgiveness, love and loneliness, The Sixteen Trees of the Somme displays the rich talents of Lars Mytting––whose novels have sold over a million copies worldwide––in a story that is utterly compelling and unforgettable.
About the Author
---
Lars Mytting, Norway's bestselling novelist, is the author of Norwegian Wood. His books, which have sold over 1 million copies in 19 languages, have won the Norwegian Bookseller Prize and have been shortlisted for the prestigious Dublin IMPAC Prize, among others. The Bell in the Lake has been sold in 12 countries and was a #1 bestseller in Norway.
Praise For…
---
"Highly episodic, deeply immersive… Mr. Mytting's novel has it all: the propulsive narrative, the human interest, the deep historical context, the gorgeously detailed descriptions of the finer things in life… The prose rips along and Paul Russell Garrett's English version reads convincingly… No one could doubt its ingenious design."—The Wall Street Journal

"Lars Mytting's The Sixteen Trees of the Somme is an intricate and evocative literary mystery... Mytting's deft maneuvering reveals truth after explosive truth. It's an atmospheric, suspenseful telling...There's beautiful cadence to the dialogue, and to the evocative descriptions of the windy, rugged beauty of the Shetlands and the desecration wrought by war on bodies and the forests of Somme."
—Foreword Reviews

"The sleuthing is masterfully executed, and the complexity of the plot is deepened by fully dimensional characters. The sense of place is beautifully explored through the Shetland Islands....The story is multilayered...presented authentically with depth and respect, skillfully blending both human nature and nature in itself."
—Mystery and Suspense Magazine

"The many facets of this wide-ranging literary novel will give pleasure to the conscientious reader."—The Historical Novels Review