You are here
National Geographic Kids Brain Games: The Mind-Blowing Science of Your Amazing Brain (Paperback)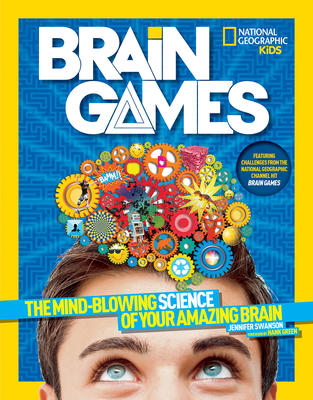 Description
---
QUICK: Name the most powerful and complex supercomputer ever built. Give up? Here's a hint: It's housed in your head and it's the one thing that makes you YOU. Your brain is mission control for the rest of your body and steers you through life. Not bad for something the size of a softball that looks like a wrinkled grey sponge!

In this fascinating, interactive book -- a companion to the National Geographic Channel hit show – kids explore the parts of the brain and how it all works, brainy news nuggets from a neuroscientist, plus fun facts and crazy challenges.
About the Author
---
JENNIFER SWANSON is the author of over 14 nonfiction books for children. She specializes in writing about science and technology. Her children's book Body Bugs: Invisible Creatures Lurking Inside You was a 2012 Book of Note with the Pennsylvania Librarian Association. Jennifer has a M.S. Ed in K-8 science and is a middle school science instructor.
Praise For…
---
"This book is over 100 pages of fun. It offers clever brain challenges, activities designed to give the brain a much-needed break, and even explains how the Rubik's Cube can actually improve the thinker's life... The pictures are vibrant and detailed, leaving nothing to the brain enthusiast's imagination." -- New York Journal of Books