You are here
Thomas Paine and the Dangerous Word (Hardcover)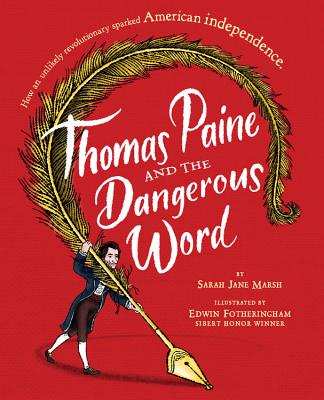 Description
---
"The mind once enlightened cannot again become dark."

As an English corset-maker's son, Thomas Paine was expected to spend his life sewing women's underwear. But as a teenager, Thomas dared to change his destiny, enduring years of struggle until a meeting with Benjamin Franklin brought Thomas to America in 1774-and into the American Revolution.

Within fourteen months, Thomas would unleash the persuasive power of the written word in Common Sense-a brash wake-up call that rallied the American people to declare independence against the mightiest empire in the world.

This fascinating and extensively researched biography, based on numerous primary sources, will immerse readers in Thomas Paine's inspiring journey of courage, failure, and resilience that led a penniless immigrant to change the world with his words.
About the Author
---
Sarah Jane Marsh has taught American Revolution history in elementary and middle school. Like Thomas Paine, Sarah attempted several adventurous careers (zoo-keeping, dolphin training, and firefighting) before settling into writing. She has an MBA from the University of Vermont and lives with her family outside of Seattle. Thomas Paine and the Dangerous Word is her first book. Learn more about Thomas Paine at www.sarahjanemarsh.com.

Edwin Fotheringham grew up in Sydney, Australia, and attended the University of Washington School of Art in Seattle, where he currently lives. He began his career as an illustrator working on a variety of projects, from CD covers to Neiman Marcus print ads. Other clients include the New Yorker and the Wall Street Journal. Edwin has also illustrated a number of children's books, including Tony Baloney by Pam Muñoz Ryan and What to Do About Alice? by Barbara Kerley, which received the Robert F. Sibert Honor. See more of his work online at edfotheringham.com.
Praise For…
---
"In her debut, Marsh does a fine job of mixing the personal and public elements of Paine's life; he comes across as not just a historical figure, but a fully realized fellow, with hopes and dreams, enthusiasms and disappointments."—Ilene Cooper, Booklist (starred review)

"Marsh's clear prose style and short, declarative sentences allow readers to follow events easily-and even to slow down and think about them."—Betty Carter, Horn Book