You are here
Musical Chairs: A Novel (Paperback)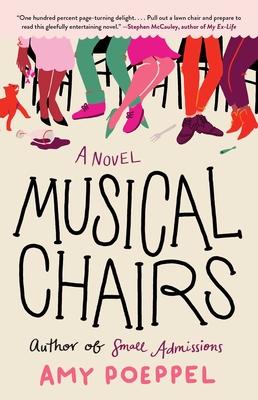 Description
---
"Poeppel has created a story that is well thought out, well plotted, well written, and fully developed. A delightful novel that celebrates the messiness and joy to be found in real life." —Kirkus Reviews (starred review)

"100% page-turning delight…Pull out a lawn chair and prepare to read this gleefully entertaining novel." —Stephen McCauley, author of My Ex-Life

The award-winning, "quick-witted and razor-sharp" (Taylor Jenkins Reid, New York Times bestselling author of Daisy Jones & The Six) author of Limelight and Small Admissions returns with a hilarious and heartfelt new novel about a perfectly imperfect summer of love, secrets, and second chances.

Bridget and Will have the kind of relationship that people envy: they're loving, compatible, and completely devoted to each other. The fact that they're strictly friends seems to get lost on nearly everyone. For three decades, they've nurtured their baby, the Forsyth Trio—a chamber group they created as students with their Juilliard classmate Gavin Glantz. In the intervening years, Gavin has gone on to become one of the classical music world's reigning stars, while Bridget and Will have learned to embrace the warm reviews and smaller venues that accompany modest success.

Bridget has been dreaming of spending the summer at her well-worn Connecticut country home with her boyfriend Sterling. But her plans are upended when Sterling breaks up with her over email, her twin twenty-somethings arrive unexpectedly, and her elderly father announces he's getting married. She concocts a plan to host her dad's wedding on her ramshackle property, while putting the Forsyth Trio back into the spotlight. But to catch the attention of the music world, she and Will place their bets on luring back Gavin, whom they've both avoided ever since their stormy parting.

"In this funny, profound, and brilliantly alive novel about all the messy, wise, and wonderful chords that love can strike in our lives, Poeppel gathers together fathers and daughters, old flames and new sparks, music, writing and gardening, to explore what it really means to feel at home, and how life can open you up in ways you never saw coming" (Caroline Leavitt, New York Times bestselling author).
About the Author
---
Amy Poeppel is the award-winning author of the novels The Sweet Spot, Musical Chairs, Limelight, and Small Admissions. Her writing has appeared in The New York Times, The Rumpus, Literary Hub, and Working Mother. She and her husband have three sons and split their time between New York City, Germany, and Connecticut. She would love to hear from you on Twitter or Instagram: @AmyPoeppel or at AmyPoeppel.com.
Praise For…
---
"MUSICAL CHAIRS is a total delight—absolute perfect summer reading. If you enjoy my books, you will adore this novel about a family of classical musicians living together in a big, falling-apart country estate for the summer."
— Elin Hilderbrand, #1 New York Times bestselling author of GOLDEN GIRL

"A fiercely funny tale of family, friendship, and later-in-life love."
— People

"What kind of writer is Amy Poeppel? Warm, generous, funny, and full of surprises. In her third novel, a large, musical family (and their many friends, lovers, and groundskeepers) assemble in the shabby chicest corner of rural Connecticut over the course of one long, hot summer. What ensues is part classical French farce, part touching family comedy, and 100% page-turning delight. Cue up some chamber music, pull out a lawn chair, and prepare to binge read this gleefully entertaining novel."
— Stephen McCauley, author of MY EX-LIFE

"In this funny, profound, and brilliantly alive novel about all the messy, wise and wonderful chords that love can strike in our lives, Poeppel gathers together fathers and daughters, old flames and new sparks, music, writing and gardening, to explore what it really means to feel at home, and how life can open you up in ways you never saw coming. Set against the backdrops of Manhattan and the Connecticut countryside, MUSICAL CHAIRS is profound, delicious and soul-stirring."
— Caroline Leavitt, New York Times Bestselling Author of PICTURES OF YOU and IS THIS TOMORROW

"Full of Poeppel's signature charm and wit, MUSICAL CHAIRS is a romantic-comedy-of-errors with a smart, edgy twist on the possibilities that might be revealed in life's third act. Touching, full of humanity, and the absolute definition of 'compulsively readable'!"
— Suzanne Rindell, author of THE OTHER TYPIST

"Amy Poeppel's charming MUSICAL CHAIRS made me laugh out loud. Poeppel has a remarkable talent for creating the very best kind of mayhem. Drunken dinner parties, a runaway cat, brilliant musicians, a tattooed florist, drop dead gorgeous twins, crumbling old houses, beautiful Connecticut, secrets and lies--and finally--a wedding, the true hallmark of any delicious comedy. Reading this book was such a pleasure."
— Marcy Dermansky, critically acclaimed author of VERY NICE and THE RED CAR

"A story of deep friendship . . . a story of motherhood, of daughterhood, and of sisterhood—when to help, when to let go, and when to celebrate. It is also a story of fixing up a house. A story of music. A story of aging. A story of being scared to change and yet still wanting to. And a story of falling in love. There is a large cast of characters, but they are all distinct individuals with their own personalities and voices who work together seamlessly in the novel as both soloists and supporting characters. Author Poeppel has created a story that is well thought out, well plotted, well written, and fully developed. A delightful novel that celebrates the messiness and joy to be found in real life."
— Kirkus Reviews (starred review)

"A choir of perfectly complicated characters in Bridget's life—the missing violinist from her musical trio, her 20-something-year-old children who move back in and her elderly father who's getting married—make for an imperfect summer of love, mystery and second chances in MUSICAL CHAIRS."
— Parade

"Amy Poeppel again shows us how to find joy in even life's messy moments."
— Frolic

"Absolutely hilarious, with laugh-out-loud dialogue and a pitch-perfect ending."
— MODERN MRS. DARCY

"This story of reinvention has just the right tone for a musical elegy to one family's journey."
— Good Morning America, "Top 25 Novels for Summer"

"Full of Amy Poeppel's trademark warmth, wit, and humor, MUSICAL CHAIRS is a literary love song that will leave readers swooning as they wax rhapsodic with the pure joy of reading. Pull up a chair, pour a glass of wine, and let the music take you away."
— Pamela Klinger Horn, Excelsior Bay Books

"Readers of upmarket ensemble fiction with a dash of humor, à la Cynthia D'Aprix Sweeney or Emma Straub, will enjoy Poeppel's latest."
— Booklist

*Best Books of July*
— PureWow

"Every summer reading list needs at least one book you'll want to binge at the beach or by the pool. Musical Chairs, about a recently dumped woman named Bridget and her best friend Will, is a sweet summer romance with tons of heart. It's the perfect escape."
— HelloGiggles, Best Books of the Month

"Reading Amy Poeppel's Musical Chairs is as fun as watching a Marx Brothers comedy, especially that scene in A Night at the Opera when everyone is squashed into the stateroom . . . Poeppel's people are a mess, but her writing is crisp and breezy."
— BookPage

"Poeppel (Small Admissions) charms with this witty story . . . [Her] whimsical tale offers plenty of surprises."
— Publishers Weekly

"Amy Poeppel's novel offers a delightful ode to contemporary life."
— Christian Science Monitor, Best Books of July

"Light and quick-to-finish, Musical Chairs—like all of Poeppel's work—is witty, relatable and well-paced. It's also a good reminder that, rather than pushing life's messiness away, sometimes it's best to embrace it."
— PureWow

"This witty dive into the world of classical music, families and dilapidated country houses will be a fun beach read."
— The TriCorner News

"This charming story begins like a lovely overture, an introduction that gets you used to the rhythm and feeling of the piece. Slowly you become entranced and rapt in the characters and plot of this beautifully composed novel."
— BookReporter

"10 Best Books to Read this Summer."
— International Business Times

"Another superbly crafted novel by Amy Poeppel that blends humor with insights into the human condition and modern family life, Musical Chairs is an extraordinary and fully entertaining story of 'romance, role reversals, reinvention, and sweet synchronicity.'"
— Midwest Book Review

"An utter delight...The narration was music to my ears. No pun intended."
— Libro.fm

"Amy Poeppel again shows us how to find joy in even life's messy moments."
— Frolic

"Absolutely hilarious, with laugh-out-loud dialogue and a pitch-perfect ending."
— MODERN MRS. DARCY

"Readers of upmarket ensemble fiction with a dash of humor, à la Cynthia D'Aprix Sweeney or Emma Straub, will enjoy Poeppel's latest."
— Booklist

*Best Books of July*
— PureWow

"Every summer reading list needs at least one book you'll want to binge at the beach or by the pool. Musical Chairs, about a recently dumped woman named Bridget and her best friend Will, is a sweet summer romance with tons of heart. It's the perfect escape."
— HelloGiggles, Best Books of the Month

"Reading Amy Poeppel's Musical Chairs is as fun as watching a Marx Brothers comedy, especially that scene in A Night at the Opera when everyone is squashed into the stateroom . . . Poeppel's people are a mess, but her writing is crisp and breezy."
— BookPage

"Amy Poeppel's novel offers a delightful ode to contemporary life."
— Christian Science Monitor, Best Books of July