You are here
Duplex: A Novel (Hardcover)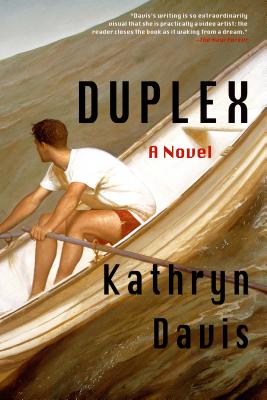 $24.00
Email or call for price
Description
---
* A New York Times Book Review Notable Book of the Year * A San Francisco Chronicle, Kansas City Star, St. Louis Post-Dispatch, New Hampshire Public Radio, Flavorwire, Vol. 1 Brooklyn, Largehearted Boy, and Slaughterhouse 90210 Best Book of the Year *
* A New York Times Book Review Editors' Choice * One of The Millions's Most Anticipated Books of 2013 *
Mary and Eddie are meant for each other—but love is no guarantee, not in these suburbs. Like all children, they exist in an eternal present; time is imminent, and the adults of the street live in their assorted houses like numbers on a clock. Meanwhile, ominous rumors circulate, and the increasing agitation of the neighbors points to a future in which all will be lost. Soon a sorcerer's car will speed down Mary's street, and as past and future fold into each other, the resonant parenthesis of her girlhood will close forever. Beyond is adulthood, a world of robots and sorcerers, slaves and masters, bodies without souls. In Duplex, Kathryn Davis, whom the Chicago Tribune has called "one of the most inventive novelists at work today," has created a coming-of-age story like no other. Once you enter the duplex—that magical hinge between past and future, human and robot, space and time—there's no telling where you might come out.
About the Author
---
Kathryn Davis is the author of six novels. She has received the Kafka Prize, the Morton Dauwen Zabel Award, a Guggenheim Fellowship, and the Lannan Foundation Literary Award. She teaches at Washington University, and lives in Vermont and St. Louis, Missouri.
Praise For…
---
"[I fell] in love with Davis's writing . . . that combination of horror and excitement that spilled out of the book. . . . [Duplex] wormholes through the real and unreal in a way that is always compelling even if it doesn't make immediate sense to the top of the mind, the human experience always recognizable even in a world that feels like a much-needed nightmare version of 'Brigadoon.' . . . When you are lost in the uncanny woods of this astonishing, double-hinged book, just keep reading, and remember to look up. Kathryn Davis knows right where you are." —Lynda Barry, The New York Times Book Review
"Duplex is a traditional love story tucked inside an adult fairy tale, wrapped in science fiction. . . . Thankfully, the laws of quantum mechanics do not power Duplex's magnetism. Instead, it is Davis's beautiful prose, her psychological awareness." —Rosecrans Baldwin, NPR, All Things Considered
"Duplex [is] a coming-of-age-meets-dystopian-fantasy-meets-alternate-reality novel, or maybe an Ionesco-meets-Beckett-meets-Oulipo novel. . . . The point of most speculative fiction is to create a world that elevates contemporary social anxieties to the level of nightmare. Duplex does something else. The world it describes has gone cuckoo while its characters' anxieties remain stubbornly, drably, daringly familiar." —Tom Bissell, Harper's Magazine
"Duplex is utterly compelling and hard to put down. . . . Davis writes with a stunning brilliance, creating fractured worlds that are both extraordinary and routine. . . . [Davis blends] elements of mythology, horror stories, and fairy tales, some so eerily skewed even the Grimm brothers couldn't have imagined their twists and turns. There's a trace of a Faustian bargain and Alice's trip down the rabbit hole, as well as hints of allegory. . . . Unforgettable." —The Boston Globe
"Time is bending, and robots are moving in next door, in a new novel . . . by a specialist in the banal fantastical." —New York Magazine
"Peculiar, enchanting. . . . This off-kilter world in which humans, robots, and Bodies-without-Souls all coexist hums beautifully to its own rhythm. It's a series of dreamlike, often erotic, images and interconnected plot lines that don't so much build to climax as swell to create an intoxicating atmosphere. . . . [Duplex is] a reminder that the momentum gained from shifting back and forth between possibilities--not the actual going through the door--is the movement that propels us forward." —Slate
"Duplex stuns. . . . Davis exploits the no-man's land between the strange-but-real and the truly bizarre in sentences and paragraphs so striking they deserve to be memorized. . . . [Duplex] hums with hot blue electricity." —San Francisco Chronicle, "Writers' Favorite Books of 2013"
"You're unlikely to encounter another fall release brimming with as much imagination as this coming-of-age story by the author of The Thin Place and Versailles. Featuring young love, robots and soul-zapping sorcerers, it's novel in both senses of the word." —Chicago Tribune
"Davis' previous novels have been described as 'hallucinatory' and 'dreamlike,' and Duplex is no exception. For fans of the fantastical, Davis' writing style is a glass of ice cold water in today's dessert of conventional fiction." —Star Tribune (Minneapolis)
"Davis is unlike any writer you are likely to read. . . . For Davis, suburbia is a place where the mundane disguises a phantasmagoria of strange characters and events. . . . Fascinating." —The Kansas City Star
"[Davis's] landscapes change shape with cinematic speed. . . . The whole is breathtaking to read and reread." —St. Louis Post-Dispatch
"Kathryn Davis might possibly be one of the most constantly overlooked great novelists around. The type that can make you think that even though you've had your fill of coming-of-age novels, maybe you have room in your life for one more. If that's the case, Duple xis really the book you must seek out." —Flavorwire, "10 Must-Read Books for September"
"An astonishing, peculiar experience, reading Davis, like being pricked all over so that every bit of the strangeness of this book can seep into you. The kind of writer who makes me want to corner strangers on buses, so I can read whole paragraphs to them. This book is haunting me." —Kelly Link, The Millions, "A Year in Reading"
"Part of the genius of Duplex is that Davis doesn't push any alternate agenda. A wide range of interpretations feels welcome, and at the heart of the book is the lifelong story of Mary and Eddie, told with care and in beautiful sentences. . . . We read because Davis has created a world with language unlike any other, and also like our own." —The Rumpus
"Kathryn Davis's surreal, mesmerizing fiction is perfect darker fare." —The Barnes & Noble Book Blog
"Imagine a narrative voice with the attention to detail, reverence for landscape, intelligence, and spirituality of Henry David Thoreau, Ralph Waldo Emerson, William Wordsworth, or John Ruskin. . . . Duplex felt less like a story and more like a forest of images and metaphors, something to be wandered through rather than followed to a conclusion. . . . If the storyteller is good enough, she can ask readers everything and take readers anywhere." —Bookslut
"Duplex is an eerie and lucid nightmare. . . . In the style of Ursula LeGuin and Rudyard Kipling, Davis has given a creepily similar/dissimilar dystopia, and when the reader is able to parse whats familiar and what's not, she can also identify the dystopian elements of her own existence. . . . An enchanting read, a Wonderlandesque adventure." —Bustle
"A wildly imaginative tale of dualities. . . . [Duplex] is an intricately fashioned, wryly stylized, through-the-looking-glass novel of forewarning about the essence of being human, endangered souls and 'ancestral memory,' and how stories keep us afloat." —Booklist, starred review
"[Duplex] is less a novel than a dream . . . [with] prose that makes the sky seem like something you've never seen and makes robots' speech utterly quotidian." —Publishers Weekly
"A world that is not our world but that is recognizable, consistent and strange. . . . This book will please and surprise." —Kirkus Reviews
"With every sentence she writes, Davis freshens the senses. Her novels achieve a tone that's unlike anyone else's, creating an atmosphere you don't so much interpret as breathe." —Kevin Brockmeier, author of The Illumination
Coverage from NPR