You are here
Forbidden Bread: A Memoir (Paperback)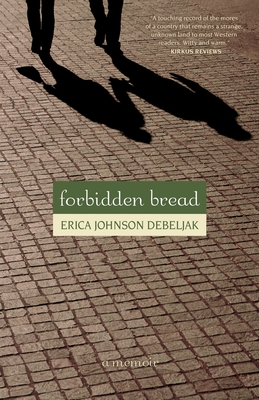 $15.95
Email or call for price
Description
---
"[A] sunny, can-do look at intense culture shock. Debeljak makes a humorous, self-effacing guide to her own story and the only complaint I have is that I wish she'd told us more. I hope someday she gives us a sequel."—Christian Science Monitor • "Witty and warm."—Kirkus Reviews


Forbidden Bread is an unusual love story that covers great territory, both geographically and emotionally. The author leaves behind a successful career as an American financial analyst to pursue Ales Debeljak, a womanizing Slovenian poet who catches her attention at a cocktail party. The story begins in New York City, but quickly migrates, along with the author, to Slovenia. As she struggles to forge an identity in her new home, Slovenia itself undergoes the transformation from a communist to a capitalist society. A complicated language, politically incorrect ethnic jokes, and old-fashioned sexism are just a few of the challenges Debeljak faces on her journey. Happily, she marries her poet and comes to love her new husband's family as well as the fast-disappearing rural traditions of this beautiful country. Set against the dramatic backdrop of the Slovenian Ten Day War and the much longer Yugoslav wars of succession, Forbidden Bread shows a worldly and courageous woman coming to grips with her new life and family situation in a rapidly changing European landscape.
About the Author
---
Erica Debeljak lives in Ljubljana, Slovenia with her husband Ales and her three children. Born in San Francisco in 1961, she moved to New York City where she attended college and graduate school before pursuing a career in international finance. In 1991, she fell in love with Ales Debeljak, quit her job to make a new life in a new country.

Unable to pursue her career in Slovenia where bureaucratic hurdles blocked the way, she learned the language, became a Slovenian/English translator, and eventually took up work as a writer and columnist. Her essays and stories have recently appeared in Glimmer Train (winner of 2007 Family Matters Contest), Prairie Schooner, The Missouri Review, Nimrod, Epoch, Common Knowledge, Context, and Eurozine. Her work has been translated into over five languages.

She received an MFA in creative writing from the University of New Orleans and has published three books in Slovenia, including Foreigner in the House of Natives.
Praise For…
---
"Forbidden Bread is a sunny, can-do look at intense culture shock. Debeljak makes a humorous, self-effacing guide to her own story and the only complaint I have is that I wish she'd told us more. I hope someday she gives us a sequel."
—Christian Science Monitor

"[Forbidden Bread is] a touching record of the mores of a country that remains a strange, unknown land to most Western readers. Witty and warm."
—Kirkus Reviews

[Debeljak's] memoir functions as a love letter to her husband and an introduction to the Slovenian world, its language, social customs and tangled history (Slovenia, formerly part of Yugoslavia, officially became a nation-state in 1991)... [T]he author offers an intriguing story about the birth of a new state as well as the 'series of coincidences, mishaps, and thunderbolts' that led [her] from Brooklyn to Ljubljana."
—Publishers Weekly

"Erica Johnson Debeljak takes us on a journey of love to, of all places, Slovenia. Her story is at once adventurous, romantic, and humorous . . . Along the way are many eye-opening tours of a place that is both as enchanting and absurd as Peter Mayle's Provence."
—Amy Wallen, author of MoonPies and Movie Stars

"Out of a clash of cultures comes a book of wit and fascinating observations. Forbidden Bread says as much about the United States as it does about Slovenia. Informative and often funny, it opens a window onto a world of drastic differences and surprising similarities."
—Slavenka Drakulic, author of How We Survived Communism and Even Laughed

"With an observant eye and intelligent cultural insights, Erica Johnson Debeljak leads the reader through her story of leaving New York to marry a black-haired Slavic poet. I learned much about the region that was once Yugoslavia and I learned it in the best possible way—through an engaging and well-told story. She is a delightful narrator and an entertaining guide."
—Judith Barrington, author of Lifesaving

"Erica Johnson Debeljak has written a witty and lyrical memoir, filled with deep love for her adopted country and Slovenian family. Whether she's explaining what "forbidden bread" means or why tending graves is a passionate national pastime or rebelling against na iroko (a form of triple diapering), she writes with exuberance and depth."
—Shelf Awareness

"[Erica Johnson Debeljak] uses her own story as the backdrop for Slovenia's story, with its tumultuous history and rich, poetry-filled culture. From her battles with power-abusing bureaucrats, to worries about bombs falling on her wedding day, to ethnic jokes and fussing in-laws, Debeljak provides layers of detail that let the reader really understand what it would be like to live in a land so foreign. This is arm-chair travel at its best—a trip to the true heart of a country."
—The Internet Review of Books

"Part a reverse mail-order bride story, part a history/geography lesson, and part a family account, Forbidden Bread is above all a tribute to the lengths people go to for love."
—LuxuryReading.com