You are here
Pedigree (Paperback)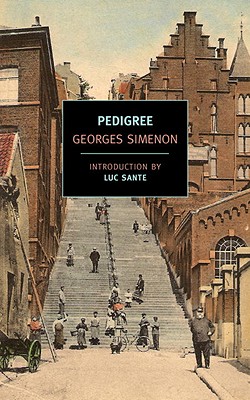 $22.95
Email or call for price
Description
---
Pedigree is Georges Simenon's longest, most unlikely, and most adventurous novel, the book that is increasingly seen to lie at the heart of his outsize achievement as a chronicler of modern self and society. In the early 1940s, Simenon began work on a memoir of his Belgian childhood. He showed the initial pages to André Gide, who urged him to turn them into a novel. The result was, Simenon later quipped, a book in which everything is true but nothing is accurate. Spanning the years from the beginning of the century, with its political instability and terrorist threats, to the end of the First World War in 1918, Pedigree is an epic of everyday existence in all its messy unfinished intensity and density, a story about the coming-of-age of a precocious and curious
boy and the coming to be of the modern world.
About the Author
---
Georges Simenon (1903–1989) was born in Liège, Belgium. He went to work as a reporter at the age of fifteen and in 1923 moved to Paris, where under various pseudonyms he became a highly successful and prolific author of pulp fiction while leading a dazzling social life. In the early 1930s, Simenon emerged as a writer under his own name, gaining renown for his detective stories featuring Inspector Maigret. He also began to write his psychological novels, or romans durs— books in which he displays a sympathetic awareness of the emotional and spiritual pain underlying the routines of daily life. Having written nearly two hundred books under his own name and become the best-selling author in the world, Simenon retired as a novelist in 1973, devoting himself instead to dictating several volumes of memoirs.

Robert Baldick was a Fellow of Pembroke College, Oxford, and of the Royal Society of Literature. He wrote a number of histories and biographies, and translated the works of a wide range of French authors. He was a joint editor of Penguin Classics and one of Britain's leading French scholars until his death in 1972.

Luc Sante is the author of Low Life, Evidence, The Factory of Facts, Kill All Your Darlings, and Folk Photography. He has translated Félix Fénéon's Novels in Three Lines and written the introduction to George Simenon's The Man Who Watched Trains Go By (both available as NYRB Classics). He is a frequent contributor to The New York Review of Books and teaches writing and the history of photography at Bard College.
Praise For…
---
 "Pedigree is an unforgettable picture of the Belgian city of Liège and its people as observed by the innocent but pitiless eye of a very unusual little boy. It is a Dickensian portrait, with poverty, crime, lunacy, wealth, corruption, and mockery, but a complete absence of Dickensian sentimentality. The story opens with the birth of Roger Mamelin in 1903 and ends with the liberation of the city from German occupation in November 1918...The author objected to the book being called an "autobiographical novel," but the details of Roger's life are too close to those of Simenon's for argument."–Patrick Marnham, The Wall Street Journal
"This is what makes Simenon such an extraordinary novelist: the way he can mix everything together; the way he collects sounds, smells and sights and inflects them with menace, arousal, comfort or some other abstract quality that becomes concrete on the page and blooms into a story. Among other things, "Pedigree" is a remarkable act of mixing memory and imagination, re-creating the textures, places and people the author had left behind." --The Los Angeles Times

"…once I begin to read his work, especially the romans durs, nothing else exists but the slide into whatever seedy underworld awaits… his autobiographical novel Pedigree is something of a departure, and not simply in terms of length. Pedigree is the book that Simenon spent the most time on, and it's the one where the most time passes. —Liz Brown, The Paris Review Daily
 
"Pedigree is an unforgettable picture of the Belgian city of Liège and its people as observed by the innocent but pitiless eye of a very unusual little boy. It is a Dickensian portrait, with poverty, crime, lunacy, wealth, corruption, and mockery, but a complete absence of Dickensian sentimentality." —Patrick Marnham, The Wall Street Journal

"...it's always enjoyable, and good to have back in English" --The Guardian (UK)
"Pedigree is a very beautiful book full with humanism and tenderness, a gruff tone and sharp-edged words. A real discovery." -La Tribune (Paris)
"Simenon was born in 1903 in Liege, Belgium. He tells the story of his childhood-his petit-bourgeois upbringing, his scheming mother, the early death of his gentle and unambitious father, the ravages of the war-in Pedigree, the barely fictionalized memoir that is his masterpiece and quite possibly the greatest single work of Belgian literature."; -Luc Sante, New York Magazine
"Simenon brings to life in Pedigree the whole sensory world of his childhood in Liege. His words capture the sounds, sights, tastes, smells, and textures of the city…Writing in prose that is pictorial and tactile, Simenon in Pedigree does for Liege what the young Joyce did for Dublin: he evokes the city with such immediacy that we feel we've walked in its streets." --Lucille Frackman Becker, Georges Simenon
"How important a writer is Georges Simenon? The greatest storyteller of our day, a writer comparable with Balzac…" -Julian Symons, The New York Times
"As the New York Review of Books Classics series publishes Simenon after Simenon at a rate the novelist would envy, it's tempting to read them all in a lump, as an extensive, though still partial, psychological portrait of the writer." -The Nation
"These books...are not mysteries...They are hard, blunt, frequently punishing studies of human beings driven by circumstance and personality to the ends of their tethers, forcing them to extreme measures...They are acute, compact, remarkably varied, and as lapidary as great pop songs." -Luc Sante on NYRB's reissues of Simenon's romans durs, Bookforum
"One of the greatest and most prolific of the modern French creators of fiction." -Philadelphia Inquirer
"Simeon is not only a master of suspense, he knows also how to probe so deeply into the minds of his characters as to reveal with remarkable fidelity the more evasive of human motives." -Cleveland Press
"One of the world's...most notable talents." -Houston Chronicle
"There is a harsh, almost Biblical intensity to M. Simenon's catalogues of punishment: he is a believer in original sin." -New York Times