You are here
The Snail with the Right Heart: A True Story (Hardcover)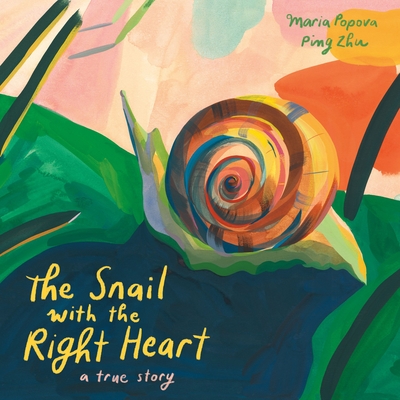 $18.95

Usually Available in 1-5 Days
Description
---
★ A Kirkus Best Book of 2021: A Best Informational Picture Book
★ A Marginalian (formerly Brain Pickings) Best Children's Book of 2021
★ A Spirituality & Practice Best Spiritual Book of 2021Based on a real scientific event and inspired by a beloved real human in the author's life, this is a story about science and the poetry of existence...The Snail with the Right Heart is a story about time and chance, genetics and gender, love and death, evolution and infinity--concepts often too abstract for the human mind to fathom, often more accessible to the young imagination; concepts made fathomable in the concrete, finite life of one tiny, unusual creature dwelling in a pile of compost amid an English garden. Emerging from this singular life is a lyrical universal invitation not to mistake difference for defect and to welcome, across the accordion scales of time and space, diversity as the wellspring of the universe's beauty and resilience.This boldly illustrated book about evolution for children features a large gatefold that opens up to immerse readers in the story and will help kids understand that nature is all about differentiation and that being different is beautiful.
About the Author
---
Maria Popova is a reader and a writer, and writes about what she reads on Brain Pickings (brainpickings.org), which is included in the Library of Congress permanent web archive of culturally valuable materials. She is the author of Figuring, co-editor of A Velocity of Being: Letters to a Young Reader, and the creator and host of The Universe in Verse--an annual charitable celebration of science through poetry at the interdisciplinary cultural center Pioneer Works in Brooklyn.Ping Zhu's illustrations are frequently seen in the New York Times and other reputable publications, but also some questionable ones. She is a graduate of ArtCenter and gave tours there as a work-study job. In 2013, she won the ADC Young Guns award for being simultaneously young and talented. Though she is no longer eligible for "30 Under 30" accolades, her goal in life is to create work that will ideally age well like a fine wine. Or even an okay wine. Ping's children's book debut, The Strange Birds of Flannery O'Connor, A Life, published in June 2020 and was selected by the New York Times as a Best Children's Book of 2020.