You are here
The Colonel: A Novel (Paperback)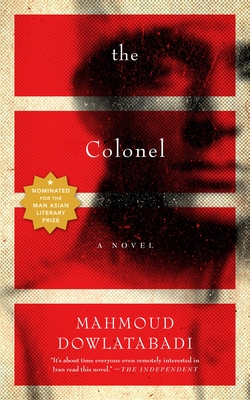 $17.95
Email or call for price
Description
---
Winner of the 2013 Jan Michalski Prize
Longlististed for the Man Asian Literary Prize

A new novel by the master of Iranian letters that directly engages politics in Iran today
 
Ten years in the writing, this fearless novel—so powerful it's banned in Iran—tells the stirring story of a tortured people forced to live under successive oppressive regimes.
 
It begins on a pitch black, rainy night, when there's a knock on the Colonel's door. Two policemen have come to summon him to collect the tortured body of his youngest daughter. The Islamic Revolution is devouring its own children. Set over the course of a single night, the novel follows the Colonel as he pays a bribe to recover his daughter's body and then races to bury her before sunrise.

As we watch him struggle with the death of his innocent child, we find him wracked with guilt and anger over the condition of his country, particularly as represented by his own children: a son who fell during the 1979 revolution; another driven to madness after being tortured during the Shah's regime; a third who went off to martyr himself fighting for the ayatollahs in their war against Iraq; one murdered daughter, and another who survives by being married to a cruel opportunist.

An incredibly powerful novel about nation, history and family, The Colonel is a startling illumination of the consequences of years of oppression and political upheaval in Iran.
About the Author
---
MAHMOUD DOWLATABADI is one of the Middle East's most important writers. The author of numerous novels, plays, and screenplays, he is also a leading proponent of social and artistic freedom in Iran.

Born in 1940 in a remote farming region of Iran, the son of a shoemaker, his early life and teens were spent as an agricultural day laborer until he made his way to Tehran, where he started working in the theater and began writing plays, stories and novels. He is the author Missing Soluch, published by Melville House and his first work to be translated into English, and a 10-book portrait of Iranian village life, Kelidar. The Colonel has been shortlisted for the Haus der Kulturen Berlin International Literary Award and longlisted for the Man Asian Literary Prize.
Praise For…
---
"This important novel offers at least some glimmer of insight into recent history that remains quite opaque to most of us…and perhaps even to many Iranians themselves."
—
Paste
"Yes, it's a good book."

—Vice-chairman of the Iranian Ministry of Culture and Islamic Guidance (although the book is still unavailable in Iran) in the
New York Times
"Dowlatabadi combines the poetic tradition of his culture with the direct and unembellished everyday speech of the villages. With this highly topical new novel Mahmoud Dowlatabadi, Iran's most important novelist, sheds light on the upheavals, which haunts his country until today."
—Man Asian Literary Prize nomination citation
"[A] masterpiece." —
Quarterly Conversation
"A demanding and richly composed book by a novelist who stands apart."
—
Kirkus Reviews


"Mr. Dowlatabadi draws a detailed, realist picture of Iranian life, especially that of the rural poor, in language that is complex and lyrical, rather than simplistic." 
—The Financial Times

"
The Colonel
 is a remarkable and important book ... a masterpiece." 
—The Globe and Mail
"The nature of authoritarians is not to learn from mistakes but to attempt to erase them. 
The Colonel
 is a very thorough accounting of those mistakes, and of their cost, and a demonstration of the necessity, for humanity's sake, of overcoming them." 
—The Rumpus
"Iran's greatest writer."
—The Millions
"It's about time everyone even remotely interested in Iran read this novel."
—The Independent


"An affecting and beautiful novel." 
—The Literary Review

" ... Instructive ... a stirring tale replete with the hideous viscera of violent confrontation." 
—Booklist
"An outstanding master achievement."
—Der Spiegel
"
The Colonel
is a page-turning panorama of Iranian mental anguish, producing visions and nightmares like dark exotic blossoms."

—Neue Zurcher Zeitung
"This novel has what it takes to become a strong and irresistible window into Iran."
—Die Zeit
"…a very powerful work."
—Michael Orthofer, The Complete Review

"Because of its honesty and indeed brutal clarity of language the novel has so far not been published in its original language, Persian…[an] honest and truly literary account."
—English Pen
Praise for Missing Soluch
"Beautifully and incisively rendered, and imbued throughout with hope."—Publishers Weekly
"There are some brilliantly tough pieces of writing…[The original's] vigour comes through in translation."—Times Literary Supplement
"Brings East of Eden to mind… Dowlatabadi knows a world that has seldom overlapped with the modern novel."—The New York Sun
"Dowlatabadi has created a masterpiece."—Words Without Borders