You are here
WHAT WE DO NOW: Standing Up for Your Values in Trump's America (Paperback)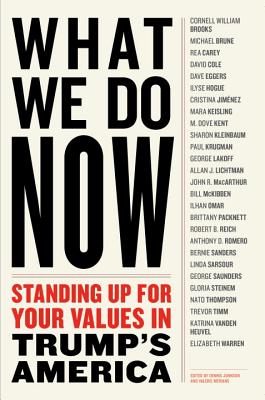 $15.99
Email or call for price
Description
---
The National Bestseller

The election of Donald Trump to be the 45th President of the United States of America shocked and dismayed progressives across the country. What We Do Now, a collection of passionate manifestos by some of the country's leading progressives, aims to provide a blueprint for how those stunned progressives can move forward. Its powerful contributions -- from economists, environmentalists, activists, artists, politicians, and novelists -- will offer encouragement and guidance to practicing constitutionally protected acts of resistance throughout the unprecedented upcoming administration.

Among the contributors are Bernie Sanders, Elizabeth Warren, Gloria Steinem, Paul Krugman, Robert B. Reich, George Saunders and Dave Eggers as well the heads of the ACLU, the NAACP, the Sierra Club, the Arab American Association, the National GLBTQ Task Force, the Freedom of the Press Association, and other prominent activists.
About the Author
---
Essays by:
Gloria Steinem, feminist leader
Senator Bernie Sanders
Senator Elizabeth Warren
Paul Krugman, Nobel Prize-winning writer
Robert B. Reich, former Secretary of Labor
Dave Eggers, novelist
George Lakoff, cognitive linguist
George Saunders, novelist
Anthony Romero, ACLU head
Cornell William Brooks, NAACP head
Cristina Jimenez, United We Dream head
Katrina vanden Heuvel, publisher of The Nation
Linda Sarsour, Arab American Association head
Michael Brune, Sierra Club head
Bill McKibben, environmentalist
Ilhan Omar, first Somali-American legislator
Allan Lichtman, Georgetown U prof and "Professor Predictor"
Brittany Packnett, Campaign Zero head
Ilyse Hogue, NARAL head
M. Dove Kent, head of Jews For Racial & Economic Justice
Mara Keisling, head of National Center for Transgender Equality
Rea Carey, National GLBTQ Task Force head
Rabbi Sharon Kleinbaum
Trevor Timm, head of Freedom of the Press Foundation
David Cole, ACLU National Legal Director
Nato Thompson, art activist
John R. MacArthur, publisher of Harper's Magazine
Edited by: Dennis Johnson and Valerie Merians