You are here
A Friend of the Family (Paperback)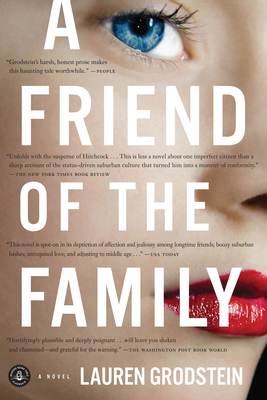 $13.95

Usually Available in 1-5 Days
November 2009 Indie Next List
---
"The story of Pete Dizinoff, a successful suburban doctor, and his son, Alec, whom Pete dotes on, takes a decidedly Shakespearean turn in a story about the lengths to which a father will go to protect his child. This brilliant literary thriller will leave readers emotionally rent, as the protagonist's life collapses while he reaches out for what matters most to him."
— Mary Cotton, Newtonville Books, Newton, MA
Description
---
The New York Times bestseller that "unfolds with suspense worthy of Hitchcock . . . Grodstein is a terrific storyteller." —The New York Times Book Review

Pre-order author Lauren Grodstein's new simply can't-be-missed novel, We Must Not Think of Ourselves, coming November 28, 2023. A truly unforgettable story about the fight for life—and love—in the Warsaw Ghetto during World War II. 

Pete Dizinoff, a skilled and successful New Jersey internist, has a loving and devoted wife, a network of close friends, an impressive house, and, most of all, a son, Alec, now nineteen, on whom he has pinned all his hopes. But Pete hadn't expected his best friend's troubled daughter to set her sights on his boy. When Alec falls under her spell, Pete sets out to derail the romance, never foreseeing the devastating consequences.

In a riveting story of suburban tragedy, Lauren Grodstein charts a father's fall from grace as he struggles to save his family, his reputation, and himself.
About the Author
---
LAUREN GRODSTEIN is the author of six books, including the Washington Post Book of the Year The Explanation for Everything and the New York Times bestselling A Friend of the Family. Her writing has appeared in Elle, the New York Times, Salon.com, and the Washington Post. Her fiction has been recognized by the New York Public Library and Columbia University. She is a professor of English at Rutgers University–Camden, where she teaches in the MFA program in creative writing.
Praise For…
---
"The moving, complex, beautifully written story of a good man who's slowly losing his grip on his life and his family,
A Friend of the Family
unfolds with unerring precision." —Kate Christensen, author of Trouble
"With suspense worthy of Hitchcock . . . Grodstein is a terrific storyteller." —The New York Times Book Review
—
The New York Times Book Review
"The novel is spot-on in its depiction of affection and jealousy among longtime friends; boozy suburban bashes; unrequited love; and adjusting to middle age . . . A Friend of the Family beautifully captures the ever-striving angst of parents who will take any step to ensure their children's lives are easier or better. Parents sweating through a teen's college applications would do well to spend some time with Dr. Pete." —USA Today
—
USA Today
"Grodstein's harsh, honest prose makes this haunting tale worthwhile." —People
—
People Magazine
"Stunning . . . She has written a novel that will leave her readers sitting up, sifting the evidence in the dead of night." —
The Boston Globe
—
The Boston Globe
"Absorbing . . . an incisive diagnosis of aspirational America . . . What Grodstein captures so strikingly is the anxiety of a father's love, that aching affection . . . Grodstein never pushes these characters into caricatures. She has a sharp ear for the discordant tones of conversations between parents and their almost adult children . . . Grodstein is such a perceptive and knowing critic of suburbia that I kept expecting to see her driving slowly up and down my street peering in the windows . . . The last 50 pages of the novel swell to such a gripping climax . . . Horrifyingly plausible and deeply poignant, A Friend of the Family will leave you shaken and chastened—and grateful for the warning." —Washington Post
—
Washington Post
"Gripping . . . [Grodstein] has succeeded in shattering the image of surburban happiness." --
Chicago Tribune
—
McSweeney's
"Involving at every level: character, plot, language. one of the more complicated portraits of a father's love for his son we've ever read . . . highly recommended."--
McSweeney's
—
People
"Grodstein's harsh, honest prose makes this haunting tale worthwhile." --
People
—
The New York Times Book Review
"Unfolds with suspense worthy of Hitchcock . . . [Grodstein] is a terrific storyteller." --
The New York Times Book Review
—
The Washington Post Book World
"Horrifyingly plausible and deeply poignant,
A Friend of the Family
will leave you shaken and chastened—and grateful for the warning." --
The Washington Post Book World