You are here
Our Short History: A Novel (Paperback)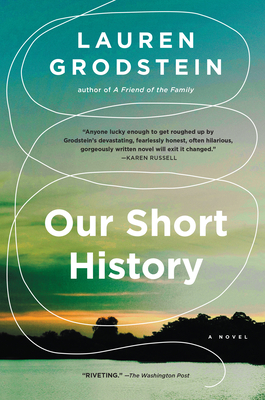 $15.95

Usually Available in 1-5 Days
April 2017 Indie Next List
---
"Our Short History is a letter from a dying woman to her six-year-old son, and it totally shredded me. Yes, it is a sad story. But it is so much more than that. Readers will love the spirit of Karen Neulander. She is smart and thoughtful and fierce, and Jake is squirmy and tough and tender - just like six-year-old boys can be. Lauren Grodstein takes you to the edge of what you can bear, then shows you that strength comes from fragility and that hope still lives in despair."
— Susan Thomas (E), CoffeeTree Books, Morehead, KY
Summer 2018 Reading Group Indie Next List
---
"Our Short History gives an intimate look at a single mother's life as she prepares to leave her son due to terminal ovarian cancer. I loved pragmatic Karen, who very much wants to control things after she's gone, although she knows that's impossible. Karen is a political campaign consultant who is used to spinning and manipulating the media for her clients. The one story she can't control is the fact that her ex-boyfriend, her son's father, is surprisingly back in the picture—the man who didn't want a child. A beautiful read."
— Rachel Watkins , Avid Bookshop, Athens, GA
Description
---
How can a woman learn to let go of the people she loves the most? "Lauren Grodstein breaks your heart, then miraculously pieces it back together so it's bigger—and stronger—than before."  —Celeste Ng, author of Everything I Never Told You

Karen Neulander, a successful New York political consultant and single mother, has always been fiercely protective of her son, Jacob, now six. She's had to be: when Jacob's father, Dave, found out Karen was pregnant and made it clear that fatherhood wasn't in his plans, Karen walked out of the relationship, never telling Dave her intention was to raise their child alone.

But now Jake is asking to meet his dad, and with good reason: Karen is dying. When she finally calls her ex, she's shocked to find Dave ecstatic about the son he never knew he had. First, he can't meet Jake fast enough, and then he can't seem to leave him alone. Karen quickly grows anxious as she watches Dave insinuate himself into Jake's life just as her own strength and hold on Jake grow more tenuous.

As she struggles to play out her last days in the "right" way for Jake, Karen wrestles with the knowledge that the only thing she cannot bring herself to do for her son—let his father become a permanent part of his life—is the thing he needs from her the most. With heart-wrenching poignancy, unexpected wit, and mordant humor, Lauren Grodstein has created an unforgettable story about parenthood, sacrifice, and life itself.

Pre-order author Lauren Grodstein's new simply can't-be-missed novel, We Must Not Think of Ourselves, coming November 28, 2023. A truly unforgettable story about the fight for life—and love—in the Warsaw Ghetto during World War II. 
About the Author
---
LAUREN GRODSTEIN is the author of four previous works of fiction, including the New York Times bestselling novel A Friend of the Family, which was a Washington Post Best Book Pick, a New York Times Editor's Pick, a BookPage Best Book, and an Indie Next Pick. She teaches creative writing at Rutgers University. Her website is www.laurengrodstein.com.
Praise For…
---
"In Our Short History, Lauren Grodstein breaks your heart, then miraculously pieces it back together so it's bigger—and stronger—than before. This novel will leave you appreciating both the messiness of life and the immense depths of love."
—Celeste Ng, author of Everything I Never Told You
 
"One of the best books of 2017 . . . Grodstein has not just written another beautiful book, but one with deep purpose and meaning."
—Roar
 
"­Grodstein's heartbreaking, character-driven story is told in the remarkable, believable voice of a courageous, sympathetic character."
—Library Journal, starred review
 
"A tender tale…Grodstein has a fine touch, alternately sarcastic, perceptive and wistful."
—Minneapolis Star Tribune
 
"Lauren Grodstein has subtly written a cathartic and unexpectedly profound book . . . It's also impossible to put down."
—St. Louis Post Dispatch
 
 "Lauren Grodstein has written a book with such a complicated range of emotion that I can't quite understand how she does it. In highlighting the fragility and depth of the relationship between a parent and a child, Grodstein miraculously makes you love the complexity of this world even as it tears you apart. Our Short History is a novel that will reverberate in your heart long after you finish it."
—Kevin Wilson, author of The Family Fang
 
"Fans of Wit and Life and Other Near-Death Experiences will love Karen's unflinchingly honest journey."
—Booklist, starred review
 
"Funny and fast-paced and extraordinarily insightful on every page. . . . Anyone lucky enough to get roughed-up by Grodstein's devastating, fearlessly honest, often hilarious, gorgeously written novel will exit it changed."
—Karen Russell, author of Vampires in the Lemon Grove
 
 "Karen is a character many will love—determined, flawed, loving, witty. . . . a poignant and realistic portrait." 
—Kirkus Reviews
 
"A meditation on love and grief . . . Lauded novelist Lauren Grodstein plunges into both beautiful and ugly emotions without hesitation."
—Bookpage
 
"(A) deeply affecting novel…This is a tearjerker of a story, but not a mushy one — and it provides a charming, occasionally funny portrait of a mother trying to come to terms with both her death and her legacy."
—The National Book Review
 
"Funny as well as poignant, sad but not maudlin."
—Shelf Awareness
 
"This gave me all the feels. I didn't want it to end."
—Jaime Herndon, Book Riot
 
"Grodstein deftly explores family relationships."
—Publishers Weekly
 
"A tender, heartrending book."
—Flavorwire
 
"Poignant."
—Harper's Bazaar