You are here
Join (Paperback)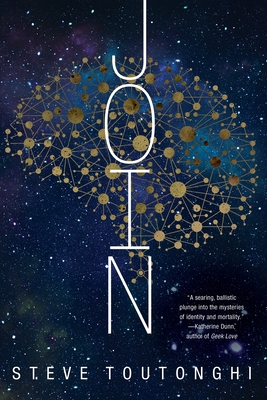 $16.00
Email or call for price
Description
---
What does it mean to be human, and what happens when humanity takes the next step in its evolution?
 
When Join arrived, it was hailed as a miracle: a technology that allowed humans to join consciousnesses. To experience perfect, constant companionship through multiple bodies. To never die.
 
But Chance and Leap—two joins of five and four respectively—discover a terrifying malfunction in the technology.
 
Chance and Leap must journey into the climate change–ruined heart of North America and the communities of never-joined "ferals" in search of the only ones who can dismantle the technology: the ones who created it.
About the Author
---
A native of Seattle, Steve Toutonghi studied fiction and poetry while completing a BA in Anthropology at Stanford. After various professional forays, he began a career in technology that led him from Silicon Valley back to Seattle. Join is his first novel.
Praise For…
---
Praise for Join

"[Toutonghi] combines smart, imaginative extrapolation about technology and a deep curiosity about civilization and the human condition. Along the way, he brings up head-spinning questions about individuality, society, ecology, euthanasia, aging, death, immortality, tech industry politics, class, polyamory, and gender identity... It's a chilling observation about the nature of the individual verses the nature of the group, and it lends Join a compelling urgency."
—NPR.org

"Join is a conceptual powerhouse, tapping into the core of our contemporary debates about technology."
—Tor.com

"Join is a searing, ballistic plunge into the mysteries of identity and mortality. Its ingenious core is revealed and amplified by high voltage suspense and murder. Delicious."
—Katherine Dunn, author of Geek Love

"Challenging, surprising, shocking, and enlightening. Steve Toutonghi's Join stands alongside Ancillary Justice as a novel that forces us to ask impossible questions about identity and immortality. An exciting addition to 21st century science fiction."
—Robert Repino, author of Mort(e)

"Join is that rare thing, an appealing novel that's both literary and commercial. Set in a dystopian world full of dazzle and invention, Join is a subtle exploration of what the self is and what death means. As we read about individuals joining into a unified consciousness, we have to wonder what our aspirations and fears truly are and what can be called us."
—David Vann, author of Aquarium

"From the first page, Toutonghi launches us into a strange and fascinating new world, exploring ideas with nuance and verve. Strikingly original and deeply imaginative."
—Charles Yu, author of How to Live Safely in a Science Fictional Universe

"Join is a high-concept, immersive science fiction thriller... a compelling cautionary tale that explores ethics and selfhood."
—Shelf Awareness

"Compelling, [presents] two radically differing visions of humanity's future . . . Intriguing and thought-provoking."
—Publishers Weekly 

"First novelist Toutonghi builds a complicated and technology-heavy realm with ethical components relevant in today's society... Enthusiasts of futuristic technology and sf writers such as Philip K. Dick will find this ambitious work thought provoking."
—Library Journal

"[A] thought-provoking debut... The dizzying complexity of [the Joins'] interactions are philosophical as well as dangerous and may determine the future of civilization and earth itself. Fans of literary speculative fiction will enjoy pondering the challenging issues and ideas posed by this assortment of perspectives."
—Booklist

"A heady sci-fi thriller about a world-altering technology—and its hidden costs . . . There's a lot going on here, including a fascinating technology with far-reaching implications, and a lot of big philosophical questions about the nature of identity."
—Kirkus Reviews