You are here
The Curious Eat Themselves: A Novel (A Cecil Younger Investigation #2) (Paperback)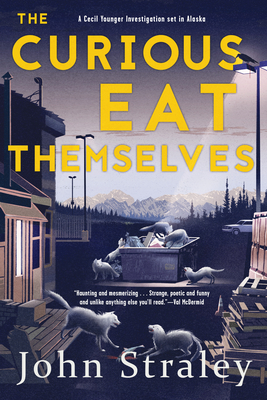 $15.95
Email or call for price
Other Books in Series
This is book number 2 in the A Cecil Younger Investigation series.
Description
---
Welcome to Sitka, Alaska, a land of breathtaking vistas and beautiful fauna, where locals are trying their best to be good—and to survive—in what may be the last vestige of the Wild West.

When local woman Louise Root asks private detective Cecil Younger to investigate her rape at the Otter Creek gold mine, he agrees. After all, Louise is a close friend of his ex. Maybe helping her out could improve Hannah's opinion of him. But before Cecil can make progress on the case, he witnesses Alaska state troopers fishing her body out of the ocean—not exactly the resolution he had in mind.

Despite the unfortunate end his last client met, Cecil finds himself inundated with requests from all sides: his old friend, Officer Doggy, wants help controlling the grieving Hannah; Cecil's autistic roommate, Todd needs help finding his Labrador retriever; and the sleazy executives of Global Mining want dirt on a local environmental activist—a request even the bungling PI finds suspicious. But Cecil also feels a responsibility to discover the truth behind Louise's death. If Louise knew a secret that got her killed, Cecil needs to discover and expose the truth before he, too, is permanently silenced.
About the Author
---
The former Writer Laureate of Alaska, John Straley is the author of ten novels. He lives in Sitka, Alaska, with his wife, Jan, a prominent whale biologist. John worked for thirty years as a criminal defense investigator. Now retired, he writes in his weather-tight office overlooking Old Sitka Rocks.
Praise For…
---
Praise for The Curious Eat Themselves
"Strong and sobering . . . with his storyteller's sense of dramatic action [Straley's] in his glory."
—The New York Times Book Review

"Straley is one of the best prose stylists to emerge from the genre in a long time, and his evocation of the chilly, dangerous landscape and climate effectively sets a foreboding tone."
—San Francisco Chronicle

"Haunting and mesmerising . . . strange, poetic and funny and unlike anything else you'll read this year."
—Val McDermid, Manchester Evening News

"Superior thriller writing, once again by Straley—an excellent plot against Alaska's gigantic and bizarre backdrop."
—Janwillem van de Wetering, author of Outsider in Amsterdam

"One of the strongest series since Hillerman set up shop."
—Kirkus Reviews

"With the second adventure of Cecil Younger, a PI in southeastern Alaska, Straley reconfirms his claim to the regional territory he staked out in The Woman Who Married a Bear . . . Straley's atmospheric prose takes hold and the action hums along, through unethical dealings and more killings, to the rugged, backwoods Alaska finale."
—Publishers Weekly

Praise for John Straley
"Lesser writers look to their characters' poor choices and attempts to rectify them, John Straley loves his characters for just those choices. Hölderlin wrote: 'Poetically man dwells on the earth.' Some of us wind up in limericks, some in heroic couplets. But damned near every one of us, sooner or later, ends up in one of Straley's wise, wayward, wonderfully unhinged novels."
—James Sallis, author of Drive and the Lew Griffin mysteries

"Like the Coen brothers on literary speed, John Straley is among the very best stylists of his generation."
—Ken Bruen, Shamus Award winning author of The Guard

"Chandler, Ross Macdonald, James Crumley . . . Straley proves once again that he is up there with the great ones . . . His prose is as smooth as a well-tuned cello. He has tremendous feeling for the setting: not only the open waters and frosted countryside outside of Sitka and Juneau, but also the somewhat seedy streets of these cities."
—Chicago Tribune

"Now and then a writer dares to flout the rules and in so doing, carves out a niche that belongs to him alone. John Straley's novels are like no others."
—San Diego Tribune

"Like James Lee Burke, Straley transcends the genre . . . Marvelous."
—The Tampa Tribune and Times

"Straley's beautifully understated narrative, vivid sense of place and unapologetic, unadorned characters make this a riveting, unpredictable ride."
—Publishers Weekly, Starred Review

"Outstanding . . . satisfies on all levels."
—The Kansas City Star

"Straley hits all the right notes"
—Booklist, Starred Review