You are here
Death and the Language of Happiness (A Cecil Younger Investigation #4) (Paperback)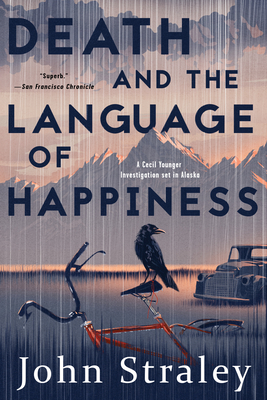 $15.95

Usually Available in 1-5 Days
Other Books in Series
This is book number 4 in the A Cecil Younger Investigation series.
Description
---
In the Alaskan town of Sitka, the living is tough and the crimes are aplenty . . . and plenty personal.

When 97-year-old William Flynn is accused of killing his neighbor, Angela Ramirez, he turns to private investigator Cecil Younger with an odd—and, frankly, rather incriminating—request. He wants Cecil to track down a man he believes witnessed Ramirez's murder: her estranged husband, Simon Delaney. The only problem? Flynn doesn't just want Cecil to find Delaney. He wants him to kill the man. Cecil knows that kind of thing would be bad for business, but he takes the job, hoping he can both convince Flynn to call off the manhunt and discover what really happened to his neighbor. But the old man isn't making the job easy. He keeps confusing two different crimes: Angela Ramirez's recent murder and an 80-year-old tragedy in which four American Legionnaires were killed during an Armistice Day Parade.

Cecil struggles to sort through the old man's befuddled memories and dives into the search for Delaney, which takes him on a journey through Alaska history and all over the Pacific Northwest, from the Aleutian Islands to Centralia, Washington.
About the Author
---
The former Writer Laureate of Alaska, John Straley is the author of ten novels. He lives in Sitka, Alaska, with his wife, Jan, a prominent whale biologist. John worked for thirty years as a criminal defense investigator. Now retired, he writes in his weather-tight office overlooking Old Sitka Rocks.
Praise For…
---
Praise for Death and the Language of Happiness
"Straley flawlessly expresses both his and our own underlying anxiety about the world around us in this superb series."
—San Francisco Chronicle

"Mr. Straley writes with such brio."
—The New York Times

"The guy can write. Straley has a loose-limbed, lyrical prose style, and there is a sweet gracefulness to the way he portrays his fiercely independent, often slightly dingy, characters."
—Seattle Times

"What makes this latest Alaskan mystery a must is—as always—the sheer beauty and energy of Straley's writing."
—Chicago Tribune

"The best Cecil Younger adventure so far."
—Anchorage Daily News

"[A] superb series of Alaska mysteries . . . An entirely original whodunit, composed in a language guaranteed to open your eyes and ears to a strange new world . . . What Straley offers is excitement, high comedy and a mega work out for the senses."
—Literary Review


Praise for the Cecil Younger investigations
"A fascinating Alaskan setting, great characters, a highly unusual plot and remarkably good writing. It's a winner."
—Tony Hillerman, New York Times bestselling author of the Leaphorn and Chee novels

"Like the Coen brothers on literary speed, John Straley is among the very best stylists of his generation."
—Ken Bruen, Shamus Award winning author of The Guard

"Superior thriller writing, once again by Straley—an excellent plot against Alaska's gigantic and bizarre backdrop."
—Janwillem van de Wetering, author of Outsider in Amsterdam
 
"Now and then a writer dares to flout the rules and in so doing, carves out a niche that belongs to him alone. John Straley's novels are like no others."
—San Diego Tribune
 
"Absorbing and convincing . . . Straley's a real writer."
—The Washington Post Book World

"Thoroughly enjoyable and slightly wacko . . . Ironic humor reminiscent of the Coen brothers and violence worthy of Quentin Tarantino."
—The Boston Globe