You are here
The Angels Will Not Care (A Cecil Younger Investigation #5) (Paperback)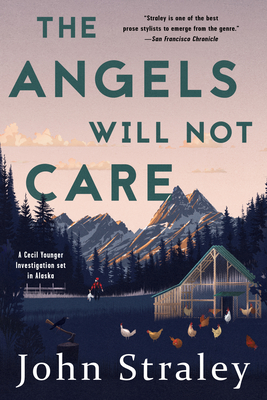 $15.95
Email or call for price
Other Books in Series
This is book number 5 in the A Cecil Younger Investigation series.
Description
---
Trapped on an Alaskan cruise line, PI Cecil Younger must expose a killer—and fast—or he may just find himself sleeping with the fishes.

Cecil Younger never thought it would come to this: running surveillance on a chicken coop that's being raided by a fowl thief. But things have not exactly been breaking right lately for the Alaskan PI. The logical thing to do? Take a vacation, of course.

Well, it's not exactly a vacation. Cecil has been paid to investigate a doctor aboard a cruise ship up the Alaskan coast following some complaints from his patients . . . that is, the patients who are still alive to complain. Worst of all, someone is leaving evidence pointing an accusing finger at Cecil. By the time the S.S. Westward makes landfall, Cecil will be wishing he was back guarding chickens.
About the Author
---
The former Writer Laureate of Alaska, John Straley is the author of ten novels. He lives in Sitka, Alaska, with his wife, Jan, a prominent whale biologist. John worked for thirty years as a criminal defense investigator. Now retired, he writes in his weather-tight office overlooking Old Sitka Rocks.
Praise For…
---
Praise for The Angels Will Not Care

"Like the Coen brothers on literary speed, John Straley is among the very best stylists of his generation."
—Ken Bruen, Shamus Award winning author of The Guard

"Now and then a writer dares to flout the rules and in so doing, carves out a niche that belongs to him alone. John Straley's novels are like no others."
—San Diego Tribune

"Absorbing and convincing . . . Straley's a real writer."
—The Washington Post Book World

"Staley's done the impossible. He's reinvented the private eye novel."
—The Denver Post

Praise for the Cecil Younger Investigations

"Mr. Straley's prose continues to dazzle . . . His word-pictures have a hallucinatory brilliance appropriate . . . to the eerie beauty of the Alaskan landscape."
—The Wall Street Journal

"Mr. Straley writes with such brio."
—The New York Times 

"Straley isn't prolific, but when he does publish a book it's a gem . . . It's always a pleasure to read Straley's vivid studies of these folks—the slightly cracked, rugged and very funny characters of the Far North."
—The Seattle Times
 
"The voice is so original that is can only belong to John Straley . . . Definitely up there with the great ones."
—Chicago Tribune

"Thoroughly enjoyable and slightly wacko . . . Ironic humor reminiscent of the Coen brothers and violence worthy of Quentin Tarantino."
—The Boston Globe
 
"A fascinating Alaskan setting, great characters, a highly unusual plot and remarkably good writing. It's a winner."
—Tony Hillerman, New York Times bestselling author of the Leaphorn and Chee novels
 
"Lesser writers look to their characters' poor choices and attempts to rectify them, John Straley loves his characters for just those choices. Hölderlin wrote: 'Poetically man dwells on the earth.' Some of us wind up in limericks, some in heroic couplets. But damned near every one of us, sooner or later, ends up in one of Straley's wise, wayward, wonderfully unhinged novels."
—James Sallis, author of Drive and the Lew Griffin mysteries

"Straley is one of the best prose stylists to emerge from the genre in a long time, and his evocation of the chilly, dangerous landscape and climate effectively sets a foreboding tone."
—San Francisco Chronicle