You are here
Side Life (Paperback)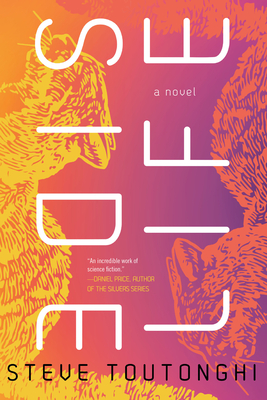 $16.00
Email or call for price
Description
---
Set in Seattle, Steve Toutonghi's second novel, Side Life, is a dazzling, intriguing, and philosophical blend of literary science fiction—perfect for fans of Blake Crouch, Philip K. Dick and Ex Machina.

What if every possibility of every life were within your reach?

Vin, a down-on-his-luck young tech entrepreneur forced out of the software company he started, takes a job house-sitting an ultramodern Seattle mansion whose owner has gone missing. There he discovers a secret basement lab with an array of computers and three large, smooth caskets. Inside one he finds a woman in a state of suspended animation. There is also a dog-eared notebook filled with circuit diagrams, beautiful and intricate drawings of body parts, and pages of code.

When Vin decides to enter one of the caskets himself, his reality begins to unravel, and he finds himself on a terrifying journey that raises fundamental questions about reality, free will, and the meaning of a human life.
About the Author
---
A native of Seattle, Steve Toutonghi studied fiction and poetry while completing a BA in Anthropology at Stanford. After various professional forays, he began a career in technology that led him from Silicon Valley back to Seattle. He is the author of a previous novel, Join.
Praise For…
---
Praise for Side Life

"​A​ brain-teasing take on time travel and parallel universes​."
—Barnes & Noble Sci-fi and Fantasy Blog​

"Toutonghi makes the multiple-worlds theory come alive in this swift moving mind-bender with imperfect, emotionally unstable characters who struggle with the impact their choices have on reality. Readers will have to decipher what is real before they can figure out what is happening. Highly imaginative, highly recommended."
​​—Library Journal, Starred Review

​"​Toutonghi's second novel explores ideas of consciousness and parallel universes in ways that are intellectually engaging​. This exploration of parallel worlds is a thrilling thought exercise​."
—Publishers Weekly ​

"​The twists and turns of this novel will keep readers engaged while perhaps contemplating what they understand about reality and their ability to influence it.​"​
—Booklist ​

​"​This novel poses many questions. Either way, enjoy the tale of a man who's offered what many of us say we'd like to have: a chance to do it over again, and again, and again . . . until that final perfect life is reached.​"​
​​—​New York Journal of Books 

​"​A time traveling puzzle for lovers of Triangle or the even weirder Primer."​
—​Signal Horizon ​

"An incredible work of science fiction. Steve Toutonghi has managed to put a bold new spin on time travel and alternate realities while grounding his book in strong, believable characters. Side Life is original, thought-provoking, and just really freaking good."
—Daniel Price, author of Slick and the Silvers series

"Like Philip K. Dick or Kurt Vonnegut, Steve Toutonghi manages to break and repair your brain while telling an intensely human story. Challenging and satisfying in equal measure."
—Sean Ferrell, author of Man in the Empty Suit and Numb

"If you were in a secret computer lab and discovered a trio of large caskets, would you climb into one of them just to see what might happen? If so, you should apply for a grant right away and join our friend, Vin, in his research. But you might not want to discover the truth about the missing man in the Seattle tech mansion or anything else involved in your house-sitting-job cum mystery, after all. Just sayin'. Poet and Seattle techie, Steve Toutonghi, here gifts us with a book to blow our minds and keep us up at night. Wow, what a ride!​"
​​—​Linda B., Auntie's Bookstore ​

Praise for Steve Toutonghi's Join

"[Toutonghi] combines smart, imaginative extrapolation about technology and a deep curiosity about civilization and the human condition. Along the way, he brings up head-spinning questions about individuality, society, ecology, euthanasia, aging, death, immortality, tech industry politics, class, polyamory, and gender identity . . . chilling."
—NPR.org

"Join is a conceptual powerhouse, tapping into the core of our contemporary debates about technology."
—Tor.com

"Join is a searing, ballistic plunge into the mysteries of identity and mortality. Its ingenious core is revealed and amplified by high voltage suspense and murder. Delicious."
—Katherine Dunn, author of Geek Love

"Challenging, surprising, shocking, and enlightening. Steve Toutonghi's Join stands alongside Ancillary Justice as a novel that forces us to ask impossible questions about identity and immortality. An exciting addition to 21st century science fiction."
—Robert Repino, author of Mort(e)

"From the first page, Toutonghi launches us into a strange and fascinating new world, exploring ideas with nuance and verve. Strikingly original and deeply imaginative."
—Charles Yu, author of How to Live Safely in a Science Fictional Universe