You are here
Baby's First Felony (A Cecil Younger Investigation #7) (Paperback)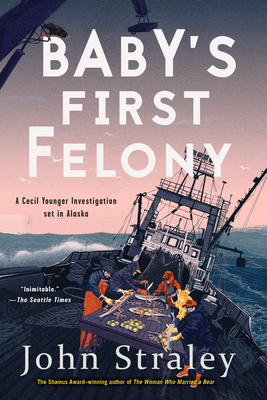 $16.95

Usually Available in 1-5 Days
Other Books in Series
This is book number 7 in the A Cecil Younger Investigation series.
Description
---
Shamus Award–winner John Straley returns to his critically acclaimed Cecil Younger detective series, set in Sitka, Alaska, a land of perfect beauty and not-so-perfect locals.

Criminal defense investigator Cecil Younger spends his days coaching would-be felons on how to avoid incriminating themselves. He even likes most of the rough characters who seek his services. So when Sherrie, a returning client, asks him to track down some evidence to clear her of a domestic violence charge, Cecil agrees. Maybe he'll find something that will get her abusive boyfriend locked up for good.

Cecil treks out to the shady apartment complex only to discover the "evidence" is a large pile of cash—fifty thousand dollars, to be exact. That is how Cecil finds himself in violation of one of his own maxims: Nothing good comes of walking around with a lot of someone else's money.

In this case, "nothing good" turns out to be a deep freeze full of drug-stuffed fish, a murder witnessed at close range, and a kidnapping—his teenage daughter, Blossom, is snatched as collateral for his cooperation. The reluctant, deeply unlucky investigator turns to an unlikely source for help: the misfit gang of clients he's helped to defend over the years. Together, they devise a plan to free Blossom and restore order to Sitka. But when your only hope for justice lies in the hands of a group of criminals, things don't always go according to plan.
About the Author
---
John Straley was born in Redwood City, California. He received a BA in English from the University of Washington, but settled in Sitka, Alaska, with his wife, Jan, a prominent whale biologist. John worked for thirty years as a criminal defense investigator, and many of the characters in his books were inspired by his work. Now retired, he lives with his wife in a bright green house on the beach and writes in his weathertight office overlooking Old Sitka Rocks. The former Writer Laureate of Alaska, he is the author of ten novels, including Cold Storage, Alaska and the Shamus Award–winner The Woman Who Married a Bear, the first Cecil Younger investigation.
Praise For…
---
Finalist for the 2019 Shamus Award

Praise for Baby's First Felony

"Straley knows how to wrap deadly violence in a bubble of black humor that suits the novel's beautiful but harsh setting, where whales open their maws to dine on oceans of salmon fry and men kill one another while ravens fly overhead, screaming with laughter." 
—The New York Times  

"Inimitable."
—The Seattle Times 

"Happily, both Straley and Younger are back, and they are in fine form. Not only that, but Soho Press has republished the whole series with striking new matching covers." 
—Anchorage Daily News

"It started like a heavy-footed drag racer hitting the gas pedal before the light turned green and it was a Gonzo joy ride from there . . . Buy it, shut off your devices, call in sick, and get a babysitter for however long it will take you to read Straley's latest page-turner, Baby's First Felony."
—Daily Sitka Sentinel

"Straley writes with a poet's ear and a quirky, Zen sense of humor . . . The story is at times brutally violent, but never gratuitous, and is as entertaining as it is moving and honest."
—Ellery Queen Mystery Magazine

"Most welcome . . . It's good to have Cecil back."
—South Florida Sun-Sentinel

"What a wild wild ride. Straley grabs you by the throat and doesn't let go. You think left and he goes right. You think up and he goes down. Cecil Younger is a continuously great but flawed and wobbly investigating hero."
—Willy Vlautin, author of The Motel Life, Northline, and The Free

"Masterfully balances semi-comic crime-caper elements with pitch-black criminal activities."
—Seattle Review of Books

"It has been 17 years since the last Cecil Younger novel from John Straley. That's a long hiatus, to be sure, but Baby's First Felony proves more than worth the wait, as Alaska's erstwhile writer laureate dusts off his suspense fiction chops to craft the finest installment of the series thus far."  
—BookPage, Top Pick in Mystery

"Straley humanizes slapstick mayhem in his exceptional seventh Cecil Younger mystery . . . Hilarious."  
—Publishers Weekly, Starred Review 

"After 17 years, Straley checks back in with Cecil Younger and the citizens of Sitka, Alaska, and finds them as wacky as ever and even more murderous." 
—Kirkus Reviews

"Excellent."
—Library Journal

"John Straley is an Alaskan treasure. Baby's First Felony is a page-turning, darkly hilarious murder mystery turned upside down. With the help of a crazy cast of characters, investigator Cecil Younger is taking on the criminal underbelly of an Alaska seaside town, even as he faces the equally terrifying trials of parenting a teenager. As always, Straley has brought his unflinching eye, compassionate heart and lyrical voice to the story. Northern noir at its best."
—Eowyn Ivey, Pulitzer finalist and New York Times bestselling author of The Snow Child

"Straley doesn't write like anybody. He carefully lays out all the lines that the story and the protagonist aren't traditionally supposed to cross and then gleefully blows through every single one of them. Baby's First Felony is a thrilling surprise from start to finish. Seriously dark and funny as hell. I'll be giving Christmas copies to friends with good taste."
—Timothy Hallinan, author of the Junior Bender mysteries

"A new book by John is always a cause for celebration here in Southeast Alaska, where he gets our home so right on so many levels, from the rain and the ravens on the telephone lines to the crystal mountain sunrises. But the thing that John does, or one thing that he does better than anyone, is bring the world's issues—the dark and dangerous and ugly—into this beautiful remote place way out on the outer coast of North America, and then allows characters like Cecil Younger—who, like so many Alaskans, is quirky, kind, smart, brave, and so crazy he is sane—to solve them. John writes with a poet's heart, a comedian's timing, the real-life experience of a criminal investigator, and the soul of a great storyteller. He breaks my heart and heals it again in every book. John's writing is like a combination of James Lee Burke, Ken Kesey, and William Stafford. At the same time, he could be a genre unto himself."
—Heather Lende, New York Times bestselling author of If You Lived Here, I'd Know Your Name: News from Small-Town Alaska

"Cecil Younger clutches his laid-back sense of humor like a life ring as he descends into the underworld of his genial Alaska fishing town. I love the way he wryly watches himself make every mistake in the manual for low-life klutzes he helped write—it's what makes this romp on the dark side so much fun."
—Tom Kizzia, New York Times bestselling author or Pilgrim's Wilderness

"In this seventh book in a series, Cecil Younger, an investigator with Sitka, Alaska Public Defenders Office, finds himself on the other side of the law when he tries to find and free his 13-year-old kidnapped daughter. After he enlists the help of two former clients, one of whose last name 'Boomer' aptly describes his criminal specialty, the mayhem begins. This series and book are filled with warm and wacky characters. The title is reference to a basic primer the Public Defender is writing on what to do or not do if you are arrested, such as 'When talking on the jail phone, Pig Latin is not an unbreakable code.' I anxiously await the next book in this series to find out if and how Cecil gets beyond his legal problems and to meet up again with some sweet and funny characters."
—Lynn Carney, Boswell Book Company, Milwaukee, WI

Praise for the Cecil Younger investigations

"Mr. Straley's prose continues to dazzle . . . His word-pictures have a hallucinatory brilliance appropriate . . . to the eerie beauty of the Alaskan landscape."
—The Wall Street Journal

"Mr. Straley writes with such brio."
—The New York Times 

"Straley isn't prolific, but when he does publish a book it's a gem . . . It's always a pleasure to read Straley's vivid studies of these folks—the slightly cracked, rugged and very funny characters of the Far North."
—The Seattle Times
 
"The voice is so original that is can only belong to John Straley . . . Definitely up there with the great ones."
—Chicago Tribune

"Thoroughly enjoyable and slightly wacko . . . Ironic humor reminiscent of the Coen brothers and violence worthy of Quentin Tarantino."
—The Boston Globe
 
"A fascinating Alaskan setting, great characters, a highly unusual plot and remarkably good writing. It's a winner."
—Tony Hillerman, New York Times bestselling author of the Leaphorn and Chee novels
 
"Like the Coen brothers on literary speed, John Straley is among the very best stylists of his generation."
—Ken Bruen, Shamus Award–winning author of The Guard
 
"Now and then a writer dares to flout the rules and in so doing, carves out a niche that belongs to him alone. John Straley's novels are like no others."
—San Diego Tribune
 
"Straley is one of the best prose stylists to emerge from the genre in a long time, and his evocation of the chilly, dangerous landscape and climate effectively sets a foreboding tone."
—San Francisco Chronicle
 
"Absorbing and convincing . . . Straley's a real writer."
—The Washington Post Book World
 
"Straley's done the impossible. He's reinvented the private eye novel."
—The Denver Post