You are here
So Far and Good (A Cecil Younger Investigation #8) (Hardcover)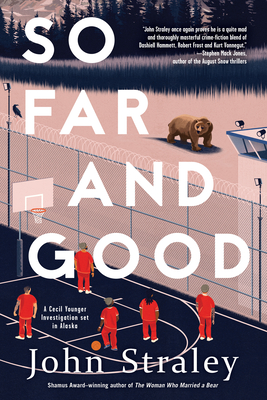 $27.95
Email or call for price
Other Books in Series
This is book number 8 in the A Cecil Younger Investigation series.
Description
---
To his chagrin, Alaskan PI Cecil Younger learns his teenage daughter has launched her own detective agency. But when her first case goes awry, she's going to need some help from an unlikely source: her father, who's currently locked up in prison.

The verdict from the three-judge panel is in. Cecil Younger, bumbling criminal defense investigator and totally embarrassing father, has been sentenced to seven-and-a-half years in prison for his involvement in . . . well, a number of things, ranging from destruction of private property to killing a guy. But compared to the original twenty-five-year sentence, it's not so bad. His success with getting his sentence reduced has attracted the attention of his fellow inmates, and one man, "Fourth Street," reaches out for advice for his upcoming parole hearing in exchange for protection and companionship.

When he isn't reading Adrienne Rich or James Baldwin with Fourth Street, Cecil spends his time filling up large yellow legal pads. He writes, mostly, about his teenage daughter, Blossom, who is on a Nancy Drew–like quest to help her friend, George, discover the truth about her biological parents, which turns out to be complicated. Shortly after submitting a mail-in genetics test, George learns she is the infamous "Baby Jane Doe" who was kidnapped from her Native mother shortly after she was born. A media and legal circus quickly ensues, and George's reunion with her birth family isn't the heartwarming story the journalists hoped it would be. There is an even darker secret about the baby-snatching case, a secret threatens to destroy not just George's family—but Cecil's as well.
About the Author
---
The youngest of five children, John Straley was born in Redwood City, California, in 1953. He received a BA in English from the University of Washington and, at the urging of his parents, a certificate of completion in horse shoeing. John never saw himself living in Alaska (where there are no horses left to shoe), but when his wife, Jan, a prominent whale biologist, announced she was taking a job in Sitka, the two headed north and never left. John worked for thirty years as a criminal defense investigator in Sitka, and many of the characters that fill his books were inspired by his work. Now retired, he lives with his wife in a bright green house on the beach and writes in his weather-tight office overlooking Old Sitka Rocks. The former Writer Laureate of Alaska, he is the author of ten novels.
Praise For…
---
Praise for So Far and Good

"In So Far and Good, John Straley once again proves he is a quite mad and thoroughly masterful crime-fiction blend of Dashiell Hammett, Robert Frost and Kurt Vonnegut."
—Stephen Mack Jones, author of the August Snow thrillers

"In this page-turning mystery novel set in Alaska, Cecil Younger, a PI in prison, deals with the multifaceted relationships that exist behind bars while outside a stolen child is forced to return to parents she doesn't know. Who is family? Who isn't? For Younger, family is everything, always. A romantic view is that we would die for our children but the more compelling story is how one man chooses to live for his child; a harrowing look at the lengths a parent will go to for the child he loves."
—Marcie Rendon, author of Murder on the Red River

"There's no one writing crime fiction quite as lyrical, twisted, and funny as John Straley. I've been a fan of his work from the start and I'm never disappointed . . . Straley summons his exceptional skills to keep us engaged and speeding through the heart-stopping (and sexy) twists and turns to one hell of a satisfying conclusion. One of his very best!"
—James W. Hall, author of the Thorn novels

"John Straley writes crime fiction that reveals the human heart. Not so much through the crimes his characters commit, but the way they try to save those they love. So Far and Good is his most moving, engrossing book yet. I could not put it down."
—Leigh Newman, author of Still Points North: One Alaskan Childhood, One Grown-up World, One Long Journey Home

"John Straley's quirky tales always satisfy, and So Far and Good is most satisfying. Readers have come to expect the unexpected from the Alaskan private eye Cecil Younger, and the latest Cecil Younger investigation, essentially a family love story, is nothing short of stunning. Straley's troubled characters, especially Cecil, are etched in three-dimensional completeness and poetic humanity . . . In the hands of a master like John Straley, crime fiction achieves dazzling importance. So Far and Good is outrageous, gripping, brilliant."
—Manuel Ramos, author of Angels in the Wind

"A character well worth meeting." 
—Reviewing the Evidence

"Straley's Alaskan PI Cecil Younger is one of the more eccentric, enjoyable offerings in crime fiction today. In So Far And So Good, Cecil is plying his trade out of prison, where he's serving a (much-reduced) seven year term for past misdeeds and passing the time helping other inmates work on their parole packages. He's also corresponding with his daughter, who has decided to join the family vocation with her own sleuthing project, which traces a friend's history to a notorious case of a baby taken away from her Native mother. The story makes for a heady mix, all set against an uncanny backdrop—a frozen near-wilderness peppered with private eyes."
—CrimeReads

"Cecil Younger is back! John Straley's fans will be thrilled to catch up with the good-hearted but bumbling criminal defense investigator at the center of the Cecil Younger Investigation series . . . The story twists and turns in mostly believable and sometimes horrifying ways that will keep a reader turning pages into the night . . . the verisimilitude of all his novels is owed to his own intimate knowledge of the crime world and the legal and prison system associated with it. 
—Anchorage Daily News

"In fewer than 300 pages, John Straley sets up this bloody mess complete with a full cast of multi-faceted characters, then proceeds to unpick the plot . . . Along the way, Straley skillfully explores themes of sexuality, violence, and power in and out of prison. Yes, there's plenty of violence but most of it ends up working against the goals of those who commit it, just like in real life. Overall, the emphasis is not on violence, but on the relationships between the characters . . . Finally, who doesn't love a great setting and fun references?"
—The Sitka Sentinel

"For the better part of 30 years, I have counted myself as a major fan of John Straley's sporadic series featuring Alaska-based PI Cecil Younger. From the outset, 1992's Shamus Award-winning The Woman Who Married a Bear, the books have combined grittiness, social issues and introspection with whimsy and slapstick, as the hapless investigator moves from crisis to crisis, both business and personal."
—BookPage

"Straley reminds us just why the Younger novels were so popular, and why it's so good to have the man back." 
—Booklist

"It's been far from ordinary all along--that is, John Straley's Alaskan crime fiction series featuring Cecil Younger, a not-quite-lawyer who at this point has served four years so far in the Lemon Creek Correctional Center . . . The riotous mixture of misunderstandings, negotiations, escapes, and frankly amorous pressures and actions makes SO FAR AND GOOD a page-turner from the start . . . No need to read Straley's other Cecil Younger Investigations before this one, as it's hands-down the best yet. But when the winter's getting under your skin and you want to remind yourself that it could be worse in, say, Alaska . . . scoop up the other seven and have your own literary festival." 
—Kingdom Books

"Setting. Setting. Setting . . . It grabbed my attention and wouldn't let go. There is a tremendous amount of plot packed into this fast-paced novel." 
—Gumshoe Review

"Shamus Award winner Straley's gripping eighth Cecil Younger investigation finds the Sitka, Alaska, PI doing prison time for the desperate measures he took to save the life of his teenage daughter, Blossom, in 2018's Baby's First Felony . . . Memorable characters match the vividly realized Alaskan settings. Readers will eagerly await the next installment."
—Publishers Weekly

"Just because Sitka, Alaska, private eye Cecil Younger is in prison doesn't mean he can't bobble a new case as completely as any of his old ones . . . How many genre novelists mix as many different kinds of events and reflections as Straley?"
—Kirkus Reviews

Praise for the Cecil Younger investigations
"Straley knows how to wrap deadly violence in a bubble of black humor that suits the novel's beautiful but harsh setting, where whales open their maws to dine on oceans of salmon fry and men kill one another while ravens fly overhead, screaming with laughter." 
—The New York Times  

"Mr. Straley's prose continues to dazzle . . . His word-pictures have a hallucinatory brilliance appropriate . . . to the eerie beauty of the Alaskan landscape."
—The Wall Street Journal
 
"Inimitable."
—The Seattle Times
 
"A fascinating Alaskan setting, great characters, a highly unusual plot and remarkably good writing. It's a winner."
—Tony Hillerman, New York Times bestselling author of the Leaphorn and Chee novels
 
"John Straley is an Alaskan treasure. Baby's First Felony is a page-turning, darkly hilarious murder mystery turned upside down. With the help of a crazy cast of characters, investigator Cecil Younger is taking on the criminal underbelly of an Alaska seaside town, even as he faces the equally terrifying trials of parenting a teenager. As always, Straley has brought his unflinching eye, compassionate heart and lyrical voice to the story. Northern noir at its best."
—Eowyn Ivey, Pulitzer finalist and New York Times bestselling author of The Snow Child
 
"The voice is so original that is can only belong to John Straley . . . Definitely up there with the great ones."
—Chicago Tribune

"Thoroughly enjoyable and slightly wacko . . . Ironic humor reminiscent of the Coen brothers and violence worthy of Quentin Tarantino."
—The Boston Globe
 
"Straley is one of the best prose stylists to emerge from the genre in a long time, and his evocation of the chilly, dangerous landscape and climate effectively sets a foreboding tone."
—San Francisco Chronicle
 
"Straley's done the impossible. He's reinvented the private eye novel."
—The Denver Post