You are here
Cooking with Mushrooms: A Fungi Lover's Guide to the World's Most Versatile, Flavorful, Health-Boosting Ingredients (Hardcover)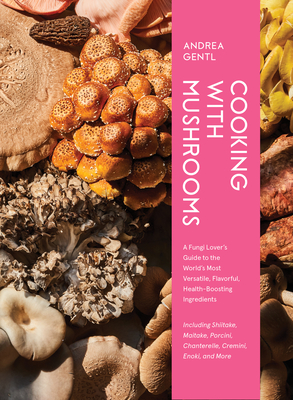 $30.00

Usually Available in 1-5 Days
Description
---
IACP Cookbook Award Winner

Named a Best Cookbook of 2022 by Bon Appetit

In her extraordinary first cookbook, Andrea Gentl brings to her subject equal parts knowledge and technique, along with a unique passion and sensibility. From sprinkling adaptogenic powder over granola to reinventing schnitzel with king trumpets, Cooking with Mushrooms expands our ideas of how to use mushrooms as both a food and a flavor, a seasoning and the star of the plate.
Here are a variety of mushroom broths to make you feel better. Breakfast recipes like Soupy Eggs with Chanterelles. Mushroom Larb or a Crispy Shiitake "Bacon" Endive Wedge Salad makes the perfect lunch. Mushroom Ragu or a Roast Chicken with Miso Mushroom Butter can change the dinner game, and a Maple Mushroom Ice Cream will transform your ideas about dessert.
The dishes might sound familiar—lasagna, risotto, a bourguignon, brownies—but the ingredients and flavors are as unexpected as they are delicious. In all, Cooking with Mushrooms features nearly 100 recipes that unlock the powerful flavors and health-giving properties of the world's most magical ingredient.
About the Author
---
Andrea Gentl is an award-winning food and travel photographer. Over the span of her 30-year career, she has photographed the world's leading chefs and culinary pioneers. Best known for her signature light and detailed compositions, Gentl tells a distinct story, entirely her own, through her images. It is from that perspective, as well as through extensive global travel, that she writes, cooks, and creates. Gentl works in collaboration with her husband and partner, Martin Hyers. This is her first cookbook.
Praise For…
---
 "A book so beautiful, merely leafing through it confers forest-bathing levels of equanimity."
—The Wall Street Journal
"Andrea Gentl's Cooking with Mushrooms is a book that's as beautiful as it is wildly creative. Mushroom and cauliflower carnitas, king trumpet au poivre, brown sugar buttermilk porcini pumpkin pie, oh my, I want them all. It's a healthyish, hippieish cookbook that gives the funkadelic mushroom the respect it deserves. . . .  A resource in my kitchen."
—Bon Appétit, Best Cookbooks of 2022

"[Gentl's] book displays a dedication to treating mushrooms with respect and a knack for getting the absolute most out of them by paying careful attention to technique... Her one-page explanation of five mushroom-cooking techniques is one of the best, most succinct I've seen."
—Joe Yonan, The Washington Post 

"Within the very first pages, it is clear [Cooking with Mushrooms] is as complex as mycelia—and just as enticing." 
—Vogue.com
 
"Everything you need to know about fungi. . . . Both a field guide and an ode to the beloved mushroom and all of its transformative properties."
—Thrillist
 
"Cooking with Mushrooms will have you eating them every night of the week. The recipes are *that* good."
—Brit + Co.

"In this gorgeous and deeply useful book, Andrea Gentl disproves my own jaded fear that there's nothing new to say about ingredients we know well. I've cooked mushrooms for years without ever making pesto with maitake, lovage, walnut, and pistachio; morels on fried sourdough with smashed favas and peas; or whole king trumpets served au poivre. I find myself impatient for my next chance to buy a whole bouquet of mushrooms to follow her joyous and charitable directions."
—Tamar Adler, author of An Everlasting Meal
 
"This book is a beautiful and modern expression of Andrea's love for the natural world, travel, photography, and most important, mushrooms. The recipes are delicious, nutritious, and accessible. I plan to fill my pantry with all these staples and use them as she suggests throughout the book. It has already become one of the most valued cookbooks in my collection."
—Aran Goyoaga, author of Cannelle et Vanille
 
"Cooking with Mushrooms is a breathtaking new offering that has everything: beauty, lore, wisdom, and every delicious way to use these magical spores. Andrea Gentl's reverence for nature shines through, with in-depth instructions and stunning photography that make this a literal feast from cover to cover. The learning here is rich."
—Sarah Copeland, author of Every Day Is Saturday, Feast, and Instant Family Meals
 
"Cooking with Mushrooms will quickly draw you into the mystical kingdom of this most enchanting ingredient. Once there, you'll be treated to a plethora of exciting ways to feature mushrooms in your daily meals—powdered and added to honey or nut butter, infused in healing broths, and even in rye sourdough bread and desserts. These recipes are effortlessly beautiful, delicious, and health supportive."
—Amy Chaplin, James Beard Award–winning author of Whole Food Cooking Every Day
 
"Andrea Gentl has a way with food. A way with styling. A way with poetically expressing herself through every word. A way with flavors that is distinctly her own. And now, with her exceptional new book, a way with mushrooms that we will all greatly benefit from."
—Athena Calderone, author of Cook Beautiful and Live Beautiful
 
"In these pages, Andrea Gentl's writing and cooking chops rival her legendary food photography. A leading alternative doctor once beseeched me to eat mushrooms often for their outsize adaptogenic properties—this book is a roadmap for how and why to do so deliciously. I've rarely seen such a clever, mouthwatering collection of original recipes."
—Lucinda Scala Quinn, author of Mad Hungry: Feeding Men and Boys
 
"There are few people equipped with the keen eye, curiosity, and mycophilic knowledge required to produce a book like this, and Andrea Gentl does it like a true master with a forager's heart. Her mushroom-based recipes are so flavorful that we'll never think of them the same way again. Cooking with Mushrooms is inspiring, informative, and an instant classic."
—Elissa Altman, author of Poor Man's Feast and Motherland

"Andrea gives us truly inventive ways to not only cook fresh mushrooms but to coax out and preserve their best qualities so that their funky essence can easily be added to a myriad of dishes. This gorgeous book is a must for curious cooks everywhere."
—Susan Spungen, author of Open Kitchen
 
"Magical in every sense of the word. Through a brilliant narrative and recipes that are both inspiring and truly nourishing, this is a thorough explanation of all things mushrooms."
—Mariana Velásquez, author of Colombiana
 
"Not only is Andrea Gentl an absolutely amazing photographer—she is an intuitive and soulful cook. As a fellow mushroom lover, I thought I knew what a person could do with them, but the wealth of recipes and ideas in this book floored me. There are pestos, nut butters, broths and tonics, crostatas, granolas, tacos, and more. A fungus lover's delight! I could go on, but I have to go make a batch of Miso Mushroom Popcorn Dust. Buy this book!"
—Carla Lalli Music, author of That Sounds So Good and Where Cooking Begins

"While her evocative images reveal an obvious love of her subject, Andrea's recipes are a testament to a lifetime of curiosity, travel, observation, and experimentation. This book will give you the confidence to unlock the power of fungi and open your kitchen to an umami that, for many, has been hiding in plain sight."
—Cliodhna Prendergast, food writer and photographer

"This cookbook feels like a really important moment for culinary mushrooms"
—Alicia Kennedy