You are here
The Cloven: Book Two (Hardcover)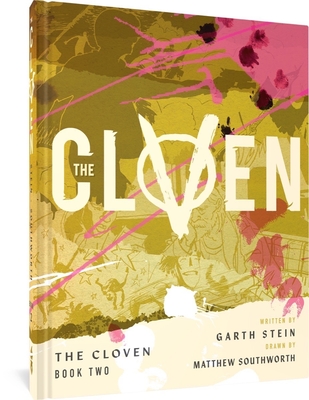 Description
---
Bestselling author Garth Stein and acclaimed cartoonist Matthew Southworth team up again for the second book in this action-packed coming of age series about a mutant from the Pacific Northwest.
In the eagerly anticipated
Book Two
, Dr. Kenneth Langner, a world-renowned geneticist and creator of the Cloven species, reveals himself to Seattle
Stranger
reporter Jake Arthur, who continues his in-depth research on the homeless encampment known as "the Jungle." When Langner turns up dead the next morning, Arthur realizes he's into something far more sinister than he realized. Meanwhile, in an effort to evade the para-military that have begun rounding up Cloven, Tuck is taken to Halcyon Meadows, a bizarre retreat of the true insiders—Supreme court justices, ex-presidents, movie stars, rock musicians, health gurus—those who are really in the know and who gather there every summer to worship goats. And to celebrate the existence of the first human/goat hybrid: The Cloven. And that's when things really start to get weird.
Moody and mysterious and atmospheric as a fever dream, The Cloven is a raucous, funny, and dynamic sci-fi graphic novel series about James "Tuck" Tucker, a genetically modified human organism known as a Cloven, written by Garth Stein (The Art of Racing in the Rain) and drawn by Matthew Southworth (co-creator of the graphic novel series Stumptown), two of today's bestselling and critically acclaimed storytellers.
About the Author
---
Garth Stein is a New York Times-bestselling author, filmmaker and playwright based in Seattle. He is the winner of several literary awards, including two PNBA Awards. The author of several plays and four novels, his book, The Art of Racing in the Rain, has sold over six million copies worldwide, been produced as a stage play, children's book, and a film.

Matthew Southworth is a comic artist and writer based in Seattle. He is the co-creator (along with Greg Rucka) of the comic book series Stumptown, as well as an Executive Producer of ABC's Stumptown TV series.
Praise For…
---
The bold, chunky art boasts a strong Frank Miller influence and gets better as the volume unfolds, engaging in bravura action sequences and daring pops of color.
— Publishers Weekly

From the first stark, cut-you-to-the-bone scene, The Cloven is riveting — a delightful modern-day twist on the Frankenstein story. The writing is stylistically dark; the art is vivid and strikingly beautiful. Stein and Southworth have created a masterful and unique world.

— Neal Bascomb, New York Times bestselling author of The Winter Fortress and Faster

Wildly, dizzyingly imaginative, and grimly allegorical.
— Erik Larson, #1 New York Times bestselling author of The Devil in the White City

The evocative, unsettling world building is nicely matched by the shadowy artwork. The inky black silhouettes of the towering conifers and looming mountains of the Pacific Northwest, set against warm, saturated, watercolor-wash backgrounds of peachy sunsets, violet dusk, and bright-yellow artificial light are particularly striking.
— Booklist

The Cloven is a daring graphic novel that casts light on a dark fictional world, full of stories yet to be told.

— Foreword Reviews

A tense and disorienting (by intent) page-turner of a story, one that expertly spans lanes between more literary comics and the action-heavy monthly fair.
— Comics Bookcase